'90 Day Fiancé': Will Jenny Have to Leave Sumit in India to Apply for Hare Krishna Missionary Visa?
On 90 Day Fiancé: The Other Way, Jenny Slatten considers becoming a Hare Krishna devotee to stay in India with Sumit Singh. However, something unclear is whether or not Jenny has to leave the country to apply for a missionary visa.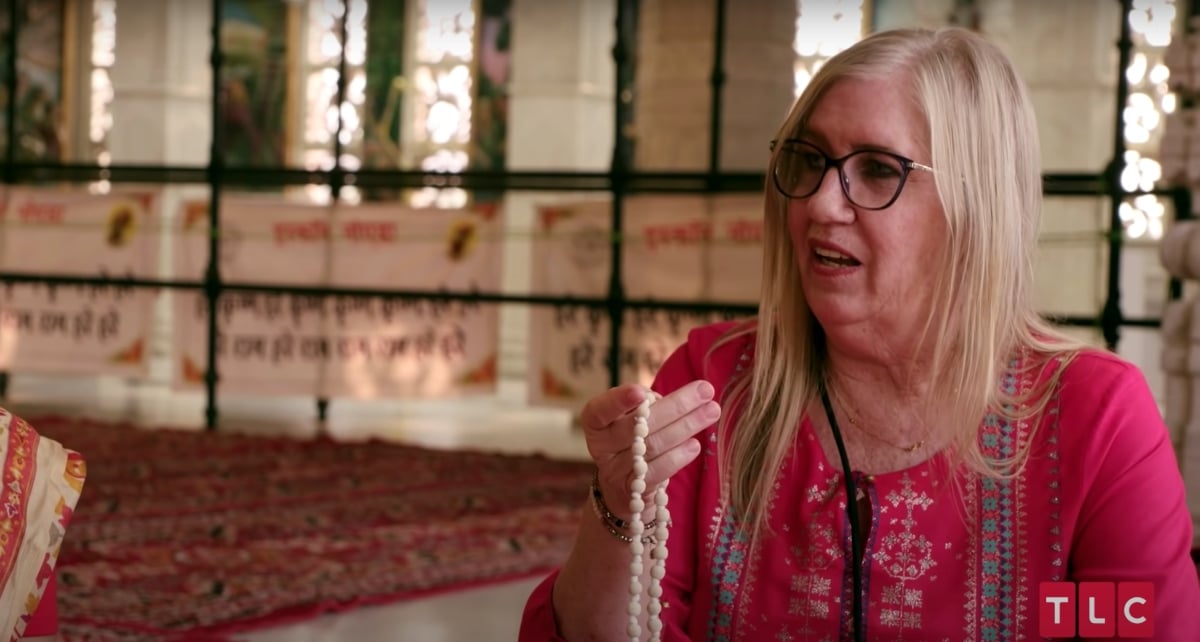 Jenny considers becoming a Hare Krishna devotee to avoid leaving India
On the September 5th episode of 90 Day Fiancé: The Other Way, Jenny is racing against her expiring visa. Jenny, an American citizen, has been receiving extensions on her visa due to the coronavirus (COVID-19) pandemic. Now she is running out of options. Sumit is not planning on marrying her anytime soon, as he doesn't want to go against his family's wishes.
Jenny currently has a 10-year travel visa for India. However, the stipulation is that she must the country leave every 6 months. After Jenny received her fourth visa extension, she and Sumit went to an immigration lawyer, searching for options. The only viable option is that Jenny would join the International Society for Krishna Consciousness (ISKCON). Becoming a Hare Krishna devotee would secure her a missionary visa.
Will Jenny have to leave India to apply for the missionary visa?
During the immigration lawyer consultation on 90 Day Fiancé: The Other Way, What's not mentioned is whether or not Jenny would have to go back to America to apply for the missionary visa. According to this Indian immigration website, the missionary visa that Jenny would be getting on as a Hare Krishna usually takes three months to process. However, it's possible to apply online, send the documents to the consulates, and wait in India.
The Indian government can extend the missionary visa yearly for a maximum of five years. Jenny could secure her spot in Sumit's life for up to five years. However, since the visa takes upwards of three months to process, Jenny would likely have to leave the country depending on how long the Indian government extended her original visa.
Will Jenny be able to stay with Sumit in India?
According to Live Mint, Jenny may not have to worry about leaving the country for a while. It reads, "The Central Government on Thursday announced the extension of visas for all foreign nationals stranded in the country due to the ongoing Covid-19 pandemic till 31 September. They will not be required to submit the application to FRRO/FRO concerned for visa extension."
This means that as of September 2nd, Jenny will not have to apply for any more visa extensions. The Indian government has already extended all foreign nationals and will automatically stay until September, 31st 2021. Considering season 3 of 90 Day Fiancé was probably filmed back in the height of the coronavirus pandemic in 2020, Jenny may have already secured her missionary visa without leaving India.
Jenny will be allowed to be in India as long as she's applied for the Missionary visa before her tourist visa was up. Due to visa extensions, it seems that Jenny was probably able to get her new visa before the other one ran out. Still, fans will have to keep watching Jenny and Sumit's journey on 90 Day Fiacné: The Other Way to find out if Jenny had to leave India or not.
RELATED: '90 Day Fiancé': Is There a Reason Why Sumit Cannot Come to America With Jenny?