'90 Day Fiancé': Yazan's Father Says He 'Will Be His Murderer' in 'Other Way' Sneak Peek
90 Day Fiancé couple Brittany Banks and Yazan have had culture clash problems since day one. Fans will remember that Banks arrived at the airport with alcohol, and hugged TLC crew members, and Yazan threw a fit. To make matters worse, Banks has been hiding the fact that she's still married. Now, a sneak peek for upcoming episodes of The Other Way suggests cultural issues could be putting Yazan's life in danger, if his father and his friend are anything to go by. 
Brittany Banks doesn't love Yazan's family
Brittany Banks did not have a pleasant visit with Yazan's family on 90 Day Fiancé. To begin with, there's a major language barrier. However, there's also the matter of Banks' ongoing marriage and divorce process with her ex, which Yazan's parents didn't know about. 
Yazan's parents kept asking the two when they were going to get married, and when Banks said January seems ideal, his parents were not happy. 
Brittany Banks later told him, "I don't wanna ever see your parents again. I'm done."
"I'm not good at dealing with emotions. This situation with Yazan's parents made me crazy," she later told producers.
It's become clear that his parents do not accept Banks for who she is, and would rather she change to meet their standards of what they expect out of a wife. 
"We don't accept my son to even be in an amorous relationship or even a romantic one with…I mean, with all due respect, so you're still on social media and you still are as you are. Cancel all of this. Cancel all the life you've been living, and you would marry Yazan," the 90 Day Fiancé star's father told Banks during their conversation.
Yazan's father threatens to kill him 
A sneak peek for upcoming episodes of 90 Day Fiancé: The Other Way suggests that things have not improved for Yazan and Brittany, and that Yazan's parents have not become any more accepting of Banks. People shared the sneak peek, in which Banks takes a stand.
"He thinks he's gonna give me an ultimatum, but I'm gonna give his a** an ultimatum," Banks says in the preview. "He's not the king of Jordan."
"I must be careful, it's dangerous," Yazan tells Banks later in the clip. 
"I swear, tell Yazan I will be his murderer," Yazan's father adds after a cutaway. Banks is then seen chatting with Yazan and one of his friends. 
"There are people who genuinely hate him, and they might try to kill him," the friend tells Banks. 
'90 Day Fiancé' fans speculate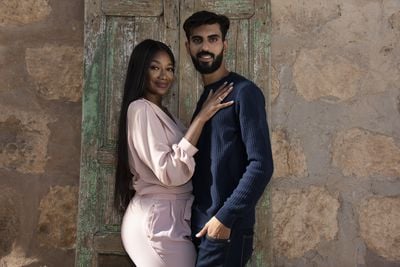 It's not currently clear what it is that may be putting Yazan in danger, but 90 Day Fiancé fans feel pretty sure it has to do with his relationship with Brittany Banks, and possibly her ongoing divorce. 
"Brittany is still MARRIED. They are hanging out and prob had sex in prior trips while she is married. … His family is very conservative. That's why they wanted the marriage to take place after a year of dating. Everyone's reputation is at risk. Brittany can go back to the U.S. and live her life but Yazan will have to deal with the fall out and try to find a wife that would accept this," wrote one Redditor. 
Another user thinks Yazan is at fault for pursuing a relationship that he knew his parents and culture might not approve of. 
"Yazan is an idiot. He knows how conservative his family is and still decided to be with Brittany after seeing her instagram. They definitely had conversations about her wanting to be a rapper and how she's comfortable with her sexuality, wtf did he think was going to happen!? Obviously she's not going to cover up and become a Muslim in the name of love," wrote another fan.
"No way! If Brittany was divorced they would have got married. His hanging out with a married woman is the issue and he didn't know she was lying. Even in the US if you were seeing someone and found out later they were married and lied to you about it, an American would be upset and pi**ed off about it," pointed out another Redditor.