'A Beautiful Day in the Neighborhood': Mr. Rogers' Widow's Reaction to the New Tom Hanks Movie
Joanne Rogers, Mr. Rogers' wife, reacts to the new film A Beautiful Day in the Neighborhood. The movie stars Tom Hanks and has opened to great reviews.
The new film A Beautiful Day in the Neighborhood stars Academy Award-winning actor Tom Hanks as iconic children's television host Fred Rogers. Although Mr. Rogers died in 2003, his widow Joanne Rogers loves to see his legacy live on. She told press at the movie's premiere what she really thought of the new film, directed by Marielle Heller.
The movie cast gushed about Tom Hanks as Mr. Rogers
Hanks' costar in the film, Matthew Rhys, got us all excited when told Entertainment Weekly what he thought his co-star Hank's performance. Rhys plays a journalist named Lloyd Vogel who writes a magazine piece on Mr. Rogers.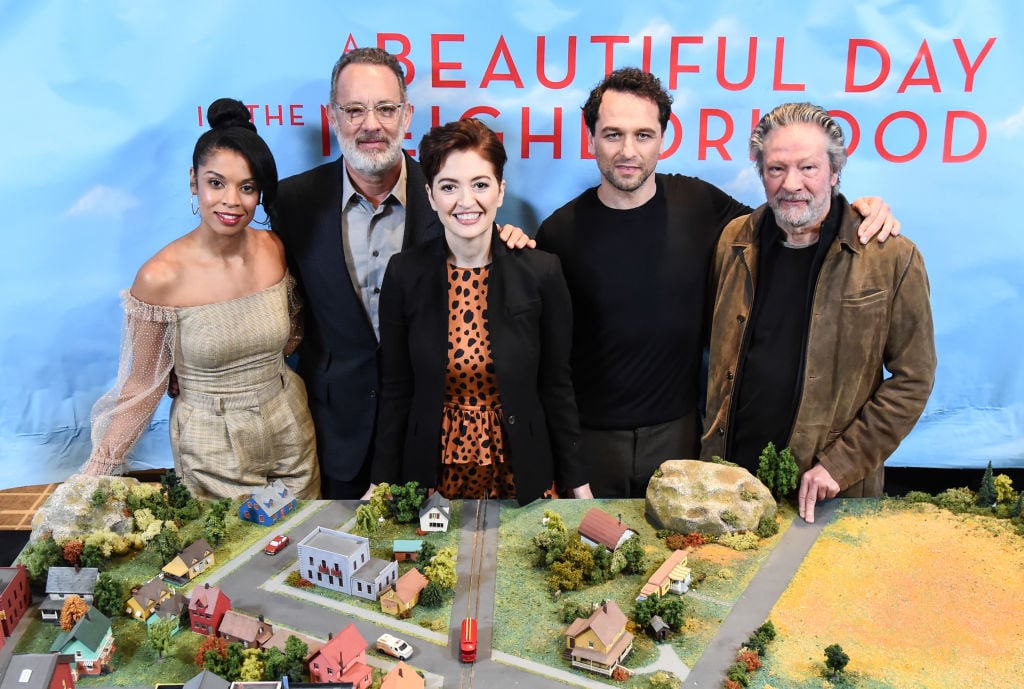 "I just had this moment," Rhys said. "By this point, I'd watched an enormous amount of Fred Rogers. [Hanks] was just doing this little bit of a walk … There was something he did with his hands. And then I just went, 'Oh my God!'"
Mr. Rogers' widow, Joanne Rogers, walked the red carpet in November at the SouthSide Works Cinema in Pittsburgh. She told reporters that at first, she was in awe of the idea of Tom Hanks playing her late husband in A Beautiful Day in the Neighborhood.
"I was like, 'Are you kidding?'" Rogers remembered. "Tom Hanks was Fred's favorite actor. And I didn't know until recently they were sixth cousins."
Mr. Rogers apparently loved watching Hanks's film Big, which makes sense; the plot centers around a child who turns into an adult, but keeps his kid-like characteristics.
Mrs. Rogers also said that Mr. Rogers had seen Hanks' famous film Forrest Gump dozens of times.
"And each time he watched it he learned something new," she told press.
'A Beautiful Day in the Neighborhood' has great reviews
The film currently enjoys a 96% rating on Rotten Tomatoes. But Mr. Rogers' wife also thought it was a great film.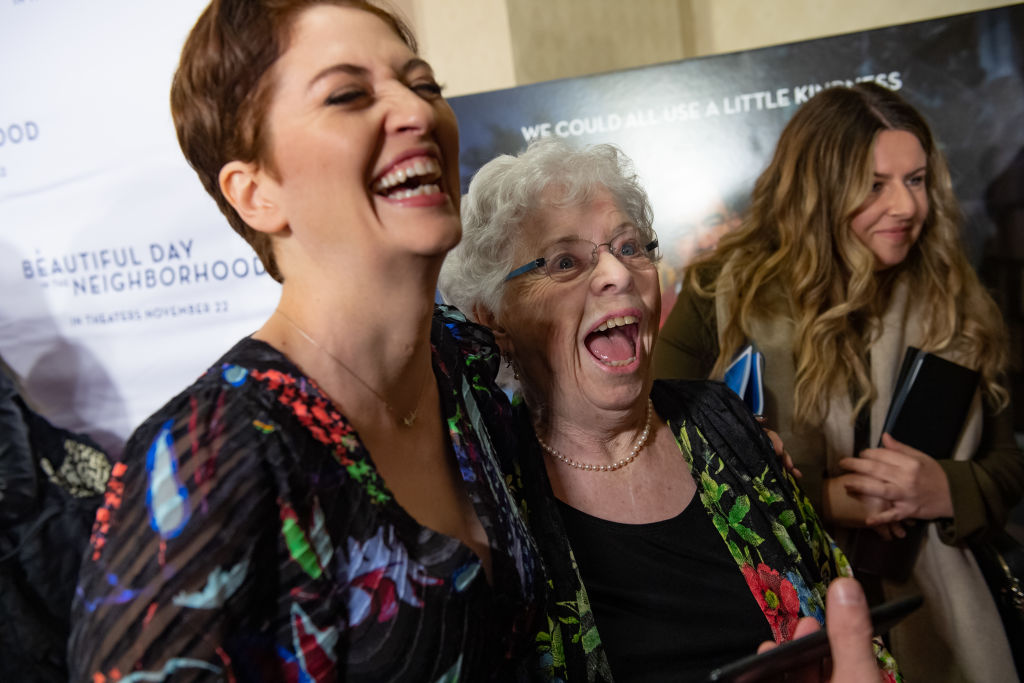 "This script was perfect," Joanne Rogers said. "We trusted them."
She also loved what actress Maryann Plunkett, who plays Joanne in the movie, did with the role. Plunkett and Rogers met during production so the actress could adopt more of Rogers' personality into her performance.
"She did an amazing job," Mrs Rogers said. However, probably unlike the rest of us, watching A Beautiful Day in the Neighborhood didn't make Joanne Rogers emotional.
"Seeing the movie didn't make me cry, because everything I see about Fred is a gift," she said. And one of her favorite moments? "When Lloyd Vogel's wife finds out her husband is going to interview Mister Rogers. She tells him to not ruin her childhood memory of Mister Rogers."
Much like she hoped this movie wouldn't. But Mrs. Rogers was thrilled with the result.
"I really enjoyed seeing the entire movie," she said.
Joanne Rogers, Mr. Rogers' widow, appeared in the movie
Viewers can also spot Joanne Rogers in A Beautiful Day in the Neighborhood. She appears in a scene shot at The Mandarin Gourmet Restaurant in Pittsburgh.
"We enjoyed Chinese food," Rogers told reporters at the Senator John Heinz History Center in November, about her and her late husband. She says they shot the scene early. "It was 7:30 in the morning, so we had a Chinese breakfast."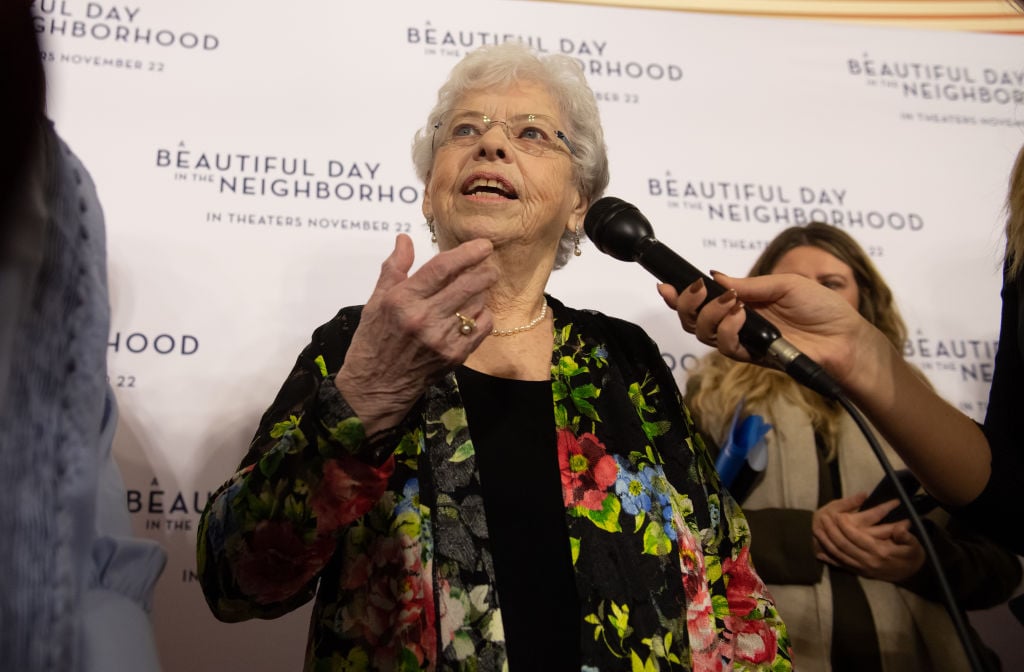 She also got to catch up with some of the Mr. Rogers family. Mr. McFeely from the original children's show, David Newell, also joined Mrs. Rogers in the scene.
"I got to see a lot of old friends shooting that scene," she recalled.
Joanne Rogers said she felt her late husband's presence everywhere in the city of Pittsburgh.
"He is just there," she said of Mr. Rogers. "I don't have to give up all of him." Mrs. Rogers said she felt lucky for that.
"And, you know, thank goodness," she said. "I'm just fortunate."