A Breakdown of Pink and Christina Aguilera's Infamous Feud That Allegedly Turned Physical
When Pink and Christina Aguilera collaborated on a cover of Pattie LaBelle's "Lady Marmalade" in 2001, it seemed as though working together was a breeze for them.
Throughout the heavy promotion for the song and performing together at big events like the MTV Video Music Awards and the Grammys, the popstars appeared to get along swimmingly as they often hugged it out while appearing on red carpets.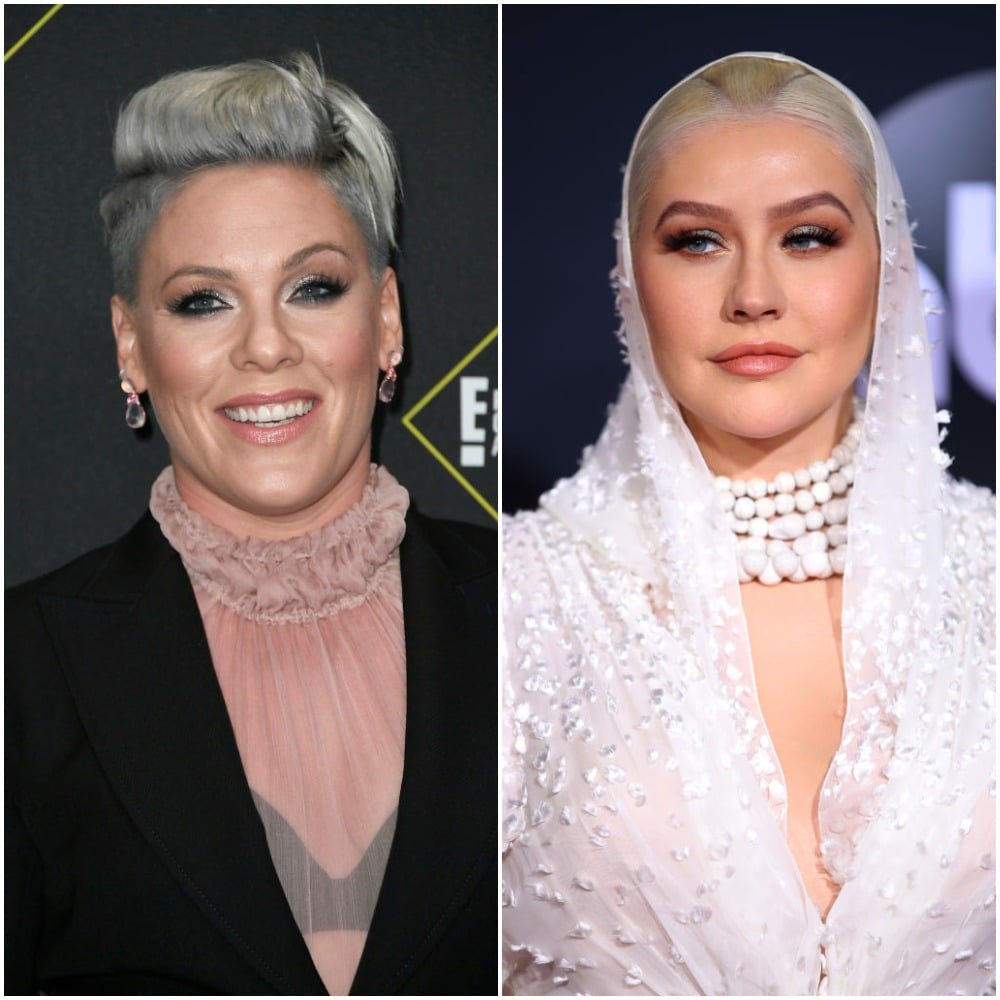 However, things were not as they seemed on the surface because behind closed doors, the singers' had a very icy relationship that quickly turned into a full-on feud.
The singers clashed during the recording process for "Lady Marmalade"
The early 2000s was a time of low-rise jeans, belly button rings, Juicy tracksuits, and many celebrity feuds, including the one between Pink and Aguilera.
The two singers' beef started in early 2001 when they collaborated together, alongside Mya and Lil' Kim, on a cover of the iconic track "Lady Marmalade" for the Moulin Rouge soundtrack.
The pop stars apparently didn't get off on the right foot, with Pink later revealing in her Behind the Music segment on VH1 that tense exchanges were had during their first meeting over who would get to sing which parts of the song.
According to the "So What" singer, she instantly clashed with Aguilera and label executive Ron Fair, who demanded that Xtina sing all of the high parts.
"Ron Fair walked in. He didn't say hi to any of us and said, 'What's the high part? What's the most singing part? Christina's going to take that part,'" Pink recalled. "And I stood up, and I said 'Hi. How are you? So nice of you to introduce yourself. I'm Pink. She will not be taking that part. I think that's what the f*cking meeting's about.'"
Pink says their feud turned physical at one point
Though it seemed as though things were copacetic between Pink and Aguilera during the heavy promotion for "Lady Marmalade," it turns out that there were still some ill-feelings.
Most of them came from the "What About Us" singer who revealed during her Behind the Music interview that she wasn't happy when her producer, Linda Perry, started working with people she didn't like — seemingly referencing the "Genie In A Bottle" crooner.
"I took it really personally when she [Perry] started working with other artists, particularly artists I didn't like," Pink said. "I don't think imitation is the highest form of flattery. I think it's annoying."
While their feud rumbled over for the next few years, it eventually faded away with Pink admitting during a 2017 appearance of Watch What Happens Live with Andy Cohen that she and Xtina had buried the hatchet.
"We made up on The Voice," she said. "We hugged it out. It's that simple, and I feel so good about that."
But, before revealing that they'd made amends, Pink shared a shocking revelation that she still found amusing, which is that Aguilera once tried to punch her while inside a nightclub.
"I'm used to taking my altercations physical and she's used to having them verbal," Pink said, before adding, "She swung on me in a club, which is hilarious."
Xtina disputed Pink's claim
Two years later, Aguilera appeared on WWHL and told Cohen that she remembers things happening a little differently that night with Pink.
After listening to Cohen recall Pink's version of the story, Xtina debunked the claim that she once "swung at" the fellow pop star, saying, "Look at her, look at me. I wouldn't swing on her. She could beat my a**. Are you kidding me? She could really beat my a** then!"
The singer then added, "I seem to have a different memory of a night we had at a club where we played spin the bottle."
When Cohen asked if the singers actually kissed that night, Aguilera coyly responded with, "how did you know," before explaining that Pink turned down the chance to kiss and makeup — literally.
"I was excited about a kiss," the pop star explained. "I was like, 'Oh, kissin' all's good!' She put her hand up like this, and I was like, 'Oh, that's what we're doing? Alright.'
Though they didn't put their differences aside back then, Pink and Aguilera have since made amends and now seem like they're actually friends.
In fact, Pink revealed back in 2017 that she and her former rival collaborated on a song together.
Though the track has yet to be released, we can already tell that it'll be a beautiful gift from the industry's most notable pop divas.