'A Charlie Brown Thanksgiving' Features the Weirdest Thanksgiving Meal Ever
Eating jelly beans for Thanksgiving might seem like a very bad idea, but what else do you expect when the Easter Beagle prepares the meal? The treat serves as the "dessert" for the questionable meal in A Charlie Brown Thanksgiving, the perennial holiday special when Chuck and the gang have a dilemma and have to fix Thanksgiving dinner themselves. So, with the world-famous chef Snoopy in the kitchen, the closest he gets to cooking is making toast. Good grief. Where's Remy from Ratatouille when you need him? 
The story behind 'A Charlie Brown Thanksgiving'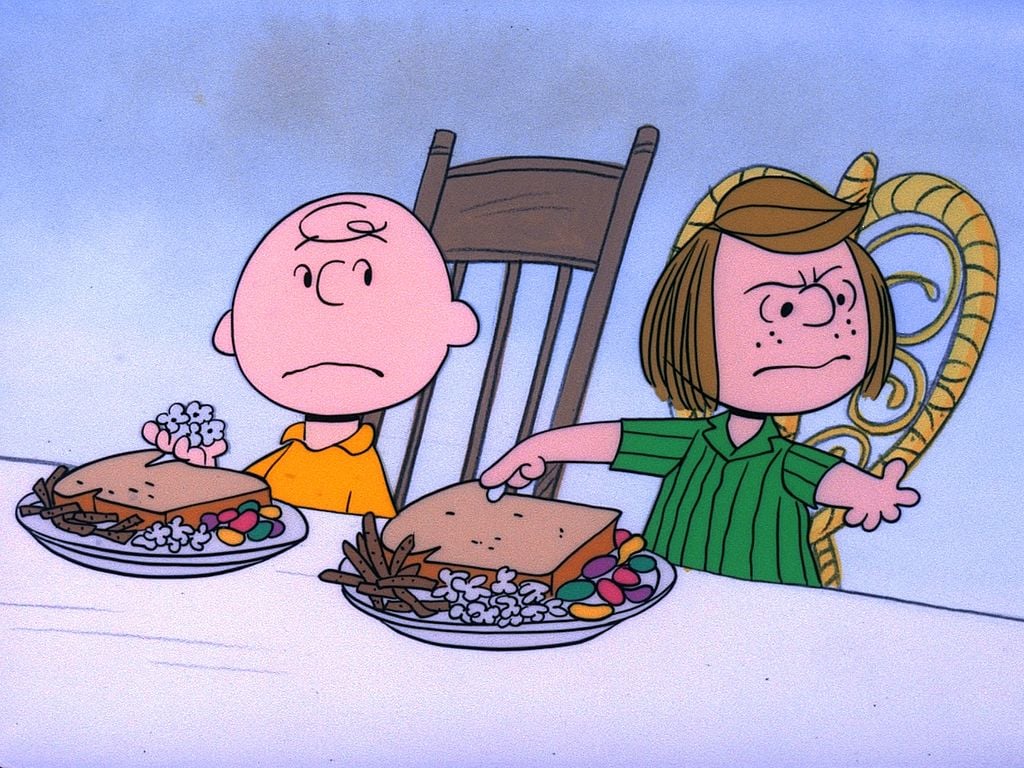 According to Peanuts Wiki, the special first aired on CBS on November 20, 1973. It received an Emmy for Outstanding Individual Achievement in Children's Programming, which went to Peanuts creator and the writer of the special, Charles M. Schulz.
It was the tenth of the Charlie Brown specials, preceded by There's No Time for Love, Charlie Brown and followed by It's a Mystery, Charlie Brown. 
The story has Charlie Brown and Sally getting ready to go over to their grandmother's house when Charlie Brown gets a call from Peppermint Patty, who invites herself, Marcie and Franklin over for Thanksgiving. Charlie Brown's inability to get a word in edgewise against the irrepressible Peppermint Patty creates a problem until Linus suggests having two dinners: One for Peppermint Patty and friends and the other at grandma's house. 
The only problem is, adults are only present in Peanuts via a muted trombone, and Charlie Brown and his friends don't know how to cook. So they leave that to Snoopy, and what he serves up includes pretzels, popcorn, jelly beans, and toast. Peppermint Patty is not amused. 
How to make a Charlie Brown Thanksgiving meal
Although Charlie Brown's grandmother would probably be aghast at Snoopy's culinary skills, actually trying to recreate this meal of questionable nutritional value has become a thing. San Diego Family is just one site that shows how to do it, with the directive that this is for kids.
The meal is so simple, these are the entire directions: "Jelly beans, popcorn, pretzels and toast. Yep, that's it!" Although to clarify, the pretzels in the meal are pretzel sticks rather than shaped pretzels. In this author's opinion, black jelly beans would ruin the whole plate, so best not to include those.
The site also suggests fun crafts such as making Charlie Brown shirts with his zig-zag pattern, having a popcorn-eating contest and playing Charlie Brown trivia, with a question including "What did Snoopy and Woodstock eat when everyone else left?" The answer, of course, is turkey, which may leave kids pondering how a bird can eat a  fellow bird.
This was actually a point of contention between Schulz and his longtime TV producer Lee Mendelson, who objected to Woodstock's dining choice, but Schulz prevailed. One can only wonder if a turkey ruined Woodstock's day once. 
Bringing it all to the back yard
It wouldn't be Thanksgiving without pondering what to be thankful for. Linus, erudite as ever, brings up the story of the Pilgrims and Miles Standish before Peppermint Patty sours the mood by complaining about the meal. She makes Marcie apologize for her, and Charlie Brown tells her he feels bad because he ruined everyone's Thanksgiving. She replies:
"But Thanksgiving is more than eating, Chuck. You heard what Linus was saying out there. Those early Pilgrims were thankful for what had happened to them, and we should be thankful, too. We should just be thankful for being together. I think that's what they mean by 'Thanksgiving,' Charlie Brown."
A Charlie Brown Thanksgiving airs these days on ABC, which will show it at 8 pm Wednesday, Nov. 27, the day before Thanksgiving. Then it's less than a month until the first and still the best Peanuts special, 1965's A Charlie Brown Christmas, which airs at 8 p.m. Dec. 5. Yes, they still make wooden Christmas trees, Charlie Brown.