A Complete List of All the 'Bob's Burgers' Thanksgiving Episodes
When people think about the holiday episodes of television shows, they are likely thinking of classic Christmas episodes that nearly every series tackles at one time or another. However, in Bob's Burgers' case, their best holiday shows might be the Thanksgiving-themed ones. With Bob's love for Thanksgiving and the show's bizarre takes on holiday situations, they've given audiences several memorable episodes in the process. 
What is 'Bob's Burgers'?
Bob's Burgers is an animated sitcom about the Belcher family. Its patriarch, Bob, owns a burger restaurant in an unnamed city in the Northeastern United States.
The family not only works inside the burger joint; they live there in a second-story apartment. Every episode is equal parts hilarious and poignant, as the sitcom's greatest sell is its look at family life. 
The show is the exact mix of comedy and heart, as Bob, Tina, and the rest of the Belcher family get themselves in strangely bizarre situations around the city that culminate in bringing them together. Thanks to its embrace of bizarrity, the show has a devoted fan base, and every year they look forward to a new Thanksgiving episode, in particular. 
An Indecent Thanksgiving Proposal (Season 3, Episode 5)
The first Thanksgiving episode, this was the one that started an annual tradition that has followed during every season since. Premiering in season three, the episode revolves around Bob's entire family posing as their Mr. Fischoeder, their landlord's family. After Bob gets jealous of his family, a snowball form that ends with him almost being shot. The episode also featured Linda's strange but catchy Thanksgiving song. 
Turkey in a Can (Season 4, Episode 5)
Bob prides himself on making the perfect Thanksgiving turkey. However, after somebody sabotages his turkey by sticking it in the toilet, an Agatha Christie-style mystery ensues before culminating in a heartfelt finale. 
Dawn of the Peck (Season 5, Episode 4)
In the third Thanksgiving episode, this episode has the Belcher family participate in their town's turkey-themed version of the running of the bulls. The episode takes a turn, however, when the Turkeys get violent. Bob doesn't go, instead opting to go hang out at home and boycotting the festivities. 
Gayle Makin' Bob Sled (Season 6, Episode 4)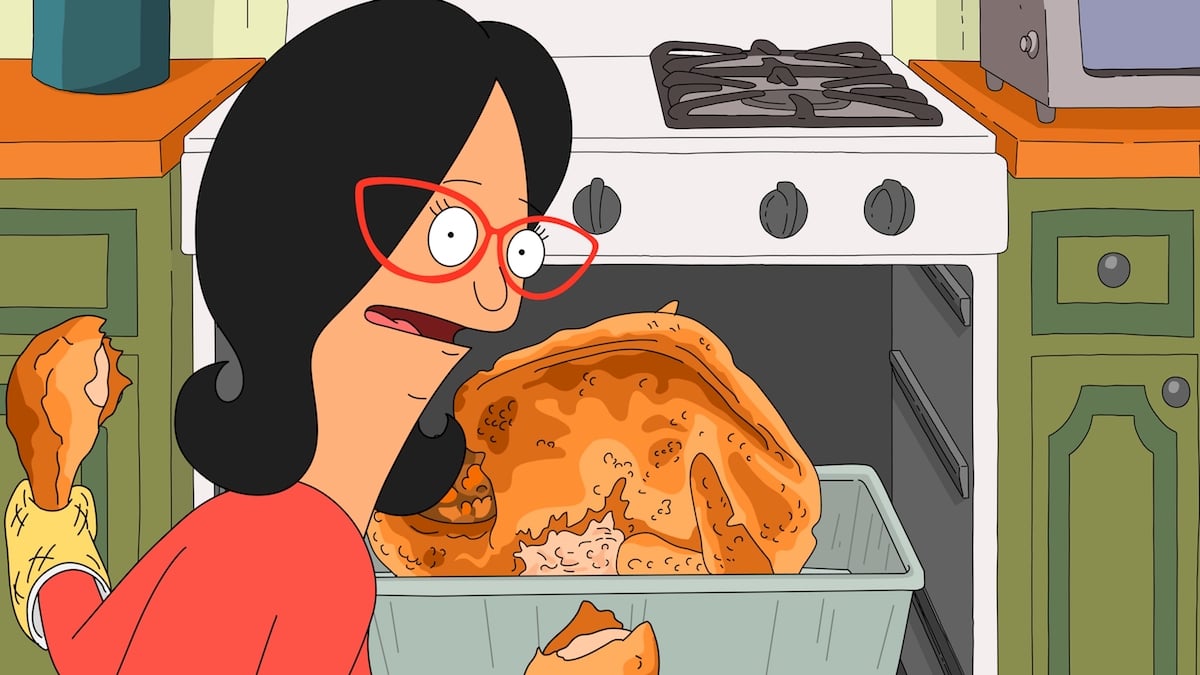 When Aunt Gayle sprains her ankle, Bob has to pick her up and bring her. However, when a snowstorm affects their plans, Bob is forced to improvise a way to get her back home, only for the show to take a turn when Gayle reveals that she was not injured at all. The episode does what Bob's Burgers does best by mixing hilarious comedy with heartfelt messaging. 
The Quirk-Ducers (Season 7, Episode 6)
The Belcher kids take the wheel in this episode, planning a bizarre Thanksgiving play that's meant to give them a half-day at school. The plan backfires, and by the end, there are turkey parts everywhere. 
Thanks-hoarding (Season 8, Episode 5)
The Belchers go to Teddy's house only to discover that he has a hoarding problem. While this is played for laughs, it's another episode that ramps up the charm and sweetness that the show is known for. 
I Bob your Pardon (Season 9, Episode 7)
Rather than cooking a turkey, the Belchers go on a mission to save a turkey. In true form, they accidentally discover a political scandal in the meantime. It's bizarre, hilarious, and downright satirical.
Now We're Not Cooking With Gas (Season 10, Episode 8)
Bob gets his hand on a turkey from a farm he's been trying to buy from for years. However, his gas line breaks, and Bob cannot cook the bird. He improvises an outdoor cooking device in the most recent, and perhaps most hilarious Thanksgiving episode.