A Complete List of All the 'Friends' Thanksgiving Episodes
Every sitcom needs at least one Thanksgiving episode where the beloved characters bond over the madness surrounding this holiday. Many fans of Friends might remember that the series did not have just one Thanksgiving episode, however. There were multiple, and they were all iconic in their own way.
Since Thanksgiving is upon us, there is no better way to celebrate than to kick back and relax with Rachel (Jennifer Aniston), Monica (Courteney Cox), Phoebe (Lisa Kudrow), Joey (Matt LeBlanc), Chandler (Matthew Perry), and Ross (David Schwimmer). Keep reading to get a list of every Friends Thanksgiving episode and to find out which celebrity makes an appearance at a Thanksgiving episode of Friends, what the cast ate, and where you can watch the episodes in 2021.
Is there a Thanksgiving episode in every season of 'Friends'?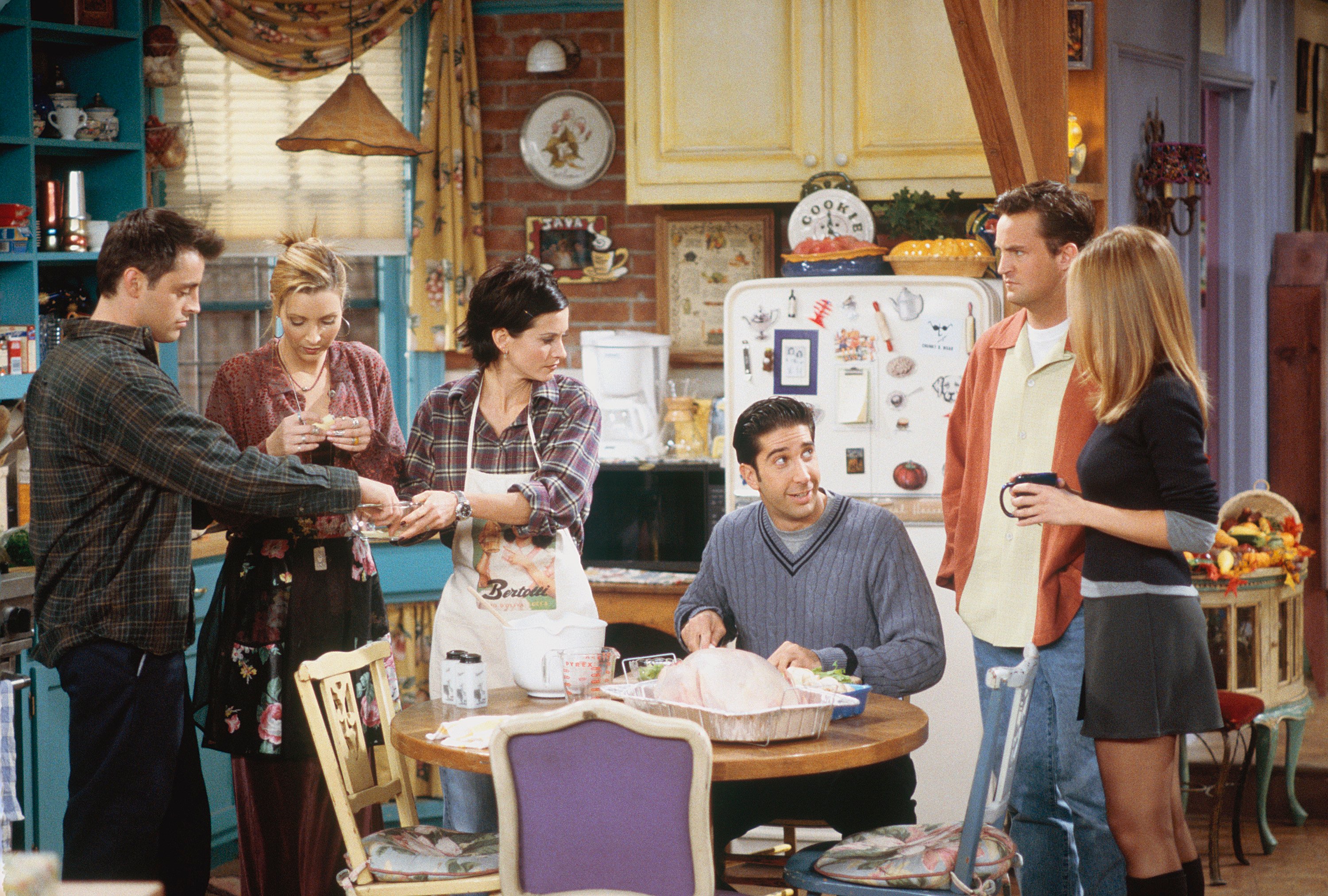 Some shows are known for going big on certain holidays. For example, The Simpsons has been legendary at giving viewers a scare on Halloween with its Treehouse of Horror specials. Meanwhile, Bob's Burgers is known for having some interesting Valentine's Day episodes.
When it comes to Thanksgiving, it seems that Friends is currently the undefeated champion. Every season, the series had a Thanksgiving episode, and the show gave no other holiday this same treatment. Some people even cite Friends as the source behind the popularity of the term "Friendsgiving" in recent years.
Which 'Friends' episodes have Thanksgiving?
So how many Thanksgivings did Friends celebrate? The show ran for 10 seasons, which means that there are 10 Thanksgiving episodes in total. If you're looking to binge-watch the 10 iconic episodes, then here's a Friends Thanksgiving episode list.
Season 1, Episode 9 – "The One Where Underdog Got Away." The inaugural Friends Thanksgiving episode set the table for how the series portrayed the holiday. Monica's plans for a quiet Thanksgiving quickly fall apart as all the characters end up at her apartment. And when the Underdog float breaks free during the parade, the gang accidentally locks themselves out of the apartment.
Season 2, Episode 8 – "The One With the List." Season 2 went a little lighter on the Thanksgiving angle. NBC required all Thursday night shows in 1995 to have a holiday theme. Writers added a storyline involving Monica attempting to incorporate "Mockloate," synthetic chocolate, into Thanksgiving recipes to meet that requirement. However, the episode's most memorable plotline involves Ross' ill-fated list of pros and cons about Rachel.
Season 3, Episode 9 – "The One With the Football." Football is just as synonymous with Thanksgiving as food. It's no surprise that a Friends Thanksgiving episode features the sport. In season 3, the group decides to play a friendly football game, bringing up memories of the Geller Bowl for Monica and Ross. The sibling rivalry overtakes the game, and the two continue to wrestle over the ball long after the rest of the gang leaves to eat dinner.
Season 4, Episode 8 – "The One With Chandler in a Box." In this Thanksgiving episode, Monica injures her eye while preparing dinner. Her trip to the eye doctor leads her to meet Timothy, who happens to be the son of her ex, Richard. Monica invites Timothy to Thanksgiving dinner, and the two share a kiss. However, it reminds her too much of Richard for her to pursue a relationship.
Season 5, Episode 8 – "The One With All the Thanksgivings." The 1998 Thanksgiving episode featured Friends flashbacks as each member of the group recalled their worst Thanksgiving. From severed toes to Joey's turkey head, the stories included one absurd twist after another.
Season 6, Episode 9 – "The One Where Ross Got High." It's a Gellar family reunion in season 6. Monica and Ross' parents join the group for Thanksgiving. Chandler attempts to impress the Gellars but finds out they think he's a pothead based on Ross's lie in college. Meanwhile, Rachel makes dessert, resulting in a trifle with a layer of beef.
Season 7, Episode 8 – "The One Where Chandler Doesn't Like Dogs." Rachel gets excited when her assistant, Tag, agrees to spend Thanksgiving with the gang. On the other hand, Chandler is less than thrilled to discover Phoebe hiding a dog in the apartment, thus exposing his fear of dogs.
Season 8, Episode 9 – "The One With the Rumor." The season 8 Thanksgiving episode stands out to Friends fans thanks to guest star Brad Pitt as Will Colbert. Jennifer Aniston's then-husband played a high school classmate bullied by Rachel. The episode also featured Joey single-handedly eating a 19-pound turkey.
Season 9, Episode 8 – "The One With Rachel's Other Sister." Another guest star appeared in season 9's Thanksgiving episode. Christina Applegate played Amy, Rachel's inconsiderate sister. She starts a fight over who gets Emma if anything happens to Rachel and Ross.
Season 10, Episode 8 – "The One With the Late Thanksgiving." The final Friends Thanksgiving episode is a roller coaster. Monica and Chandler become furious with the rest of the group for showing up late to dinner. However, their mood quickly changes when they receive the news they've been selected to adopt a baby.
How you can watch these 'Friends' Thanksgiving episodes
After a successful stint on Netflix introduced Friends to a new generation of fans, the sitcom moved streaming homes to HBO Max in 2020. A reunion special brought the Friends cast together to celebrate the HBO Max launch.
HBO Max subscribers can find all 10 Friends Thanksgiving episodes on the service along with every other episode and the 2021 reunion special.
For Thanksgiving 2021, TBS will air a Friends Thanksgiving marathon. It starts at 1:00 p.m. ET on Thursday, Nov. 25.