A Convoluted Timeline of Prince Andrew and Sarah Ferguson's Bizarre Romance
The British Royal Family has certainly seen their fair share of complicated relationships. Starting all the way back in the 16th century with King Henry VIII and his slew of headless wives, to Edward VIII and Wallis Simpson, and even the late Princess Diana and Prince Charles, romance and royal don't always mix. However, there is one modern royal couple that has always left us scratching our heads. Prince Andrew and Sarah, Duchess of York, are the epitome of "it's complicated."
The prince and the duchess were married for just ten years, from 1986 to 1996, and a slew of affairs, scandals, and embarrassing antics caused them to pull the plug on their marriage. However, in the last twenty-plus years, the duo have remained thick as thieves. Though they are no longer married on paper, Princess Eugenie and Princess Beatrice's mom and dad have kept their romance very much alive.
Step back in time with us to look at their very complicated romance.
1. Wild 20s
When they first met in their mid-20s, Sarah "Fergie" Ferguson and Prince Andrew were living their best lives. Ferguson was a career woman from a wealthy background. She had two live-in beaus during her 20s, Kim Smith-Bingham, a stockbroker, and Paddy McNally, a motor racing manager who just happened to be 22 years her senior.
Prince Andrew was also living his very best life. He was dating American adult film star, Koo Stark which horrified both the press and his parents. He was a navy man, living his best royal life.
Next: Princess Diana plays matchmaker  
2. The setup
Ferguson was very close friends with the late Princess Diana. The two women were childhood friends and reconnected later in life just as the princess was getting engaged to Prince Charles. In 1985, Princess Diana who had been married to Prince Charles for four years at that point asked Queen Elizabeth II to extend an invitation to Fergie to one of her "dine and sleep" events at Windsor Castle during Ascot week.
The cheeky princess thought it was a good idea to make sure that her friend and brother-in-law, Prince Andrew, were seated across from one another. Sparks flew immediately between the pair at that fateful dinner.
Next: Beloved by the royal family
3. A romance for the ages
From that dinner during Ascot Week, Fergie and Prince Andrew could not get enough of each other, and they quickly embarked on a whirlwind romance. The royal family adored Fergie. She was outdoorsy like the queen and Prince Philip, and she quickly won them over with her spunk and fearlessness.
Princess Diana told biographer Andrew Morton, that the Duchess of York "wooed everybody in this family and did it so well. She left me looking like dirt." She even said that her ex-husband Prince Charles told her "I wish you would be like Fergie—all jolly."
Next: Getting the jewels 
4. That stunning ring
Less than six months after they began dating, Prince Andrew popped the question to his red-headed lady love. He reportedly asked the duchess to be his wife on February 19, 1986, his 26th birthday. He got down on one knee at Floors Castle in Scotland, the spot where the couple shared their very first kiss.
The prince designed his bride's engagement ring which consisted of ten diamonds surrounding a Burmese ruby. He chose the Burmese ruby to compliment Fergie's red hair. Thirty-years later, the couple's daughter, Princess Eugenie would receive a similar engagement ring from her husband, Jack Brooksbank. Fergie and Prince Andrew announced their intent to marry to the public on March 19, 1986.
Next: A massive wedding
5. Presenting the Duke and Duchess of York
Prince Andrew and Sarah Ferguson tied the knot on July 23, 1986, at London's Westminster Abbey officially becoming the Duke and Duchess of York. Five years after Prince Charles and Princess Diana's wedding this regal day was massive in its own right. The duchess wore an embroidered ivory silk wedding dress designed by Lindka Cierach which included a 17-foot train and had the letters "A" and "S" sewn into the fabric.
In addition to her train, the duchess also wore a 20-foot veil which was draped under her diamond and platinum tiara. The wedding was a massive televised event and was watched around the globe by over 500 million people. Nancy Reagan and Margaret Thatcher were both in attendance, and the newlyweds shared their first kiss on the balcony of Buckingham Palace in front of 100,000 people.
Next: A few years of fun
6. Fun…at first
Initially, things seemed to be working in the newlyweds' relationship. The pair honeymooned in The Azores and embarked on a 5-day sail on the royal yacht, Britannia. They traveled to New York City and California together, and even though their carefree and fun attitudes sometimes got them into trouble, the duo helped make the often stuffy royal family seem more approachable and human.
When they visited California in 1988, British newspapers said the trip was, "brash, vulgar, excessive, weak-humored exhibition by two royals." However, the city of Los Angeles defended the young couple, saying that they were warm, friendly and just doing their duties.
Next: Welcoming their princesses 
7. The loves of their lives
The York family expanded fairly quickly after Prince Andrew and Duchess Sarah Ferguson tied the knot. Their first daughter, Princess Beatrice was born Aug. 8, 1988. Their second child, Princess Eugenie was born on March 23, 1990. The couple decided to raise their girls at the Royal Lodge near Windsor Castle. Since it is located outside of London, the young princesses were able to have more privacy growing up than their cousins, Prince William, and Prince Harry.
Despite everything that has happened in the years since their wedding and eventual divorce, Fergie and Prince Andrew have remained a united front when it comes to their daughters. The women, who are now adults still call their parents, "Papa and Mumsey" and all four of them remain thick as thieves.
Next: A measly 40 days 
8. Distance and loneliness
Unfortunately, the Duchess of York soon discovered that the royal life she had with Prince Andrew wasn't exactly what she'd signed on for.  Prince Andrew was an active officer in the navy, which required him to stay away from home for long periods. As a result, the duchess often found herself alone.
The couple only saw each other for about 40 days each year. Ferguson told Harper's Bazaar, "I spent my entire first pregnancy alone. When Beatrice was born, Andrew got ten days of shore leave." That sounds pretty unbearable if you ask us.
When she wasn't taking care of her girls, the duchess found solace with her dear friend, Princess Diana and she began writing children's books. She wrote and published a series of children's books about Budgie The Helicopter. The books were so successful that they inspired an animated series of the same name.
Next: Itching for freedom
9. Longing for a way out
By the early '90s, Fergie was mentally checked out of her marriage. To try and fill the void that was left in the wake of her husband's constant absence she began spending exorbitant amounts of money on lavish trips and expensive toys. When she wasn't shopping or traveling, she was confiding in her dear friend and sister-in-law, Princess Diana who was experiencing her own marital woes.
In her 1996 autobiography My Story: Sarah the Duchess of York, Fergie said that 1991 was a critical year for her. She explained, "It was the year we first put words to the unspeakable idea that had been nudging us in the ribs for some time: that one or both of us might leave the royal family. We burned the phone wires into the night, trading secrets and jokes that no-one else would understand."
A divorce in the royal family was still unthinkable.
Next: Fergie's illicit photographs
10. A sensational scandal
Fergie and Prince Andrew's marriage finally shattered for all the world to see in 1992. Though there were rumors of infidelity on both sides, Fergie was photographed topless with oil tycoon, John Bryan. Bryan was also sucking Fergie's toes in the pictures. When the scandal broke, Fergie was on holiday at Balmoral Castle with the queen, Prince Philip, and Prince Andrew.
The press had not warned the royal family. Instead, the Windsors found out about the photos over breakfast while reading the morning newspapers and Fergie was sent back to London immediately. Prince Andrew and the Duchess of York separated soon after that.
Prince Philip, who the duchess was once very close to still has not forgiven his ex-daughter-in-law. In fact, his hatred runs so deep that he cannot bear to even have her in his sight.
Next: A public shunning 
11. Getting iced out
In the four years between the separation and divorce, things were more than a little rough for Fergie. Shortly after announcing her separation from Prince Andrew, Kensington Palace palace announced that the duchess would no longer carry out public engagements on behalf of Queen Elizabeth II. Also, since she had stacked up quite a bit amount of debt, the queen announced in a statement that she wouldn't take responsibility for Ferguson's debts.
As she waited for the final paperwork, the media alleged that Fergie was holding out for a better divorce settlement. Ferguson told Harper's Bazaar. "When I met with Her Majesty about it, she asked, "What do you require, Sarah?" "I said, "Your friendship," which I think amazed her because everyone said I would demand a big settlement. But I wanted to be able to say, "Her Majesty is my friend:—not fight her nor have lawyers saying, "Look, she is greedy." I left my marriage knowing I'd have to work."
Next: Getting stripped of her titles. 
12. A royal divorce
The royal family was not very forgiving of Ferguson's indiscretions. When she and Prince Andrew officially ended their marriage in 1996, the duchess was stripped of her title, Her Royal Highness. In their divorce, Fergie was awarded a lump sum of £3 million and given a meager amount of just £15,000 a year as a divorce settlement.
Though Prince Andrew  had his own marital indiscretions, because Fergie's were so public, she was the one who was branded with the scarlet letter. It was a very tough few years for the duchess, but she found solace in her charity, Children in Crisis. The charity's mission is to help children in some of the world's poorest countries gain access to education.
Ferguson credits the charity with saving her life.
Next: Forming a friendship
13. Reconnecting with Andrew
Though she was on the outs with the royal family, since she was co-parenting her daughters with Prince Andrew, the two remained close.  The duchess continued to live at the York home at Royal Lodge, living in separate quarters from her ex-husband. The year after the duchess and the prince divorced, Princess Diana died tragically. Her loss was devastating to the royal family and the public, and the duchess leaned on her ex-husband in her grief.
In the years after the divorce, the former couple continued to make appearances together, both with their daughters and on their own. Princess Eugenie told W Magazine that her parents are "the best-divorced couple I know."
Next: A public loathing
14. No sympathy from the royals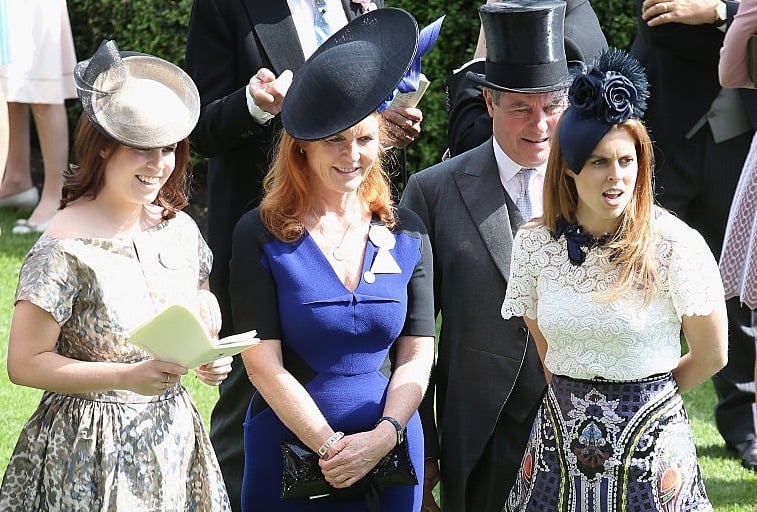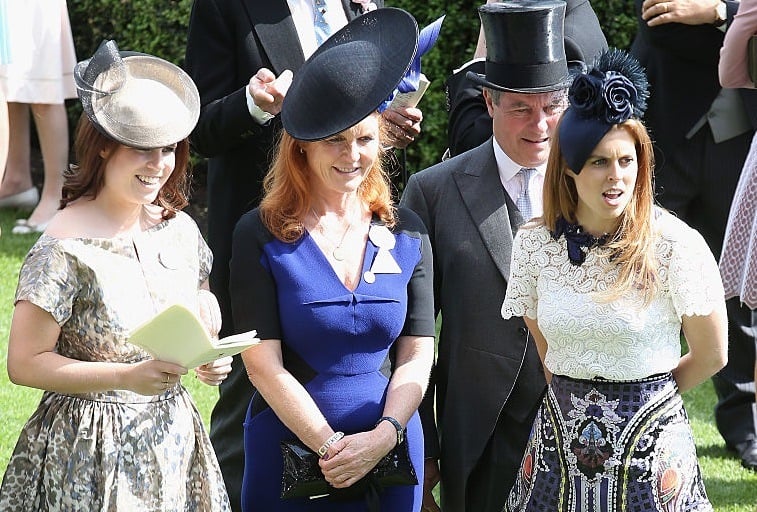 Somewhere in the years between their divorce and the new millennium, Fergie and Prince Andrew rekindled their romance and began whispering of walking down the aisle once more. Unfortunately, the old wounds were still fresh, and the queen and the Duke of Edinburgh explicitly forbade it. Prince Philip even described Fergie as, "having no point."
Apparently, Fergie is not a fan of the duke's either.  A source told The Daily Beast, "She always likes to say how he rules the Royal family with a rod of iron. They loathe each other, to put it frankly."
Next: A greedy grab 
15. Yet another scandal
Despite her closeness with her ex-husband, Fergie was not able to outrun her spending habits.  In 2010, she found herself once again in an immense amount of debt to the tune of £4 million.
She was caught by an undercover journalist who offered her $500,000 for access to the royal family. The duchess was caught was caught on tape pocketing $40,000 in cash as a down payment. She issued a statement saying she was "sincerely sorry" for her actions and admitted that her finances had been under strain. However, the incident diminished her relationship with the royal family which has slowly been on the mend. In 2011, Prince William did not invite her to his wedding.
Next: Still her prince
16. Closer than ever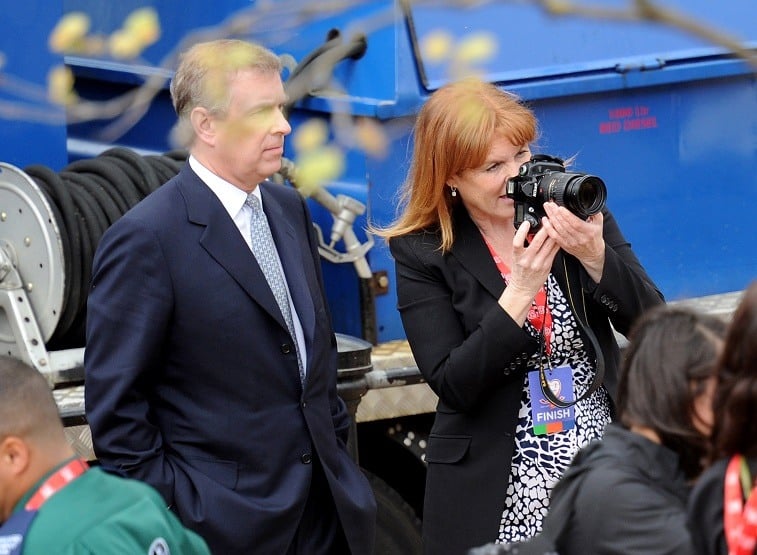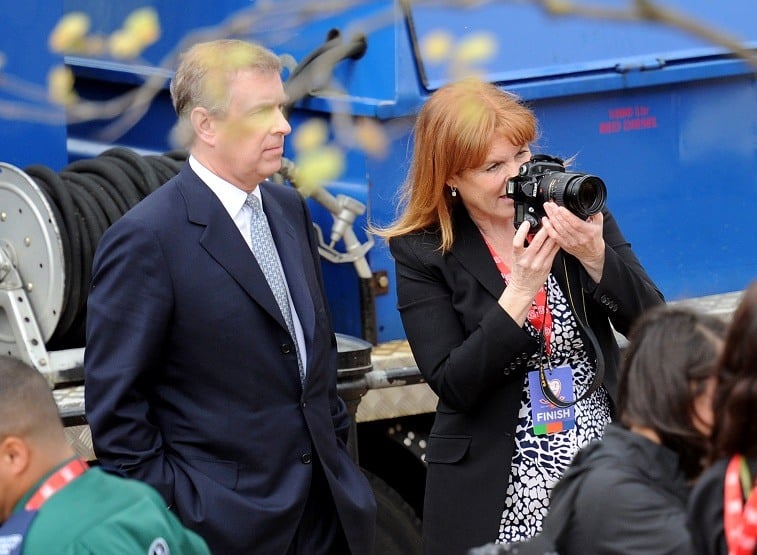 It seems like the royal family might be slowly coming around to Prince Andrew and Sarah Ferguson's rekindled romance. Prince Harry has always been very close to his aunt, so he was sure to invite her to his May 2018 wedding to Duchess Meghan Markle. However, Fergie did not get an invite to their private evening reception which was thrown by the prince's father, Prince Charles. Prince Andrew's brother has still not forgiven his sister-in-law.
Though she hasn't fully been embraced by the royal family that hasn't stopped Fergie from gushing about her ex-husband. At a children's literature festival in 2013, she said, "He's still my handsome prince, he'll always be my handsome prince. We really believe in being good parents for our girls. In our every day, we really respect each other and we honor each other."
Follow Aramide Tinubu on Twitter @midnightrami.