A Former Exotic Dancer Details a Bizarre Exchange With Aaron Hernandez in 'Aaron Hernandez's Killing Fields'
The actual scope of Aaron Hernandez's alleged crimes still remains hidden more than two years after his death inside a Massachusetts prison. While he appeared on top of the world in 2010, after being drafted by the New England Patriots, there were allegedly signs of trouble even before his NFL career became a reality. The tight ends draft stock fell abruptly, with many teams passing on Hernandez because he was known as a "problem."His off-the-field antics were considered too much for most teams to deal with, especially for an untested rookie. What none of the organizations knew was the true scope of his issues. Hernandez was implicated in multiple murders before his death, but a shocking admission from a former male stripper in the blockbuster book, Aaron Hernandez's Killing Fields, suggests there may have been more violent crimes than those already tied to the former tight end.
A dancer suggests Hernandez planned to murder him
In Aaron Hernandez's Killing Fields, a former marine and dancer recounted the day he met Hernandez. Originally called to perform at a bachelorette party, the dancer arrived to find a group of men. Skeptical at first, he eventually agreed to perform for the group, according to Radar Online.
The dancer, only identified as Chad, alleged that things took a weird turn, and he eventually left the drug-fueled party without his full pay. Days later, Hernandez contacted him, claiming he wanted to make things right. What should have been a simple exchange of money turned into what Chad believes may have been a plot to lure him to his death.  
In the bombshell book, Chad alleges he was walked through a darkened home and was led to a basement. There, he was confronted by a jumpy and nervous Hernandez and a group of friends. Chad believes he is alive today because he decided to take a friend along for the ride. Allegedly, when part of the posse approached Chad's friend, they called off the plan, claiming it would be to "messy". Chad was handed money and told to disappear, and that he did. Inside the pages of Aaron Hernandez's Killing Fields is the first time Chad has shared his story.  
It has been rumored that Hernandez was trying to hide his sexuality
The death of Odin Lloyd was the catalyst to Hernandez's violent behavior coming to light, but it was clear that he was deeply troubled for years. Lloyd, who had been dating the sister of Hernandez's girlfriend, linked up with Hernandez just 10 hours before his murder inside an industrial park. He texted his sister to inform her of who he was with. Whether he was bragging or was in fear for his life is up for interpretation. Hernandez was charged with the murder, but the motive still remains a mystery.
Some believe Lloyd was murdered because Hernandez feared he was going to talk. What dirt he had on Hernandez has morphed over the years. Rumors have swirled that Hernandez was gay and could not accept his sexuality, others suggest Lloyd was aware of some sort of medical diagnosis that would ruin Hernandez, while others believe some sort of drug deal gone wrong played a role in Llyod's death.
George Leontire, a member of Hernandez's defense team, spoke to The New York Post in 2018 and lent some credence to the rumors that Hernandez was struggling to accept his sexuality. Leontire said Hernandez, "Acknowledged the immense pain that it caused him. I think that he also came out of a culture that was so negative about gay people that he exhibited some self-hatred."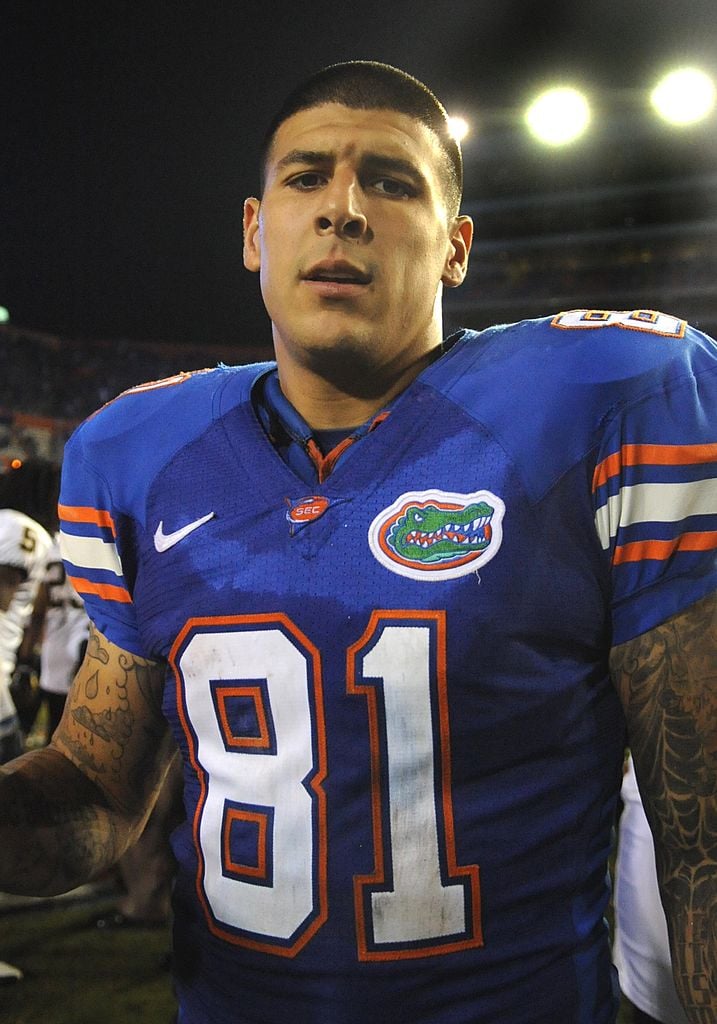 A college girlfriend also alleged that Hernandez struggled with his sexuality. She alluded to a potential relationship between Hernandez and a man from his hometown of Bristol, Connecticut. She did not share the man's name but claims she saw text messages on Hernandez's phone while they were in college together. She also alleges that he opened up to her years later after he was convicted of Lloyd's murder.
How many murders was Hernandez accused of committing?
Hernandez is not just accused of committing one murder. He has been tied to several violent crimes. In 2007, Hernandez, as a college freshman, was questioned in connection to the shooting of two men in Florida. Both victims survived, and the case was closed without charges ever being filed. The shooting allegedly stemmed from a dispute over a gold chain.
In 2012, Hernandez was linked to the murder of Daniel de Abreu and Safiro Furtado in a drive-by shooting in Boston. He was later tried for the crimes but acquitted. In February 2013, Hernandez allegedly shot a friend, Alexander Bradley, in the face. Bradley initially refused to identify his shooter to the police. He filed a civil suit against Hernandez in 2013, shortly after Hernandez was arrested for the murder of Lloyd.
Hernandez was appealing his murder conviction at the time of his death. Under state law, a person appealing a decision is considered legally innocent. There, however, seems to be little question about who perpetrated the crimes Hernandez is accused of. The only question that remains is why.