A Look Back at All of Jeffree Star's Beauty Controversies, From Feuds to New Product Debates
Jeffree Star has come under fire yet again, but this time, it's not for a messy Twitter feud involving a fellow member of the makeup community or an underaged Kardashian.
Jeffree Star is no stranger to stirring up controversies online. Though he's always gone up against naysayers, the pool of critics just grew tenfold after he unveiled his new  "Cremated" makeup collection. While the backlash surrounding the new product has been pretty intense, being at the center of a beauty controversy is somewhat of a regular occurrence for Star.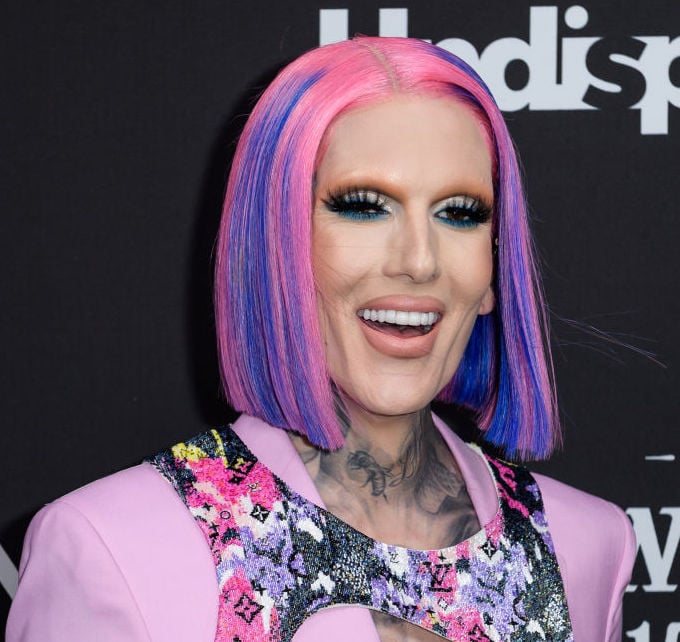 His highly publicized feud with Kat Von D
Who could ever forget Star's infamous 2016 feud with fellow makeup maven Kat Von D?
The beauty gurus and former friends initially came to blows over Kat's good pal, graphic designer B.J. Betts, never getting paid for the work he did for Star — despite following up with the YouTuber consistently about his compensation.
After confronting Star via text, Von D posted a now-deleted picture of him on her Instagram with a lengthy caption stating that she no longer wanted to associate herself with him in any way. She also made a 14-minute YouTube video describing her allegations and the events that led up to that point.
Star denied Von D's claims in a series of tweets, alleging that there's never any bad blood between him and Betts.
The D.J even confirmed the makeup mogul's claim on Twitter, writing, "The matter between myself and Jeffree Star has been amicably resolved and I will have no further comments on the matter."
Getting in the middle of Tati Westbrook and James Charles' feud
No one stirs the pot better the Star.
Back in 2019, the makeup guru found himself in the middle of James Charles' viral feud with fellow YouTuber Tati Westbrook after their friendship blew up right before our eyes.
Star first entered the drama when he posted a series of tweets and text messages directed at Charles and his younger brother, Ian. Shared screenshots from Charles even revealed Star once called him "a danger to society."
After his tweets went viral, the makeup guru posted a 14-minute video titled "Never Doing This Again," where he expressed regret for getting involved in the drama.
"Most of you have seen brutal tweets that I sent out last week, and a lot of you have seen the vicious text messages that I've sent," Star said. "Just because I said those things doesn't equal me hating James Charles. He's been in my life for a few years now. Are we the best of friends? No. But we had a real connection, and I think I mishandled our friendship."
Star also apologized to Charles' brother and vowed to keep any additional voice memos or text conversations private.
The hairy makeup debate
Star has always been the picture of perfection in fans' eyes, so when they noticed something amiss with his Jeffree Star Cosmetics x Shane Dawson Conspiracy Collection eyeshadow palette, they didn't waste time bringing it to his attention.
In November 2019, fans flooded social media with complaints after finding stray hairs in the YouTubers' eyeshadow palette collaboration.
It didn't take long for the beauty guru to set the record straight about what was really going on, explaining on his Instagram Story that the "hairs" fans were finding were actually "ribbon fibers," which were "not toxic."
The backlash surrounding his "Cremated" palette
Star's latest controversy might be his most intense one yet as it has caused quite the acrimonious dispute amongst his loyal fans.
On May 15, the YouTuber unveiled his new "Cremated" makeup line, a collection of "gothic neutrals" set to launch on May 22.
"Cremated is, like, my iconic catchphrase. 'I'm deceased,' it's also a term that I like to use," Star said in a YouTube video. "You know when you're blown away by something, and it's so sickening? Me and my friends like to say, 'B*tch, I'm cremated. Baby, I'm deceased.'"
While many fans — including YouTuber Shane Dawson — took to social media to express their excitement over the release, others were less than pleased with the new collection.
Many fans felt the theme of the products was offensive and highly inappropriate in light of the global COVID-19 pandemic, which has caused an overwhelming number of deaths these last few months.
"Jeffree star rly released a CREMATION themed palette in the middle of a global pandemic in which the bodies of thousands killed by covid are being cremated. And STILL his deranged lil fans will eat it up lmao," one person tweeted.
Star eventually responded to the negative comments on Instagram and Snapchat, sharing a series of videos addressing the backlash.
"There's a lot of talk on Twitter," he said the video. "[The palette] is mine — I created it for the world. It's allowed to be interpreted any way that anyone wants to take it, but I always come from a good place."
"My own father was cremated, my two dogs that passed away last year were cremated, so nothing ever comes from a negative place in my life," he continued. "So if you take it that way, that's how you articulate things, but b*tch, not me."
Since then, Star hasn't said more about this ongoing backlash.