A Look Inside Chrissy Teigen and John Legend's New $17 Million House in Beverly Hills
Though Chrissy Teigen is currently on bedrest for her pregnancy, she and husband John Legend are active in the real estate game. With two young children and one on the way, they started looking for a larger space.
Even in the midst of a pandemic, they managed to find and secure a luxurious new home in Beverly Hills to accommodate their growing brood. Here's a peek at what the celebrity couple paid for the new pad and a view of its bells and whistles.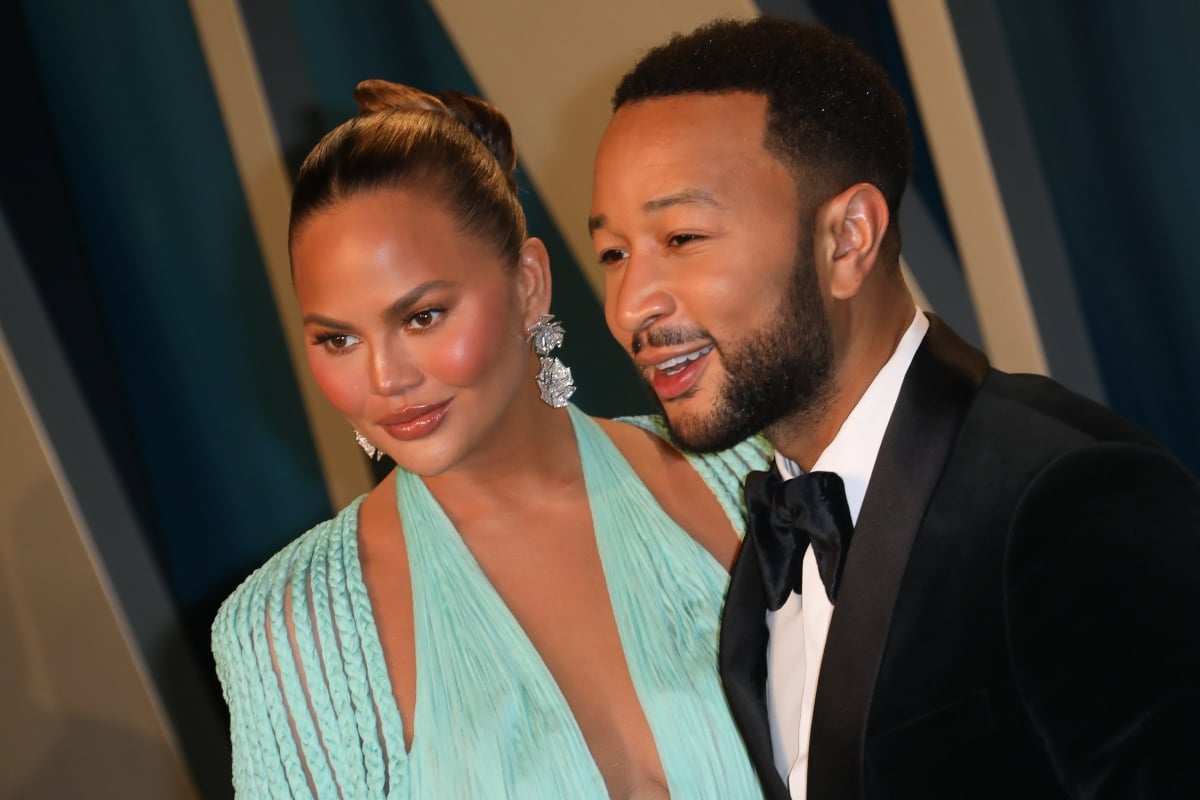 John Legend and Chrissy Teigen unloaded their other home
In August, the Wall Street Journal reported that Teigen and Legend put their family home on the market for $23.95 million. They purchased it in 2016 for $14 million and its previous owner was none other than Rihanna. The couple lived in the seven-bedroom mansion along with daughter Luna, son Miles, and Teigen's mom Vilailuck.
It features a chef's kitchen, theater, and gym, and according to Variety, the property is currently under contract to be sold. The house sold quickly.
RELATED: Chrissy Teigen Reveals Her Baby's Sex In Bed Rest Update Video About Her Placenta
Teigen and Legend are currently nesting in a rental
Teigen is still streaming live videos on Instagram and doing photo shoots, and some fans may have noticed that her surroundings look a bit different. The family is holed up in a leased home as they ride out the COVID-19 lockdown, Teigen's bedrest, and finalizing the sale on their new place.
Teigen's shared footage from inside the house that features a classroom for her kids and a wine cellar. Per Variety, it's also located in Beverly Hills and boasts six bedrooms, 11 bathrooms, and 11,000 square feet. The property was once listed for $20 million and then was taken off the market.
A look inside Teigen and Legend's new $17.5 million mansion
Caught in a whirlwind of real estate sales and purchases, Teigen and Legend (aka the Stephens) will be moving to a residence in the Beverly Hills Post Office neighborhood in Los Angeles.
Luxury real estate firm Sally Forster Jones did a write-up on the couple's new digs and shared that it has six bedrooms, nine bathrooms, a floor-to-ceiling fireplace, office, bar, lounge, and saltwater pool.
One of its highlights is the master suite which is accessed via an indoor bridge. The agency describes the room as having "suede panel walls, a modern fireplace, 12-foot-wide oak plank floors, and glass pocket doors that open onto a private, shaded balcony with infrared heaters. There are dual walk-in closets and baths with LED-anti-steam electric mirrors."
The mansion also features Miele appliances, sliding glass walls, a separate pool house, and marble details throughout the home.
Teigen and Legend's new bundle of joy is due in March, and Teigen recently had to take a trip to the hospital after experiencing excessive bleeding. According to her Instagram Story, she feels fine and the baby boy is healthy and strong.
Next year, her fans can look forward to her posting content from her new domain with her family and friends in tow.