A Look Inside Jaden Smith and Tyler, the Creator's Relationship
Jaden Smith and Tyler, the Creator, never stop keeping their fans from wondering about their relationship.
The artists have been friends since 2013 but haven't shared the true nature of their bond over the years. They have, however, worked together musically on each other's projects. Smith also said Tyler is one of his musical influences and helped him discover his sound on one of his most recent albums.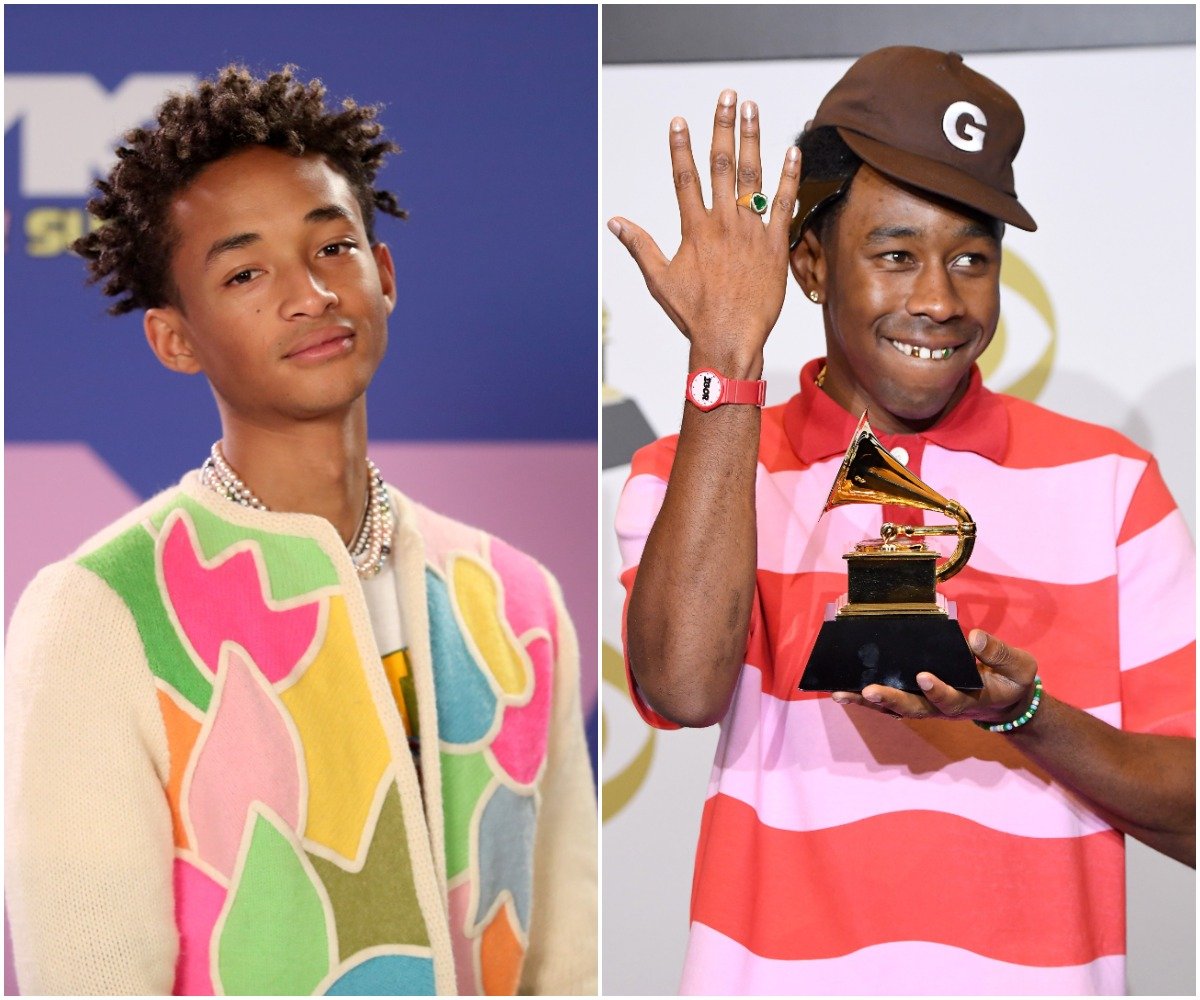 Jaden Smith has professed his love for Tyler, the Creator on several occasions
Smith was the first to share how he felt about Tyler publicly. In 2015, the "Like This" rapper shared via Twitter that his feelings have blossomed romantically. For Tyler's birthday, Smith declared he was fascinated with the "I THINK" performer and tagged his username in the post.
"@f*cktyler I think I'm In Love With You, I Don't Know I'm Still Figuring It Out But In The Meantime, Happy Birthday," Smith tweeted.
RELATED: Jaden Smith Became a Vegetarian for This Eco-Friendly Reason
While the tweet sparked rumors that Smith and Tyler were dating, neither of them ever confirmed the news was accurate. However, Smith announced his feelings for Tyler again three years later. During a 2018 performance at Tyler's event, Camp Flog Gnaw, Smith told the crowd he was dating Tyler and shared he meant a lot to Smith. Tyler was in attendance at the event and laughed off Smith's comments.
"I just want to say, Tyler, the Creator is the best friend in the world and I love him so f–king much," Smith said. "Tyler doesn't want to say, but Tyler's my motherf–king boyfriend, and he's been my motherf–king boyfriend my whole f–king life," he continued. "Tyler, the Creator is my f–king boyfriend. It's true."
Jaden Smith and Tyler, the Creator have never confirmed their sexuality
Throughout their fame, both Smith and Tyler have experienced rumors regarding their sexuality. Although Jaden has never disclosed his sexual orientation, the rapper's rumored flings exes include Kylie Jenner, Sofia Richie, and Sarah Snyder. Smith is also considered a genderqueer fashion icon for his bold style choices, per Pride. In 2016, Louis Vuitton chose Smith to model its womenswear collection.
RELATED: Why Did Jaden Smith and Sarah Snyder Split?
While he's never confirmed his sexuality, Tyler alludes to his identity in several of his songs. In his 2017 song, "I Ain't Got Time!" Tyler revealed he's been "kissing white boys since 2004." Before the lyric, Tyler's sexuality was something his fans always wanted to know, and he shared his thoughts on disclosing to Fantastic Man.
"It's a literal question an,d the thing about humans is we hate not having an answer. We hate not being in the know," Tyler said. "So people will bulls–t answers, make s–t up, instead of being just, like, I don't know. There are some things that are just unexplainable."
Jaden Smith says Tyler, the Creator helped him with his sound for his album, 'Eyrs'
Tyler and Smith have worked together on songs multiple times. In 2017, the rumored pair collaborated on "Pothole" for Tyler's album, Flower Boy. They released another song together in July 2019, called "Noize." Smith featured the track on his album, Erys. While promoting his 2020 project, CTV3: Cool Tape Vol. 3, Smith credited Tyler with helping him study the music he wanted to release more, via Happy Magazine.
RELATED: How Jaden Smith Felt About Attending Kim Kardashian West and Kanye West's Wedding
"Tyler, on the last album, he really told me that I should go back and that I needed to look and just study more music in general and just learn about the people that came before me and listen to their music and really pull inspiration from that instead of just making things up," Smith said. "So, I started to really educate myself on music and listen to a lot of music I didn't listen to before, and that's how I started working on the album."