A 'Love & Hip' Hop Cast Member Sang The Theme Song To 'America's Next Top Model'
Moniece Slaughter has become known as the firecracker on Love & Hip Hop Hollywood. She's famously battled with her ex over feeling that he doesn't respect her. She's also called Fizz and co-star Apryl Jones out for lying about their relationship before they decided to go public on the show. She's been open about not returning to the drama-filled reality series to focus on her career and personal life. As it turns out, behind her on-screen persona, Slaughter is a talented artist. A singer and songwriter, she's penned several hits and is also the voice behind the theme song for America's Next Top Model.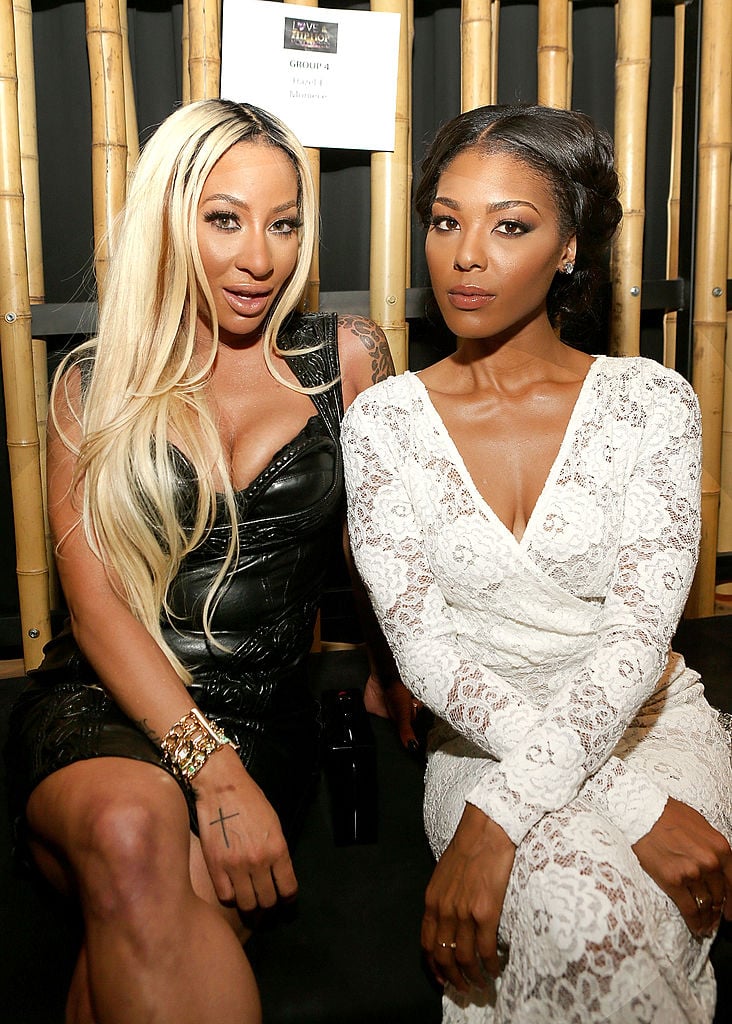 Moniece Slaughter is a talented singer and had musical ties long before joining 'Love & Hip Hop'
Slaughter was raised in a musical household. Her stepfather, Dave Thomas, is an accomplished musician singer and musician.
"My Dad is a gospel singer, he sings with the group Take 6, a Grammy award-winning group. Individually they do a lot. The bass in the group, my uncle Alvin [Chea], he does soundtracks and commercials, and movies, and he has a book out called Bassline. My uncle Mark, they say is a savant and he does most of the arrangements," she told Fashion Bomb Daily in a 2018 interview.
Some of Thomas' credits include the soundtrack to The Prince of Egypt. He is also a sought out and respected vocal trainer, having worked with some of the members of the Jackson family,  Britney Spears, Christina Aguilera, Destiny's Child, and Brandy.
Moniece Slaughter performed the theme song to 'America's Next Top Model' and has other music credits
Slaughter first tried her hand at musical stardom when she joined a girl group that was managed by Brandy. The Slaughter and Brandy's family have been connected for over 20 years. The group didn't take off and Slaughter focused on a solo career.
Akon discovered her and signed her to a deal before shelving her. While she waited, her stepfather helped her land the theme song to UPN's America's Next Top Model, which premiered in 2003.
"Akon actually found me and signed me, shelved me. My Dad got me the gig to sing America's Next Top Model theme song, straight out of high school. I still make a cute little coin from that, now that it's been syndicated in [several] countries," she told Fashion Bomb Daily. "My godbrother actually revamped the soundtrack a few years back. I was the original singer from Cycle 1 until they started mixing guys and girls. For many years, I had that theme song."
Slaughter grew frustrated with being considered talent in the music industry as a singer and decided to transition into writing, where she found success.
Some of her writing credits include Akon's "I'm So Paid" and "Body" for singer and actor Marques Houston. Her former writing partner, rapper and producer Detail, also has writing and producing credits for artists including Ray J, Lil Wayne, Ashanti, and Beyoncé.
She released new solo music in 2019, with her most popular track "Riches." She shares videos of her performing in her home studio that she built in acoustic style settings, typically with just a microphone and a piano. It's unclear if she will release a full EP or studio album.