'A Million Little Things' Creator DJ Nash Finally Puts This 1 Theory to Rest
The fall finale of A Million Little Things had a lot going on. One of the more dramatic threads followed PJ (Chandler Riggs) as he sought answers about his roots. When a paternity test concluded Jon (Ron Livingston) was his biological father, it sent an already depressed PJ into a spiral. The test was later said to be bogus. Some theories popped up after the episode suggesting Jon is PJ's father after all. Here's what creator, DJ Nash, has to say.
How does PJ factor into 'A Million Little Things'?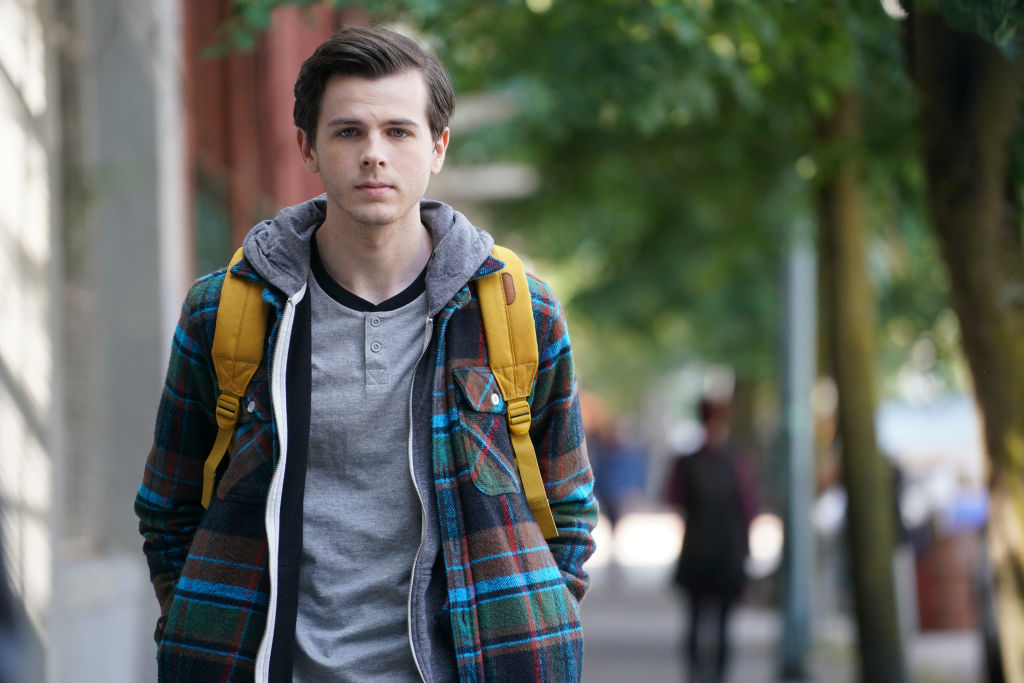 Last season's big mystery on A Million Little Things focused on a woman named Barbara Morgan (Drea de Matteo). Jon included her in his will, but his friends and wife didn't understand why (or who she was). The answers showed Barbara was the wife of Jon's friend, Dave, who died on a plane during the September 1, 2001 attacks. He included her in the will due to his "survivor's guilt" for missing the flight.
Barbara's present husband, Mitch (Rhys Coiro), raised PJ to think he was PJ's father. All is revealed in Jon's pre-recorded videos that PJ found. He later took a DNA test with help from Rome, after believing Jon had to be his biological father.
The tests revealed Jon is the father — at first. It later turned out not to be true. Dave, the friend who died, is PJ's dad. When PJ thought about jumping off a roof from the pain of it all, Rome (Romany Malco) stepped in to talk him down. This lead to Regina (Christina Moses) changing her mind about not having children.
When all was said and done, some AMLT fans didn't buy the bogus paternity test theory and felt Jon to be PJ's biological father.
What did DJ Nash say about PJ's biological father?
PJ's wasn't the only paternity in question. Baby Charlie is the result of Delilah's (Stephanie Szostak) affair with Eddie (David Giuntoli). However, some fans don't believe either of the cases is closed.
PJ's paternity test compared his DNA with a hair he found on Jon's old sweater. Meanwhile, Eddie never took a paternity test to conclude he was, in fact, the father of Charlie. In both scenarios, Jon — who had a vasectomy — could be the father of both children, according to fans.
"The fact that he's named PJ (prob for Patrick Jonathan) instead of PD (Patrick David) and that he looks so much like Jon can't be a coincidence," a fan said on Reddit.
Another viewer weighed in: "Someone else offered up the-baby-was-Jon's theory a while back. It made sense. I couldn't see them bring Chandler Riggs on as a one-off. This was before he was shown to be Barbara's son. I figured there had to be a bigger story in store for him since he's a semi-well-known actor. Guilt over sleeping with his BFFs girl makes a lot of sense, too."
Nash cleared it up with Deadline after the fall finale.
"It depends on who you ask. If you ask the A Million Little Things fan group, no, everyone thinks that a vasectomy doesn't stick,  there's a hundred different A Million Little theories," he said.
"But for me, as the person who's past right now with telling the story with the writers, yes. PJ is Dave's son and Charlie is Eddie's daughter. Jon did have a vasectomy. I'm happy to put those to rest."
What's ahead for the midseason premiere
The midseason premiere of A Million Little Things will pick up all the other threads, too. Gary and Maggie's breakup, Eddie (David Giuntoli) and Delilah's (Stephanie Szostak) affair in the open and how the kids are responding, and Eric's (Jason Ritter) place in the show will be explored.
"We will be looking at another mystery that presents itself in the second half of the year. We will also be meeting Eddie's sister, who we talked about Eddie's sister will be entering the scene, and we will see Eddie start a new phase of his music career," Nash added.
"It actually plays out at the end of the season, and I think probably as we gear up towards the end, I'll talk about it more. The first half has to do with Eric and what's going on there, and then we transition to a mystery that will take us into season three."
A Million Little Things airs Thursdays at 10 p.m. on ABC.