'A Million Little Things': David Giuntoli's Adorable Family Off-Screen Is Better Than on Screen
David Giuntoli plays stay-at-home dad, Eddie on the ABC drama, A Million Little Things, where he grapples with rekindling a romance with his wife yet also being there for his lover, who is pregnant with his child. He's in a very tough situation and although he put himself there with his infidelity, fans still want to see him make things right.
For those looking for a happy ending for Giuntoli, let's take a look off-screen at his beautiful family at home with his wife, Bitsie Tulloch and their baby girl.
Giuntoli's marriage to Tulloch is much stronger than Eddie and Catherine's on 'A Million Little Things' 
Giuntoli and Tulloch met on the set of the NBC show, Grimm where they turned an onscreen romance into the real thing off-screen. The duo filmed six seasons of the series together and became very close.
The pair got engaged back in April 2016 when Giuntoli popped the question with a gorgeous hundred-year-old diamond ring from Tulloch's family.
They were happily engaged for over a year, sharing adorable photos on Instagram often. A fan favorite is one of the pair on Christmas day sporting matching footie pajamas. They were married during an intimate wedding with just a very small guest list in Montana in June 2017. 
Guintoli announced the nuptials on Instagram with an array of photos from the big day and the caption, "I married her. I air-guitared her. I terrified her. I love you @bitsietulloch. It's gonna be a wild ride."
The love story did not end there, the couple announced the birth of their baby girl, Vivian on February 14, 2019. The sweet little one is just about 6 months old now and the family love has only grown stronger between Giuntoli and Tulloch.
On Mother's Day, Guintoli wrote a very long, heartwarming message on Instagram to his wife. Here is just a piece of what he said: "I always knew you'd be a great mother, but there is no way I could have predicted just how poised you'd be in the middle of a confusingly long Viv-meltdown, after months of inadequate, polyphasic sleeps. It's beautiful. You are her rock. I love you." 
We can see that the marriage is still going strong, despite baby girl meltdowns and that lack of sleep that comes with the territory. Unfortunately, we cannot say the same for Eddie and Catherine on A Million Little Things.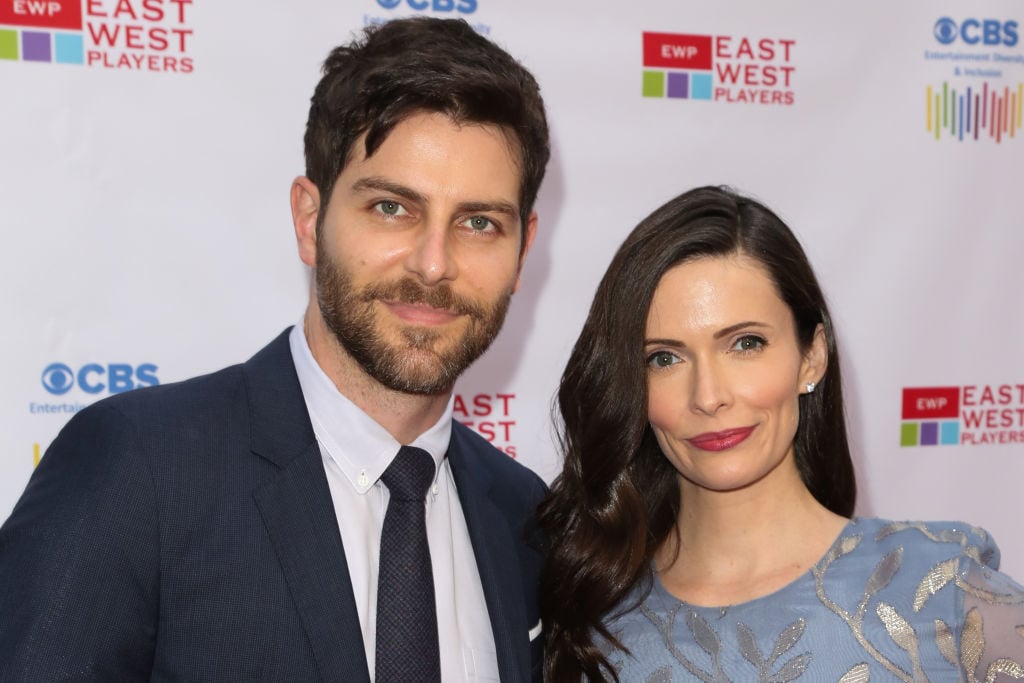 Guintoli is a more faithful man than Eddie on 'A Million Little Things'
In season 1 of the ABC drama, we found out that Eddie was cheating on Catherine with his best friend's wife. As if that wasn't bad enough, we later discover that his lover, Delilah Dixon is now pregnant with his baby. 
As the season progressed we watched flashbacks of how the couple had grown apart. Eddie was a stay-at-home dad while Catherine worked long hours as a lawyer. The two did not see each other often, adding extra strain to their marriage. 
After Eddie told Catherine about his infidelity, he continued to be a supportive dad and husband as much as he could. The affair ended and he privately agreed to keep his paternity a secret with Delilah's new baby so that everyone could move on.
At the end of the season, just as the pair are about to get a divorce, we watch a romantic kiss between them, leaving us wondering if they will rekindle their marriage. 
What does the future hold for Eddie and Catherine's marriage on 'A Million Little Things'?
The Director of the show, DJ Nash revealed some season 2 teasers with Deadline, indicating that Eddie is going to tell Catherine that Delilah's baby is actually his. 
Just when we saw a glimmer of hope in their marriage, Eddie is going to drop another bomb on his wife, leaving her wondering, "Am I going to forgive him for the past, so that I can live my future?" says Nash. "So we'll see them in a really tough spot with what they're going to do," he adds.
While Eddie and Catherine's marriage is in limbo on A Million Little Things, we can get our happy family fix just by visiting Guintoli's Instagram account. He often posts adorable pictures of his baby girl as well as photos of him and his wife.
Find out how Catherine takes the news that her husband is having a child with someone else this fall. A Million Little Things returns to ABC on September 26, 2019.