'A Million Little Things': Does the Cast Get Along in Real Life?
Season 2 of ABC's A Million Little Things has gotten a little complicated. Between Delilah and Eddie's love child and the whole "is PJ John's son" situation, there's a lot to keep up with. On the show, the characters seamlessly weave in and out of awkward situations. Are the stars friends in real life?
'A Million Little Things' has a cast of familiar faces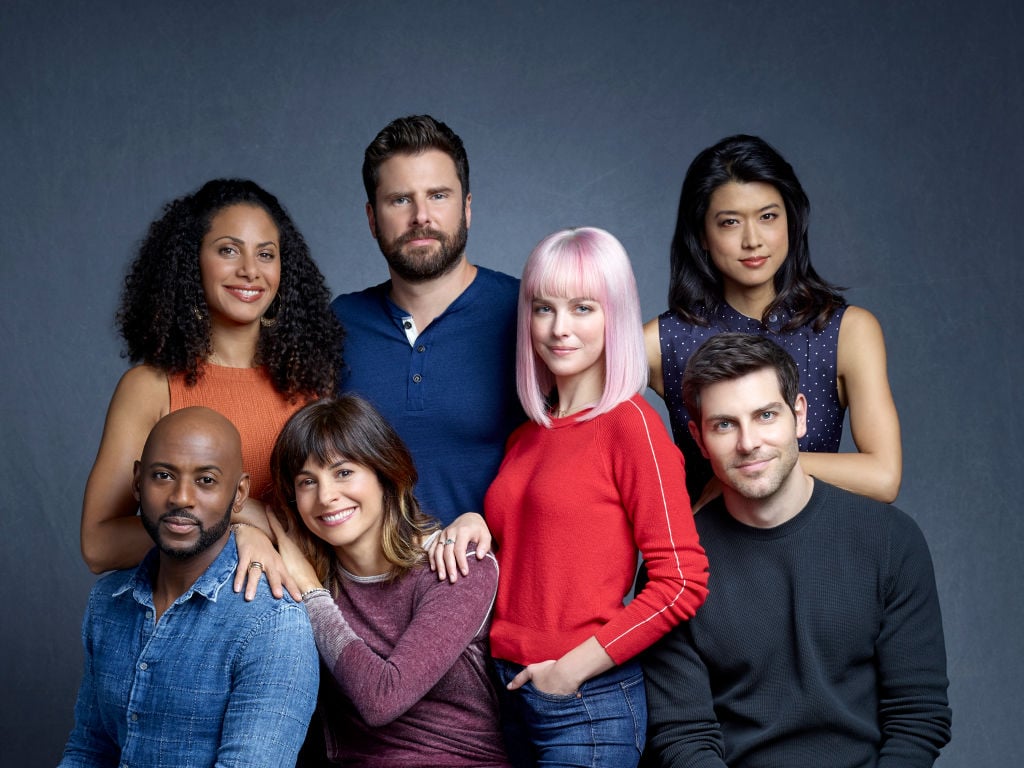 The latest in a This Is Us-inspired world is ABC's version of heartbreak and hope. A Million Little Things follows a group of friends who question everything after one of their own dies by suicide. Suddenly, the perfect lives they all created became nothing more than a facade.
Season 1 focused on Jon (Ron Livingston) and the secrets he kept. Meanwhile, Jon's wife, Delilah (Stéphanie Szostak), had an affair with Jon's best friend, Eddie (David Giuntoli). The two now have a baby together.
Season 2 of A Million Little Things brings more secrets, lies, drama, and questions. But do the actors like each other when the cameras stop rolling?
Are the stars of 'A Million Little Things' friends in real life?
In a recent photo posted on the show's Instagram page, it's clear the cast members enjoy each other's company. The caption reads, "Between takes #AMillionLittleThings."
It isn't the first time pictures like this have surfaced. Shots of the cast bonding on set and giving each other accolades is a regular thing.
Romany Malco, who plays Rome, showed his love on his Instagram page for one of the younger members of the group, Lizzie Green. On the show, Green plays Delilah's oldest child, Sophie. He captioned a photo of he, Green, and costar, Christina Moses (who plays Rome's wife, Regina) with nothing but love.
"This young lady between @christinasmoses and I is who I call "Get Busy @lizzy_greene." She runs four miles a day no matter what and always shows up to work over-prepared. Yesterday #Lizzy flew into #Vancouver, #BC all the way from #Texas just to be at the table read."
He continued his kudos but adding, "Lizzy is a whole different level of professional and an inspiration to me. Those mornings when I don't feel like doing burpees, I think of Lizzy and her mom out there running at 4:00 AM and suddenly my excuses are gone. Thank you for the motivation, #Lizzy. Your success is no accident!"
In another candid shot, Malco bragged about working opposite Giuntoli.
"Standing here with this incredibly smart, grateful and talented young man. His abstract humor gets me every time," he said. "Love working with this brother even when I'm exhausted!"
The cast members do this one thing when they're all together
Aside from talking each other up between takes, the cast members have one tradition that holds up.
Allison Miller, who plays Maggie Bloom, previously explained what friendship means to her, in a promo for the show. According to Miller, "sharing space with someone who supports you and doesn't judge and [when] you can talk about anything," is the epitome of friendship.
This might be something tested during the tradition of riding together when the whole group is on set. As originally posted by Malco, the photo shows the cast of A Million Little Things in bond-mode.
The caption reads: "#Selfie game with #AMLT squad. Sending love to our #Mllionaires ❤️ This is how we commute to and from the different sound stages. On the rare occasion that were all on set, working on the same day, we make certain to capture these priceless moments."
The actors aren't only tight on the show, but in real life. Friendship really is made up of "a million little things."