'A Million Little Things' Season 3 Episode 13 Recap 'Listen'
So many things happened in A Million Little Things Season 3 Episode 13 "Listen," so viewers need a quick recap. In response to the tragic death of George Floyd, the friends gathered together to march in the streets of Boston. However, Rome Howard (Romany Malco) remained home because he was afraid of what he might do. From the promo, viewers worried about who was hurt. Below we reveal what happened.
[Spoiler alert: This article contains spoilers from A Million Little Things Season 3 Episode 13.]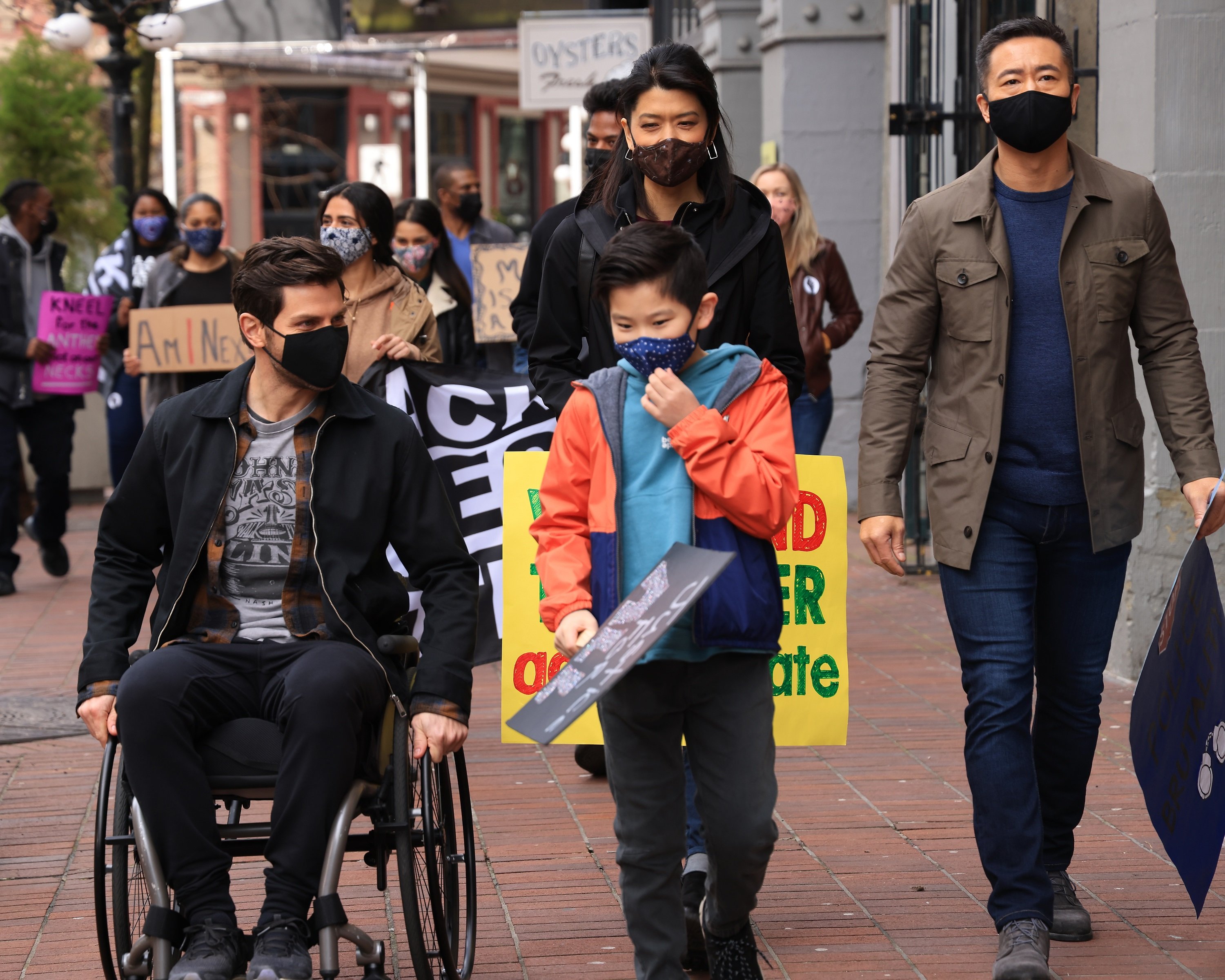 'A Million Little Things' Season 3 Episode 13 Recap: The Howard Family
Regina Howard (Christina Moses) shared her embarrassment with Florence (Karen Robinson) over never marching before. She admitted this protest is the first time she took to the streets to fight for Black lives. Since she grew up being hurt by white people and then went home to her white mother, who looked like the people who hurt her, she didn't know how to feel.
RELATED: 'A Million Little Things': Here's Why Gary's Dad, Javier Mendez, Looks So Familiar
Florence admitted that her parents took her to protest the Vietnam war; however, Walter refused to protest because he didn't think it would make a difference. Rome's father, Walter Howard (Lou Beatty, Jr.), added that he fought in the Vietnam war and was appalled to come home and see people protesting it. Later on in A Million Little Things Season 3 Episode 13, Florence admitted that her brother didn't make it home from Vietnam.
Gary and Darcy try to help
Gary Mendez (James Roday Rodriguez) called Rome to ask if there was anything specific to help. However, Rome became very offended and explained that Gary also needed to do the work.
RELATED: 'A Million Little Things Darcy': Here's Why She Looks So Familiar
Later, Gary and his girlfriend, Darcy Cooper (Floriana Lima), headed to the local hardware store to gather supplies for the protest. The gang all met together at Regina's restaurant to make signs and head out to the streets. When they met afterward, Darcy asked Gary why he changed his name. He admitted that he was getting bullied, so he told his teachers to call him Gary instead of Javier Mendez, Jr.
Darcy pointed out that was part of the problem — Gary could choose whether to be white or Mexican.
'A Million Little Things' Season 3 Episode 13 Recap: Rome and Tyrell
Rome and Regina's foster son, Tyrell (Adam Swain), almost headed out the door to protest when Rome stopped him with a strong warning.
"There are police out there looking for a reason to take your life," Rome told Tyrell. "Young man, do not give them a reason. Your job is not to be a hero today. Your job is to come home."
Meanwhile, Rome had a heart-to-heart with his father about how hard it is growing up Black in America. He wanted to be there for Tyrell, but he didn't want it to affect his mental health. So, instead, his father went to support Tyrell.
'A Million Little Things' Season 3 Episode 13 Recap: Eddie, Katherine, Alan & Theo
The Saville protested with one extra person in tow. Not only did Eddie Saville (David Giuntoli), Katherine Kim (Grace Park), and Theo (Tristan Byon) take to the streets, but Alan Kay (Terry Chen) joined them. To recap A Million Little Things Season 3 Episode 12, you should recall that Katherine asked Eddie for a divorce, and she wanted to be with Alan instead. 
RELATED: Where Is Delilah on 'A Million Little Things'? Stephanie Szostak Hints at Her Return
So, it made for an interesting combination while they made signs together. It was even more awkward when another protestor mistook Alan for Theo's dad.
Maggie Bloom quit her new job
When Maggie Bloom (Allison Miller) accepted a position with Dr. Stacy (Andrea Savage), providing five minutes of therapy and guidance to patients, she was hesitant. The therapist didn't know if she could help enough in such a short time.
It turned out that Maggie was correct to be worried. She continually went over her five-minute time limit, so her boss instructed the secretary to end the call. Maggie ended up quitting her position as Dr. Bloom on Fixed in Five because Dr. Stacy refused to let her fully help the callers.
Luckily, things turned out well because the secretary, Claudia, gave Maggie a list of companies who would be happy to have someone like her on their team.
Who got hurt on 'A Million Little Things' tonight?
Regina was hurt while protesting and rushed to the hospital. The cops pepper-sprayed a group of peaceful protestors. According to Walter, Gina bent down to help someone, and a cop knocked her down.
She hit her head on the ground pretty hard, but after being evaluated at the hospital, she was discharged and able to go home.
Apologies from everyone
Gary apologized to Rome for his insensitive comments. Eddie apologized to Catherine for not realizing that Theo's friends discriminated against him on their Zoom meeting. Rome apologized to Regina for scaring her with his suicide letter. He realized what she must have gone through when she found it, today when she got hurt.
A Million Little Things Season 3 Episode 14 airs May 19, 2021 on ABC. According to IMDb, the A Million Little Things Season 3 finale airs on June 9, 2021.