'A Million Little Things' Season 3 Episode 17 Recap, 'Justice: Part 1'
In the A Million Little Things Season 3 Episode 17 recap, Eddie Saville (David Giuntoli) goes to drastic measures to fight for his son, Theo (Tristan Byon), and daughter, Charlie Dixon (Everly and Brynlee Fisher). Meanwhile, Maggie Bloom (Allison Miller) helps Sophie Dixon (Lizzy Greene) tell her story to the police. Delilah Dixon (Stephanie Szostak) finally returns from Paris, France, and accompanies Sophie to the police station. Plus, Rome Howard (Romany Malco) and Regina Howard (Christina Moses) plan their future.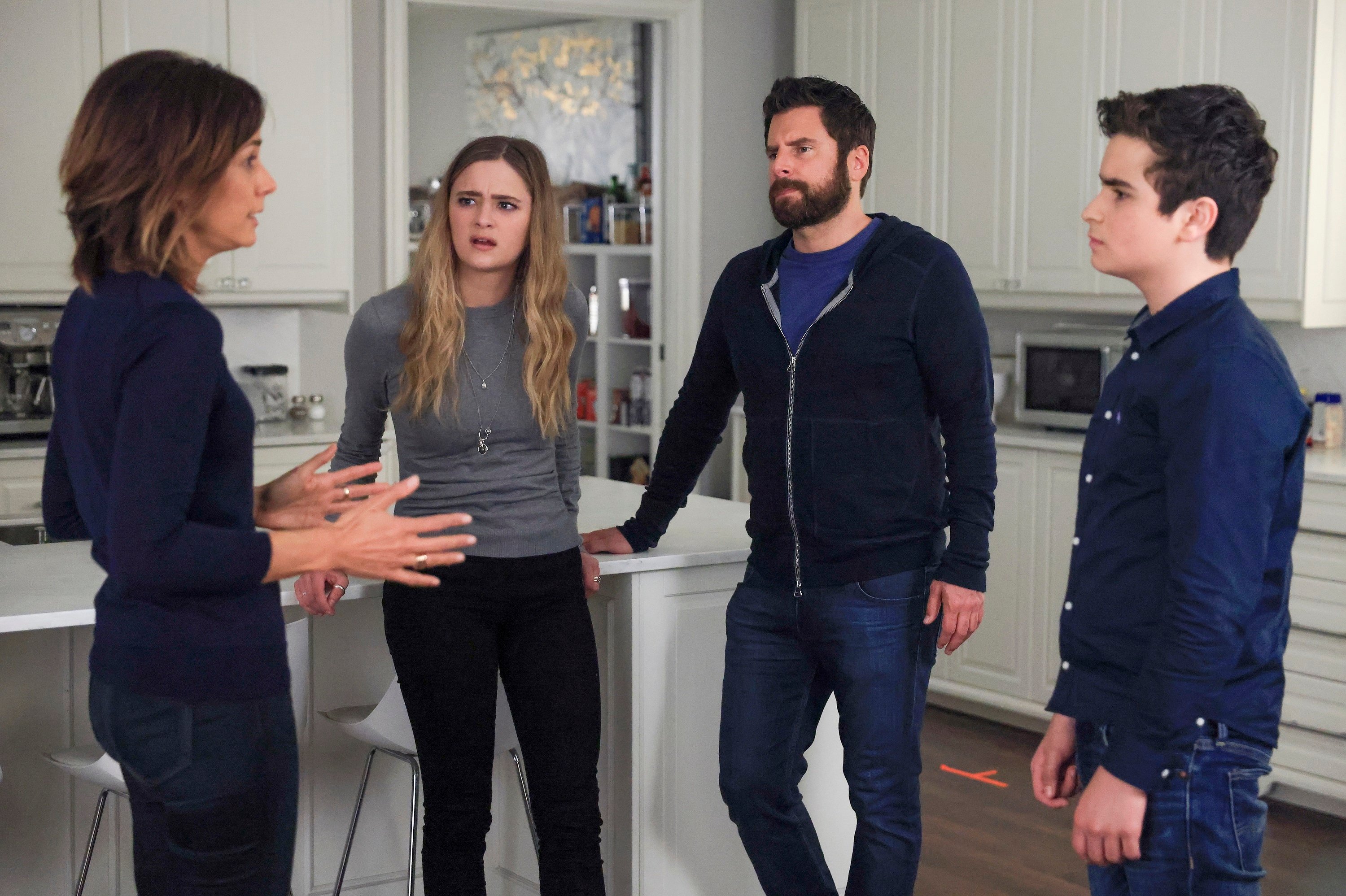 [Spoiler alert: This article contains spoilers from A Million Little Things Season 3 Episode 17, 'Justice: Part 1.']
'A Million Little Things' Season 3 Episode 17 Recap: The Dixon Family
Delilah finally returned home on A Million Little Things Season 3 Episode 17. She was away for almost all of season 3 in France because her father broke his hip. Delilah shared heartfelt hugs with Gary Mendez (James Roday Rodriguez) and Maggie. Then the group headed out together to the police station for Sophie to share her story about her music teacher, Peter (Andrew Leeds).
Delilah left little Charlie with Eddie while she went to the police station so that he and Danny could babyproof the house. Next, Danny asked if Delilah and Eddie were getting back together. Then Eddie apologized for what he put Danny and his family through when he and Delilah had an affair. Later, Eddie helped Danny shave for the first time and discussed a friend, Milo, who was coming over later. Meanwhile, Charlie said her first word, "Danny."
Delilah told Eddie that she wanted to take Sophie, Danny, and Charlie back to France to relocate.
Who is Layla on 'A Million Little Things'?
Sophie went to see Layla's family again to let them know that Sophie was heading to the police station. Layla was one of Peter's previous students who he also suggested she get into a bathing suit for her music lesson. Sophie believed that Layla died by suicide because Peter did the same thing to Layla that he did to Sophie.
Layla's mother, Georgia Gregory (Kari Matchett), got upset and shut the door in Sophie's face. Meanwhile, Layla's father, Christopher Gregory (Michael Weston), ran after Sophie to give her Layla's diary. Sophie wanted to bring Layla's diary along to the station to corroborate her story about Peter. In the journal, Layla wrote, "I don't want him to see me in my bathing suit."
What happened to Sophie?
Sophie shared her story with the police officer and then told them about the selfie she sent Peter. The officers unexpectedly got called out of the room. When he returned, the officer went over the timeline and then implied that Sophie didn't have a case. Privately, the detective told Delilah, Maggie, and Gary that there's not enough evidence. Peter was "smart enough to cover his tracks." A defense attorney would get the case thrown out and victim-blame Sophie. However, the officer admitted that now that there is a case open on Peter, they would have more chance of a conviction if it happened again to someone else.
'A Million Little Things' Season 3 Episode 17 Recap: Gary and Darcy
Darcy's ex-husband took the job two hours away, so she is requesting a transfer at work. Gary insisted they would make the long-distance thing work. However, Maggie asked Gary why he couldn't move with Darcy. She had a difficult conversation with Gary about why he tried to fix everyone's problems. Finally, Gary admitted that he doesn't like when people aren't happy because they leave. Maggie told him to consider what is going to make him happy. Later in the episode, Gary told Darcy he wanted to move with her and have a family.
'A Million Little Things' Season 3 Episode 17 Recap: The Saville Family
In A Million Little Things Season 3 Episode 17, Eddie headed to Delilah's house to help babyproof the house for Charlie's arrival home. However, Eddie and Katherine get into a fight while he's picking up his tools. Katherine's upset that he always makes her be the one to say "no" to Theo. Eddie doesn't help matters. 
Katherine took off work to make it up to Theo that she's not always the fun parent. While they were making popcorn on the stove, Alan Kay (Terry Chen)called Katherine, and she walked away from the stove. While she was gone, Theo took the hot butter to the sink by himself. Theo burned his arm and ended up in urgent care. However, Eddie's lawyer told him to take pictures of the arm to use it against Katherine in court. 
'A Million Little Things' Season 3 Episode 17 Recap: The Howard Family
In A Million Little Things Season 3 Episode 17, Rome helped Tyrell (Adam Swain) load his mom's things in his car. He realized that the landlord, Mr. Mills, wasn't the one who called ICE on his mom. He stored their things and was very nice. Rome was offended that Tyrell didn't call him his foster dad when speaking to the landlord. 
However, more importantly, Tyrell's mom's boyfriend, Kyle, was the one who got her deported. He took the job she was studying for: Supervisor of Emergency services at Boston General. 
Regina had a panic attack when she was heading into the police station because an officer bumped her. It sent her back to the day she was shoved to the ground by a cop during a protest. So, she did not accompany the gang inside to support Sophie. However, Sophie showed up at her door later, crying.
After A Million Little Things Season 3 Episode 18, Deadline reported that the series returns for season 4 in the fall of 2021.