'A Million Little Things' Season 4 Episode 11, 'Piece of Cake' Recap
In the A Million Little Things Season 4 Episode 11 recap of "Piece of Cake," viewers find out what happened to Katherine Kim (Grace Park). The friend group comes together for her at the hospital, bringing some awkward conversations with it. Maggie Bloom (Allison Miller) and Gary Mendez (James Roday Rodriguez) address that elevator kiss from episode 10. Meanwhile, Eddie Saville (David Giuntoli) attempts to make things right with Anna Benoit (Erin Karpluk).
[Spoiler alert: This article contains spoilers from A Million Little Things Season 4 Episode 11, "Piece of Cake."]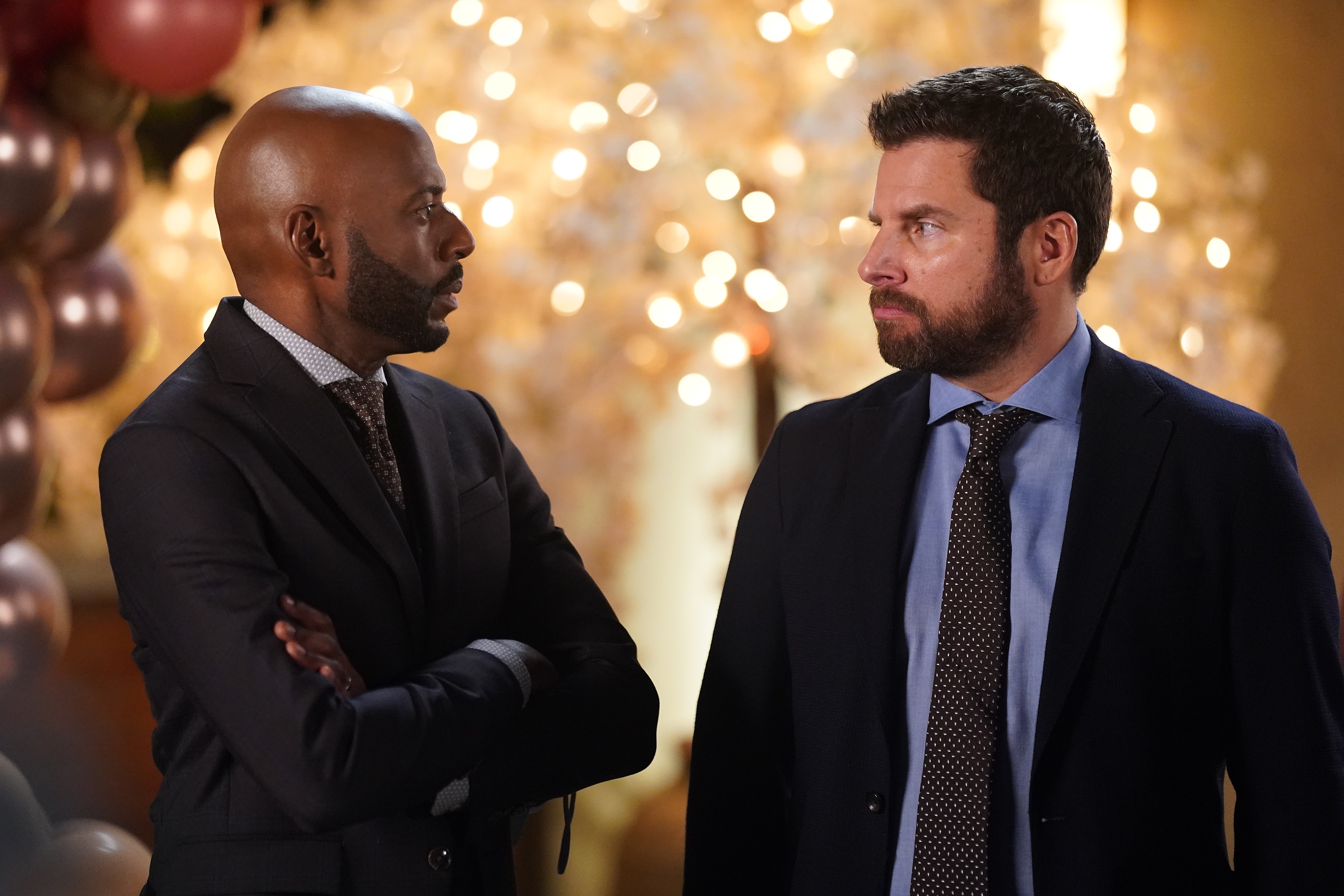 Gary tells Rome about the kiss
When A Million Little Things Season 4 Episode 11, "Piece of Cake," returns, Maggie tells her friends she's so happy she made it to 30. She thanks Cam and her friends, and then Gary tells Rome (Romany Malco) about his kiss with Maggie, and he reacts as many fans did.
"Dude, I've been waiting on this for like two years, bro," Rome tells Gary.
He's so excited he nearly smacks Gary's butt. Later, Gary tries to talk to Maggie about the kiss, but Camden (Ryan Hansen) jumps in with his Bruins friends.
Meanwhile, Jane Goodman (Stephnie Weir) tells Maggie that she's afraid to tell Nick (Mark Derwin) how she feels. She hates seeing him walking around with another woman at the party.
'A Million Little Things' Season 4 Episode 11 recap: What happened to Katherine?
After returning home from Maggie's 30th birthday party, Katherine says goodnight to Theo. When he questions why Randy Kwan is not her type, she tells him that it's a conversation for the morning. However, when she chats on the phone with Greta Strobe (Cameron Esposito), she suddenly falls to the floor. Theo hears the thud, rushes to her side, and calls 9-1-1 with Greta's coaching.
Eddie and Anna talk about lies in marriage
After Anna found out that Eddie knew about Gary's involvement with her husband's assault, she couldn't stay at the party. However, Eddie went to her house and proceeded to tell her every single lie and transgression in his entire life. She loved the honesty and they shared a kiss before he received a call from Boston general about Katherine's fall.
Luckily, he returns to Anna after visiting Katherine in the hospital and they continue their date.
'A Million Little Things' Season 4 Episode 11 recap: At the hospital
When the friend group begins to arrive at the hospital, Theo is distraught. However, Cam saves the day by cheering up Theo. Regina (Christina Moses) comments to Maggie that she must be so happy. However, having recently cheated on Cam, she's not quite sure what to say. Regina changes the subject to her potential new catering business, but Rome shoots down the idea. (Later, Rome apologizes for his remarks, but Regina asks him to realize it's affecting her and Tyrell, too).
Later, Eddie runs into Greta. (He saw Katherine and Greta making out at the party). So, that's awkward. However, Eddie lies to the nurse, claiming that Greta is his sister so that she can see Katherine. It turns out that Katherine is fine. She has what's called Vasovagal syncope, which occured when her heart rate and blood pressure dropped at the same time. She goes home with a heart monitor to make sure everything is OK.
Meanwhile, Maggie isn't sure what to tell Gary about the kiss. She has no plan and Gary calls her on it. He tells her how hard it was to sell the ring he bought for her right before Cam returns. Later, Cam apologizes for not knowing what the significance of her birthday means. The writers keep portraying Cam in a glorious light, now that we are all rooting for Gary.
Gary gets news about a friend who died of cancer and rushes to find Maggie. He finds Regina and Rome and hears that Maggie went home with Cam. Our heart aches for Gary. Shockingly, she returns to his apartment in the last moments, confessing that she broke up with Cam. They share an even more heartfelt kiss than that elevator scene.
According to ABC, A Million Little Things Season 4 airs Wednesdays at 10 p.m. EST on ABC and is available for streaming on Hulu.