'A Million Little Things' Season 4 Episode 13, 'Fresh Start' Recap
In the 'A Million Little Things' Season 4 Episode 13 recap of "Fresh Start" viewers get a deep dive into everything that went down in the friend group this week.
In the A Million Little Things Season 4 Episode 13 recap of "Fresh Start," Maggie Bloom (Allison Miller) faces trouble at the radio station when she talks about abortion. Meanwhile, Eddie Saville (David Giuntoli) confides in his ex-wife, Katherine Kim (Grace Park), about his new relationship with Anna Benoit (Erin Karpluk). Plus, Gary Mendez (James Roday Rodriguez) coaches Danny Dixon (Chance Hurstfield) through a hiccup with Milo (Emrik Lopez). There's still no sign of Delilah Dixon's return from France.
[Spoiler alert: This article contains spoilers from A Million Little Things Season 4 Episode 13, 'Fresh Start.']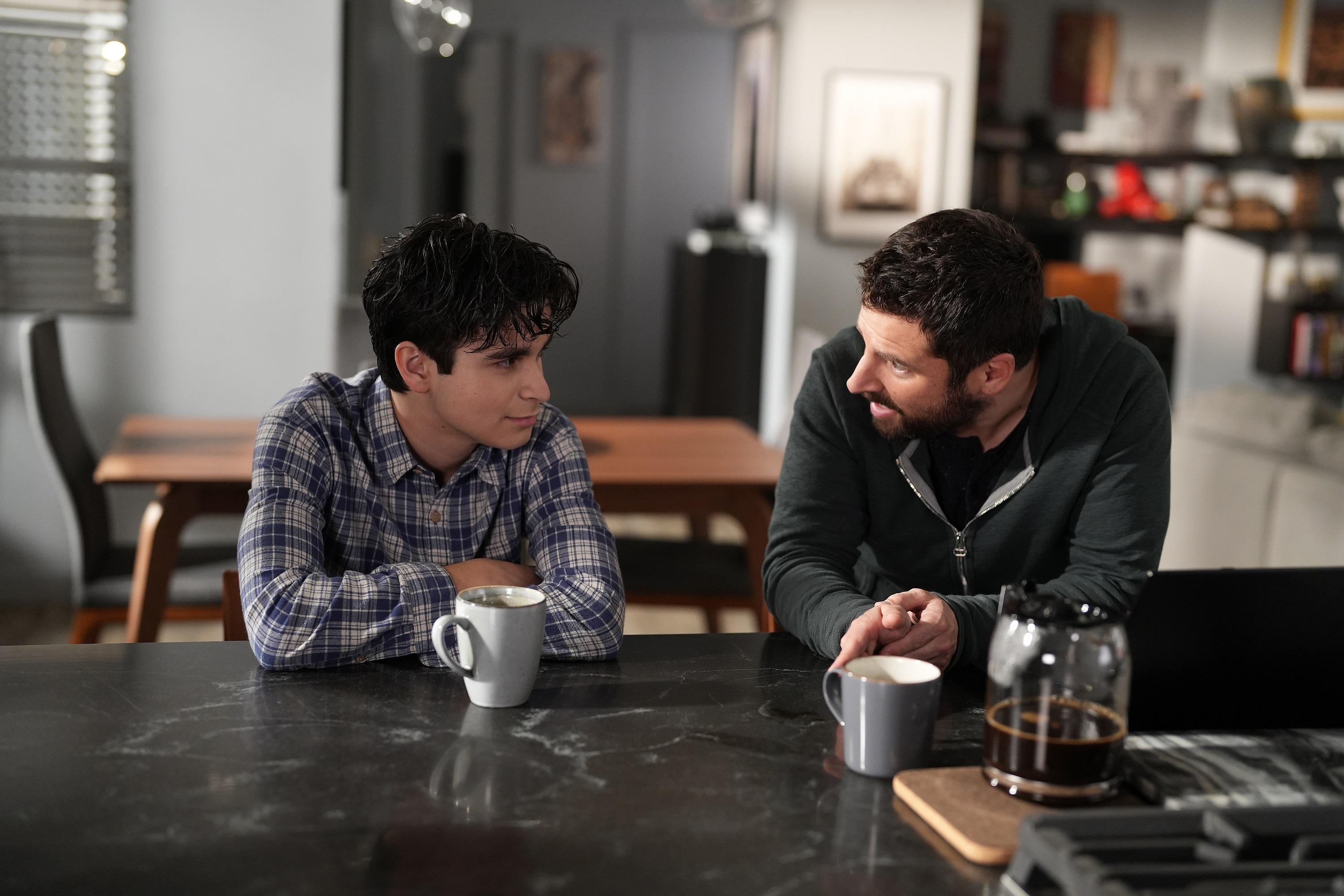 Gary coaches Danny Dixon through his relationship with Milo
In A Million Little Things Season 4 Episode 13, Danny Dixon flies in from Europe. After a long conversation with Delilah, she allows him to stay for spring break, so Danny turns to Gary for help with Milo. Gary encourages Danny to break up with Milo, but instead the two teens end up back together. However, Milo overhears a conversation between Danny and Gary while he's in the bathroom. Milo abruptly leaves and later tells Danny that he heard Gary telling Danny to dump him.
Later, Danny voices his regret over following his mother (Delilah) to France. He requests that Gary support him forgiving Milo.
'A Million Little Things' Season 4 Episode 13: Rome visits his old prep school
In A Million Little Things Season 4 Episode 12, viewers discovered that Rome Howard (Romany Malco) went to Sussex Prep School where he felt very out of place. He told Tyrell (Adam Swain) that the population of students was primarily white and they made racist jokes. His therapist inspired him to visit the old school. While looking into a possible visit, Rome realizes that the only other Black student, Dre Washington (Keith Robinson), is now an administrator at the school.
Mr. Washington asks Rome to share his documentary with the school. He also explains why he chose to return to the prep school. The former classmate wants to be there for the Black students, to be the teacher he wished he had growing up. However, Rome's plan for showing his documentary worries Tyrell. Rome wants to call out his former Dean for being part of the racist problem at the school.
Maggie speaks about abortion on her radio show
In A Million Little Things Season 4 Episode 13, Jane Goodman (Stephnie Weir) informs Maggie that the company bought her a car. Nick (Mark Derwin) teases Jane as the pair arrive to work that morning.
A caller phones in to talk to Maggie about telling her family that she's planning to have an abortion. She supports the woman in what she's going through and offers her options of who to call. Maggie also tells the caller it is her decision whether to tell her family or not. However, Jane reprimands Maggie for talking about abortion on the air. They argue over whether it's political or personal. Jane insists they have entered the "Boys Club" and they have to tread lightly. Lucikly, Maggie doesn't care and would rather face the consequences. So, she shares her personal experience having an abortion and emphasizes that it is a a personal decision, not a political one.
Minutes after sharing her experience on the radio show, Maggie finds out that an executive fired Jane for allowing the abortion talk to continue. However, as she walks out of the office, Mark asks Jane out on a date. The couple finally has a chance since Jane isn't his boss anymore. It looks like things will work out.
Maggie and Gary continue to be happily reunited, despite breaking Cam's (Ryan Hansen) heart. They end up having a sweet conversation in bed in the last few minutes of the episode. Could Maggie and Gary think about having children together? In the last moment, Maggie meets with her oncologist about possibly having a baby.
'A Million Little Things' Season 4 Episode 13: Anna and Eddie
Eddie's new love interest, Anna Benoit (Peter's ex-wife), expresses a desire to spend the night with Eddie. However, he's nervous about "performing in bed" since his car accident. It might be an odd choice to discuss those feelings with your ex-wife, but Eddie opens up to Katherine. She reassures Eddie that she did not become attracted to women because of him. After a very weird conversation, Katherine tells Eddie he's not going to help his relationship with Anna by spending the night at his ex-wife's house. So, he finally opens up to Anna about her anxiety and their chemistry makes us all smile.
'A Million Little Things' Season 4 Episode 13: Regina and Ron
Meanwhile, Regina Howard (Christina Moses) and her father, Ronald (Mario Van Peebles), make plans for the new catering business. However, he tries to encoruage Regina to use her old restaurant as the base for her catering business. She runs home and later tells her father her true feelings about Someday. Regina's father apologizes for not being there through her trials and tribulations with Someday. After all of her reservations, Ron decides to purchase a food truck for Regina to keep things small. He proves that he was listening and she's elated.
According to ABC, the next episode of A Million Little Things Season 4 Episode 14, "School Ties," airs in two weeks, on April 6, 2022.