'A Million Little Things' Season 4 Episode 4 Recap, 'Pinocchio' — Is It the End for Darcy and Gary?
'A Million Little Things' Season 4 Episode 4 threatens to break up Gary and Darcy for good when Peter Benoit wakes up and Detective Saunders asks more questions.
In the A Million Little Things Season 4 Episode 4 recap of "Pinocchio," things come to a head for Gary Mendez (James Roday Rodriguez) and Darcy (Floriana Lima). She suspected something in the last episode, and now she's ready to confront Gary about it. In other news, viewers finally find out what happened the night of Eddie Saville's (David Giuntoli) hit and run. The reason Nicole (Rachel Nichols) left the scene of the crime is more heartbreaking than anyone thought. Plus, there's still no sign of Delilah (Stephanie Szostak) and Danny (Chance Hurstfield) returning from France.
[Spoiler alert: This article contains spoilers from A Million Little Things Season 4 Episode 4, 'Pinocchio.']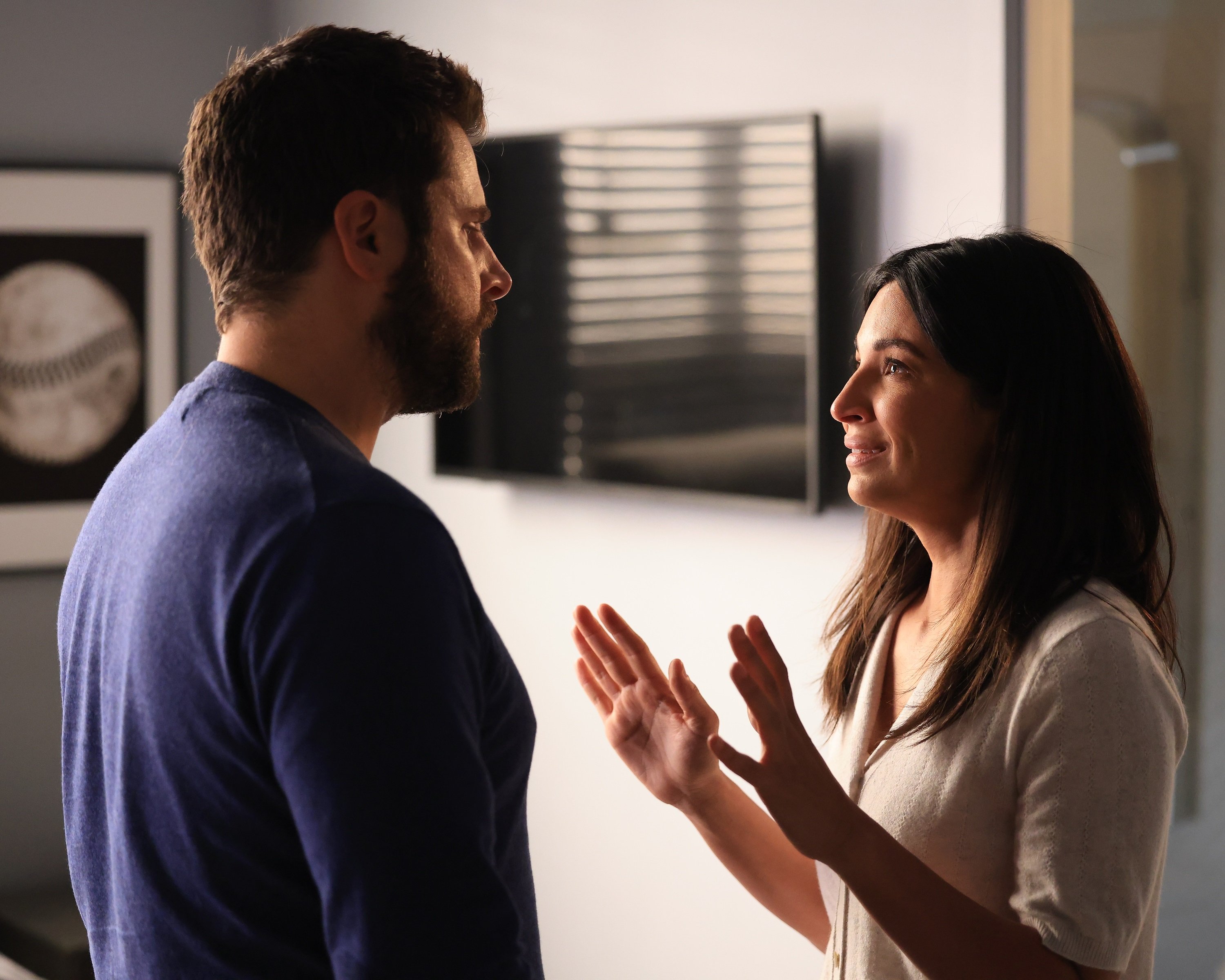 'A Million Little Things' Season 4 Episode 4 recap
In A Million Little Things Season 4 Episode 4, "Pinocchio," viewers find out that Peter Benoit (Andrew Leeds) is awake. However, more shocking is the photo that Detective Craig Saunders (Brian Markinson) holds up in front of Peter's face. The picture shows Christopher Gregory (Michael Weston) getting into Gary's car. (In episode 2 of season 4, Christopher insisted on speaking to Gary because he was worried about getting caught). Gary makes up numerous lies to support his claim that he's friends with Christopher, nicknaming him "Topher." Then Liam (Mattia Castrillo) and Darcy walk outside and ask who the detective is. Cue more lies from Gary. 
Maggie wants to keep her new job
Claudia (Andrea Bang) gives Maggie Bloom (Allison Miller) a pep talk before Jane Goodman (Stephnie Weir) arrives from the network. Maggie hopes to speak to Jane about keeping her interim position as Dr. Stacy. However, she bolts out of the room when Jane and Nick (Mark Derwin) start making jabs at each other. 
In the break room, she offhandedly tells Rachel (Jill Morrison) from Human Resources that Jane and Nick have created a "hostile work environment." After the two get scolded by HR, Claudia fills Maggie in on the situation that caused their hostility toward each other. When Jane was offered a promotion, she had to choose between dating Nick or taking a new position. Jane chose the job.
After another motivational chat with Claudia, Maggie asks Jane to consider her for the position. Jane informs Maggie that she's in the running, but the network awaits a test from the audience. She also lets Maggie know that she should stop gossiping about her.
'A Million Little Things' Season 4 Episode 4 recap: Rome sells his movie
Meanwhile, Rome (Romany Malco) found out that the New England Film Festival chose his documentary with Tyrell (Adam Swain) to feature at their event. A streaming giant, Paragon+, requested an early screening and wants to buy his film. Rome has lunch with his dad (Lou Beatty, Jr.) at Regina's new place of employment, Crocodilz. Meanwhile, Regina (Christina Moses) becomes friends with Valerie (Andrea Navedo) in the kitchen. When Regina tries to change a recipe, Valerie takes the fall. However, the newcomer also admits that she's recently out of prison, and their boss doesn't know.
When the Film Festival calls to inform Rome that his agent pulled the film from the festival, things look suspicious. Paragon+ bought the film to keep it from overtaking the popularity of their similar documentary. Luckily, Rome's dad gives him a pep talk to lift his spirits in A Million Little Things Season 4 Episode 4.
Eddie Saville talks to Nicole — the woman who hit him
Eddie's therapist, Russ (Michael Patrick Thornton), insists that Eddie listen to what Nicole (Rachel Nichols) says. She admitted that she was driving distractedly when she hit Eddie, but her story is heartbreaking. When she offers him money, Eddie notices the bruises on her arms. 
Later in A Million Little Things Season 4 Episode 4, Nicole explains that her husband Frank has a temper and came home in a bad mood one night. She took her son, Julian, out for a ride in the car so that they wouldn't get hurt by Frank the night of Eddie's accident. Nicole swerved and hit Eddie when she reached down to get her son's applesauce pouch. She runs out of the restaurant and leaves the envelope full of money. Hopefully, in a later episode, Eddie returns the money and helps Nichole get out of her situation.
Later, Eddie tells Theo (Tristan Byon) the hard truth he's been hiding — that he's never going to walk again. However, he also adds that he's happier than he's ever been before. Eddie talks to Theo about being grateful for the life they have because someone always has it worse.
Gary and Darcy break up in 'A Million Little Things' Season 4 Episode 4
When Peter wakes up, he tells the detective that he can't remember anything. He barely recognizes Christopher and Gary from the photo. When Gary hears that Peter has short-term memory loss, he feels like he's off the hook. However, Darcy starts acting weird.
She takes him aside and tells him that they can't move to Lenox together because she knows where he was the night of Peter's assault. They sit down with Liam to tell him that Gary and Darcy aren't moving in together.
Later, Gary finds his lost Bruins hat underneath his air mattress and gets a call from Peter Benoit. Peter lied to the detective and remembered everything about the night of his assault. What does this revelation mean for Gary?
According to IMDb, A Million Little Things Season 4 airs Wednesdays at 10 p.m. EST on ABC and is available for streaming the next day on Hulu.