A Rapper Appeared to Hit On Megan Thee Stallion and Fans Are Not Here for This Potential Couple
A self-described "hot girl," Megan Thee Stallion is known for her good looks and amazing body. She oozes confidence and sexiness, earning her a large following of fans who have crushes on her.
One of such people appears to be rapper Sage the Gemini, who recently drooled over a video Megan Thee Stallion posted on social media. But fans have warned him to stay away, citing his past behavior and relationship history.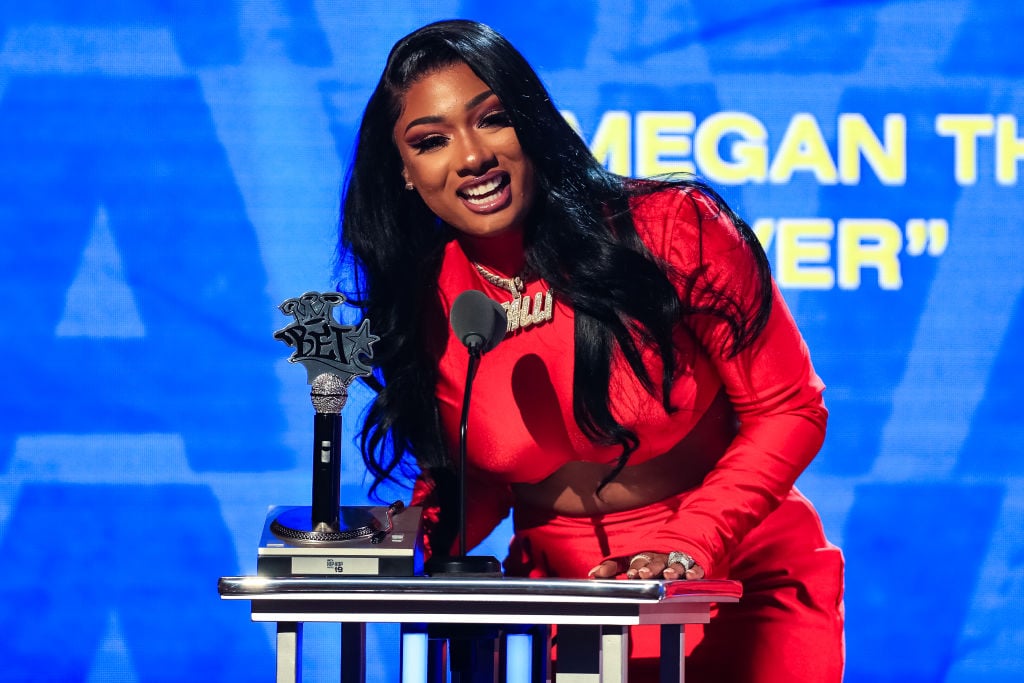 More on what happened with Sage the Gemini and Megan Thee Stallion
Over the weekend of March 20, Megan Thee Stallion went on Instagram Live without any makeup, showcasing her natural beauty to thousands of viewers. In a clip of the video, which has also made its rounds to Twitter, she was shown wearing a gray tank top with her hair falling freely and her skin glowing.
The video stunned fans, with many commenting about how different she looked and how beautiful she is without makeup. Among them was Sage the Gemini, who wrote on Twitter "Damn [what the f*ck]." He also called the Suga rapper beautiful in a follow-up tweet.
Fans react to Sage the Gemini's comments
Many fans are not interested in seeing these two together at all. One fan immediately warned Sage the Gemini to "stay TF back!!!"
"Still remember what u did to our good sis Jordan," the fan continued, referencing his relationship with Jordin Sparks.
Sage the Gemini dated Sparks for about nine months between 2015 and early 2016, according to E! News. Sources told the outlet at the time that Sparks had been struggling to trust the "Gas Pedal" rapper and that he "wasn't helping the matter any with his behavior."
After a failed attempt to get her back, Sage the Gemini was allegedly heard bashing the American Idol star in an audio recording, saying their relationship was "horrible" and that he wanted to stab Sparks at times.
"Don't get me wrong. She's cool," he allegedly said on the recording. "She's level-headed, whatever, but she's not no regular person… Everybody on the outside looking in [thinks] it's hella perfect."
Even though that was years ago, fans aren't letting up.
"Bye sage, we didn't forget," read one comment.
"Sage 🗣U NOT READY FA DA STALLION BOOBOO," said another.
A third person wrote: "He better stay the hell away from her."
Oof.
While there were a lot of negative reactions to this potential couple, there were a few positive comments. One person, for example, said they would love a collaboration from the rappers, which could be good for Sage. While he has had some popular songs in recent years, he has yet to match the success of songs from his early career such as "Red Nose" and "Gas Pedal."
Megan Thee Stallion was recently linked to another rapper
She was most recently linked to G-Eazy after they were seen cuddling together and nearly making out after a Super Bowl party on Feb. 2. But she denied on Twitter that anything serious had happened.
"It wasn't a fling. It wasn't a club jumpoff. You know, people be turned up in the moment," she added in a later appearance on HOT 97's Ebro in the Morning. "G-Eazy is cute, but I just want to be single right now."
The "Cash Sh*t" rapper did admit, however, that she is attracted to G-Eazy and would consider him an "option" when she is ready to date again.
"Gerald is a great guy," she continued.
Who else has Megan Thee Stallion dated?
Before her apparent fling with G-Eazy, Megan Thee Stallion dated Memphis rapper Moneybagg Yo. They broke up in late 2019 after a months-long relationship, with Moneybagg Yo contributing their split to their conflicting personalities and schedules in a later interview.
Megan Thee Stallion has also been linked to stars such as Trey Songz and Tristan Thompson, but she has never confirmed anything. As she said, she is currently enjoying her life as a single woman and will date when she's ready.
Read more: Megan Thee Stallion Is Getting Dragged On Social Media Over Her GPA