A Royal Rebel: A Look At Sarah Ferguson, Duchess Of York's Life
Sarah Ferguson, Duchess Of York has always stood out in the royal family. A fiery redhead determined to walk to the beat of her own drum, Ferguson has never crumbled under the glare of the public spotlight. Though she grew up in a very privileged household, Ferguson has always had an adventurous spirit which is why she captured the heart of Queen Elizabeth II's third child, Prince Andrew.
Though they had a falling out before Princess' Diana's death, the Duchess of York and the People's Princess were often thick as thieves, and they made it their mission to rebel against the strict orders of the crown. Even though she and Prince Andrew divorced in 1996 amidst some scandals photos and infidelities, the duchess has remained extremely close to her ex-husband, and the pair has raised their two daughters, Princess Beatrice, and Princess Eugenie together. Despite the numerous scandals, including a more recent one involving a journalist trying to pay her for access to the royal family, Duchess Sarah Ferguson has kept her head held high. Take a look at this audacious rebel's very colorful life.
1. Privileged beginnings
Sarah Margaret Ferguson was born on Oct 15, 1959, in London England. She was the second daughter born to Major Ronald Ferguson and Susan Mary Wright. Her parents were quite well off, so she enjoyed a very plush upbringing including a private school education, extensive horseback riding lessons, and even a friend group that included members of the royal family.
One of Ferguson's childhood friends was Lady Diana Spencer. Their mothers went to school together, and the women often played together as kids.
Next: A broken home
2. A major life change
In 1975 when the duchess was 16 years old, her parents divorced and her mother remarried an Argentinian man named Hector Barrantes. Ferguson's mom jumped up and moved to South America leaving her daughters behind in England at her father's estate, Dummer Down Farm. In 1976, Major Ferguson married Susan Deptford, and the couple went on to have three more children, Andrew, Alice, and Elizabeth.
Perhaps the duchess is such a fearsome mother to her daughters because she never wants them to feel as if they don't matter or that she values something more than them.
Next: A sparkling personality
3. A popular girl
Though she dealt with some significant changes at home, Fergie as she's often called, adored school. She attended Daneshill School in Stratfield Turgis where she was known as a "courageous, bubbly and outgoing little girl." After Daneshill the duchess continued her education at Hurst Lodge School in Ascot.
Though she did not do well academically, Fergie was a mega-talented swimmer and tennis player. Her love of sports and adventure would take her quite far when she became a member of the royal family.
Next: A working woman 
4. A career of her own
Though the Duchess of York wasn't exactly a prized pupil, she knew that she wanted to make a career for herself. At age 18, she graduated from the Queen's Secretarial College. After school, she dove headfirst into the workforce finding positions at an art gallery, two public relations firms in London, and then a publishing company.
Next: An old friend 
5. Reconnecting with Diana
In 1980, when she was 21, Fergie reconnected with her old friend, Diana, just as the young woman was being thrust into the spotlight as a potential bride for Prince Charles of Wales. The princess was only 19 at the time, so she saw Fergie as a sister figure whom she could go to for advice. The pair were very close in age and shared several interests. They made time to have lunch together each week as the princess prepared for her nuptials.
In her 1996 autobiography My Story: Sarah the Duchess of York, Fergie wrote, "She was two years younger than I, and I strove to support and protect her as I would a younger sister—as I still do today, as a best friend."
Next: Living life on her terms 
6. A lady and her lovers
While Princess Diana was kept in a cage as a pretty little wife for the prince and the public to admire, the duchess was living her best life in her late teens and early 20s. Before connecting with Prince Andrew, the Duchess of York had two serious boyfriends. She dated Kim Smith-Bingham, a stockbroker, and Paddy McNally, a motor racing manager who just happened to be 22 years her senior.
The duchess lived with both men.
Next: Fireworks with a prince
7. Catching the prince's eye
Everything changed for Ferguson in 1985. Though she and Princess Diana has remained close, the duchess wasn't often around the royal family as a whole. However, Princess Diana was able to convince Queen Elizabeth II to invite Fergie to one of her "dine and sleep" events at Windsor Castle during Ascot week. At dinner, the Duchess of York found herself seated next to Prince Andrew, Prince Charles' cute younger brother.
Though the prince and Fergie had crossed paths in the past, this was the first time a romantic connection began to spark.  The duo started to date, and their romance quickly blossomed.
Next: A massive step into royal life
8. A whirlwind engagement
It didn't take long for Prince Andrew and Fergie to decide that they wanted to be together forever. The pair announced their intent to marry on March 19, 1986. Prince Andrew designed the duchess' engagement ring himself. It consisted of ten diamonds surrounding a Burmese ruby. He chose the Burmese ruby to compliment Fergie's red hair.
Prince Diana who had already had two children at the time and was in her fifth year of marriage was on hand to help Fergie adjust to royal life. At her first royal engagement, the duchess even wore one of Princess Diana's dress. In My Story, she remembered, "I looked over at my friend in befuddlement. "Just keep smiling" Diana whispered. And I did, as I would for long years to come. I always felt safe in mimicking Diana."
Next: Keeping the crown on its toes
9. A wild hen night
Fergie was just 27 when she accepted Prince Andrew's marriage proposal, and she wasn't about to let her single days fade into the background without one last soiree. The duchess was the first female member of the royal family to have a bachelorette party.
Her friends, including Princess Diana, caused a major scene outside of Buckingham Palace by dressing as policewomen. They ended their celebratory evening out at Annabel's social club. From the beginning, the Duchess of York wasn't about to let the boys have all the fun.
Next: A massive wedding 
10. A wedding frenzy
If you think the drama surrounding Prince William and Duchess Kate Middleton's nuptials or Prince Harry and Duchess Meghan Markle's marriage was huge, then you weren't alive in '86. Sarah Ferguson and Prince Andrew wed on July 23, 1986, at London's Westminster Abbey.
The wedding was a massive televised event and was watched around the globe by over a billion people.
Next: Bonding with her in-laws. 
11. Adored by the royals
Though she was bold and outspoken, the royal family initially adored the Duchess of York. She was fearless and did everything from getting her pilot's license to taking up carriage racing.
Princess Diana told biographer Andrew Morton, that the Duchess of York "wooed everybody in this family and did it so well. She left me looking like dirt." She even said that her ex-husband Prince Charles told her "I wish you would be like Fergie—all jolly."
Next: Always alone
12. A marriage filled with distance
While marrying into the royal family may have looked appealing from the outside looking in, Fergie soon discovered that it wasn't as glamorous as she thought it would be. Prince Andrew was an active officer in the navy, which required him to stay away from home for long periods, the duchess often found herself alone.
Despite her friendship with Princess Diana and her happy relationship with the royal family, she became incredibly lonely.
Next: Pitfalls of being in the public eye
13. A terrifying attack in New York
Being a public figure also had its drawbacks. In 1988, the duchess went to New York City to attend a fundraising event when she was attacked by a man waiting in the entrance of her hotel. Luckily, Fergie was unharmed but, her attacker was charged with attempted assault on the duchess and assault on a federal agent.
Next: The first whispers of scandal
14. Getting wild in Cali
New York was just the beginning of the Duchess of York's troubles. By March of 1988, she was already beginning to fall out of favor with the public. Along with Prince Andrew, she took a trip to California. Though the details of what the young couple did on the tour are sparse, British newspapers said the trip was, "brash, vulgar, excessive, weak-humored exhibition by two royals."
Though the city of Los Angeles tried to defend the young couple, saying that they were warm, friendly and just doing their duties, the damage was done.
Next: Doing royal her way
15. Dragging the royal family into the modern age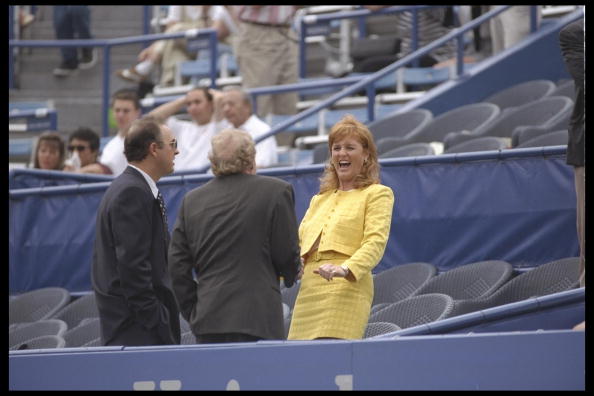 If the Duchess of York and the Princess of Wales did nothing else during their brief time as royal family members, they helped soften some of the rigid and antique rules of the crown. Though they were scolded for their carefree and fun attitudes at the time, they also allowed the royals to be seen as human beings.
Their joyous spirits are what has made things a tad easier for younger members of the royal family.
16. The birth of two princesses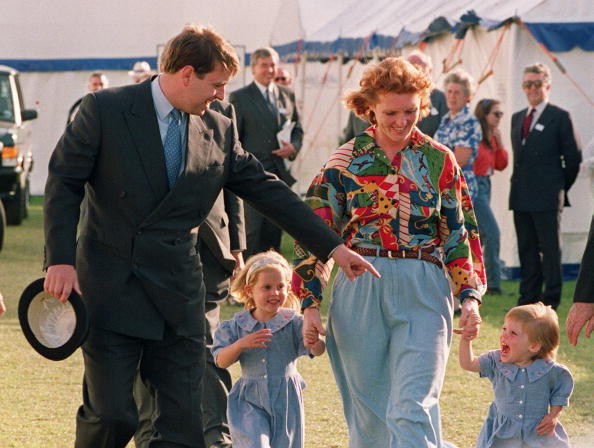 Two years into their marriage, the Duke and Duchess of York started their family. Their first daughter, Princess Beatrice was born Aug. 8, 1988. Their second child, Princess Eugenie was born on March 23, 1990. In the end, it would be their close bond with their girls that would allow Fergie and Prince Andrew to weather the storms that would blow their way in the coming years.
Next: A vicious and cruel nickname
17. The Duchess of Pork
As some women do, the duchess put on quite a bit of weight during her pregnancy with Princess Eugenie, and the press was not kind about it at all. They disgustingly labeled Fergie, the Duchess of Pork. Though we're sure the body shaming was extremely hurtful, the duchess was not to be deterred. In fact, she took in all in stride.
Using her charismatic personality, the duchess joined forces with Weight Watchers and became their second spokesperson ever.
Next: A natural storyteller
18. Finding her voice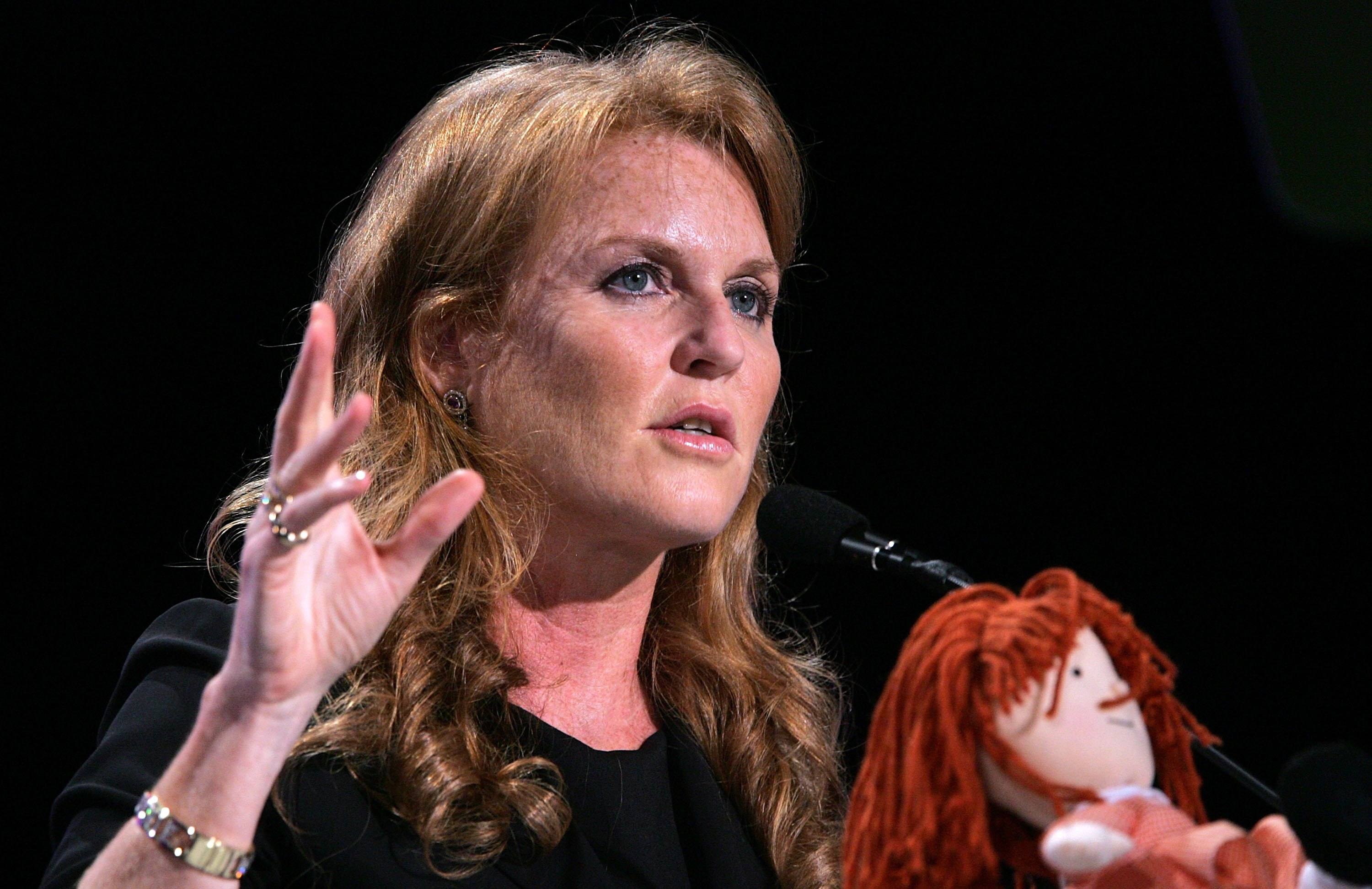 Not content with simply being a royal wife and mother, Duchess Sarah Ferguson found major success writing children's books. She wrote and published a series of children's books about Budgie The Helicopter. The books were so extraordinarily successful that they inspired an animated series that featured Budgie and his friends.
Next: Cracks in her marriage  
19. Increasingly unhappy
By 1991, both Fergie an Princess Diana had become increasingly unhappy in their respective marriages. Naturally, they leaned on one another for support, primarily because "divorce" was still extremely taboo for the royal family. In My Story, Fergie said that 1991 was vital for them both. She explained, "It was the year we first put words to the unspeakable idea that had been nudging us in the ribs for some time: that one or both of us might leave the royal family. We burned the phone wires into the night, trading secrets and jokes that no-one else would understand."
The duchess was increasingly bored and began spending exorbitant amounts of money on lavish trips and expensive toys.
Next: Some very naughty photos 
20. The explosion of '92
In 1992, the Duke and Duchess of York's marriage imploded in front of the entire world. Though there were rumors of infidelity on both sides, Fergie was photographed topless with oil tycoon, John Bryan. Bryan was also sucking Fergie's toes in the pictures. No one had the foresight to warn the royal family that the photos were going to be published, so the Windsors found out about them over breakfast while reading the morning newspapers.
Prince Andrew and the Duchess of York separated soon after that.
Next: Getting iced out
21. A royal shunning
To say that the photographs and separation did not go over well would be the biggest understatement of the century. Shortly after announcing her separation from Prince Andrew, Kensington Palace palace announced that the duchess would no longer carry out public engagements on behalf of Queen Elizabeth II.
Meanwhile, the queen announced in a statement that she wouldn't take responsibility for Ferguson's debts and those debts were quite large. The rest of the royal family followed suit in turning their backs on the duchess including Prince Philip who once described Fergie as, "having no point."
During this time, the duchess started her own charity, Children in Crisis. The charity's mission is to help children in some of the world's poorest countries gain access to education. To do this day, Ferguson credits the charity with saving her life.
Next: Living on the edge 
22. Finalizing the paperwork
Duchess Sarah Ferguson and Prince Andrew officially divorced in 1996, and the duchess was stripped of her title of, Her Royal Highness. (Princess Diana was able to keep her title in her divorce from Prince Charles.) In their divorce, Fergie as awarded a lump sum of £3 million and given a meager sum of just £15,000 a year as a divorce settlement.
However, since her daughters were so young when she and the prince pulled the plug on their marriage, the duchess remained at their home at Royal Lodge, living in separate quarters.
Next: Finding a new tribe
23. Going Hollywood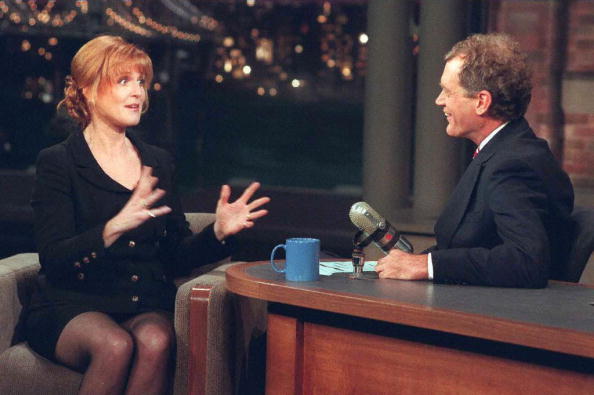 On the outs with the royal family, the duchess used her notoriety to make other friends, mainly those who ran in elite Hollywood circles. Not only did she rise to fame with Weight Watchers, but she also became chums with Larry King, even covering for his show when he went on holiday. She has also appeared on The View, The Today Show, Celebrity Apprentice, and Fergie even had a mini-series on Oprah Winfrey's OWN Network called, Finding Sarah.
The same year her divorce was finalized, she set the world into a frenzy when she published her autobiography, My Story: Sarah the Duchess of York. Unfortunately, in the book, she also threw some shade at Princess Diana which resulted in the women falling out. The duo never reconciled before the princess' death in Aug. 1997.
Next: A lifelong regret 
24. Losing Diana
Princess Diana died tragically in Aug. 1997 in a car accident in Paris, the morning she was supposed to return to London. It has haunted the Duchess of York forever. She told Harper's Bazaar, "Because we were like siblings… we rowed. And the saddest thing, at the end, we hadn't spoken for a year."
The women had been so close for so many years, to end on such a sour note was truly a tragedy.
Next: Carving out a new path
25. A bonafide author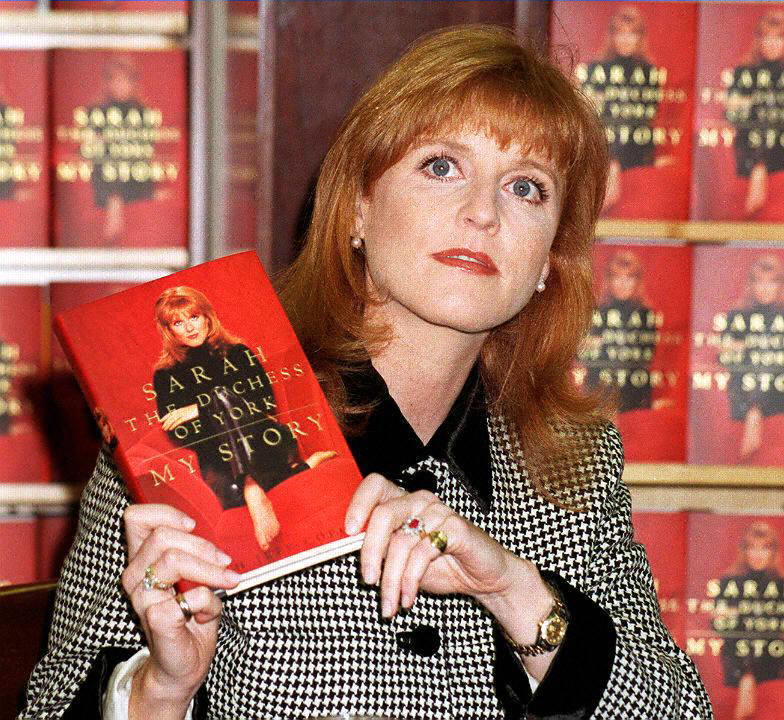 Her children's book and her autobiography were just the first of many books Fergie would write. She wrote a self-help book called Reinventing Yourself With The Duchess Of York. She also wrote Little Red, a children's book about a spunky redheaded doll that became a series of books.
She also has a slew of history, lifestyle, and dieting books under her belt. No one can say the woman doesn't know how to work hard.
Next: Yet another embarrassment 
26. Another appalling scandal
Though she has worked diligently since 1996, Fergie has not been able to keep up with her excessive spending. In 2010, she found herself once again in an immense amount of debt to the tune of £4 million.
She was caught by an undercover journalist who offered her $500,000 for access to the royal family. The duchess was caught was caught on tape pocketing $40,000 in cash as a down payment. She issued a statement saying she was "sincerely sorry" for her actions and admitted that her finances had been under strain. However, the incident diminished her relationship with the royal family which has slowly been on the mend. In 2011, Prince William did not invite her to his wedding.
Next: Thicker than thieves 
27. Closer than ever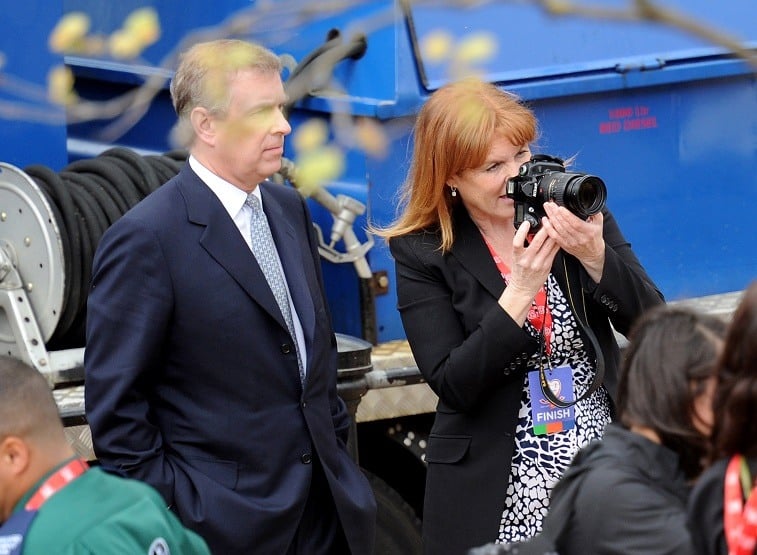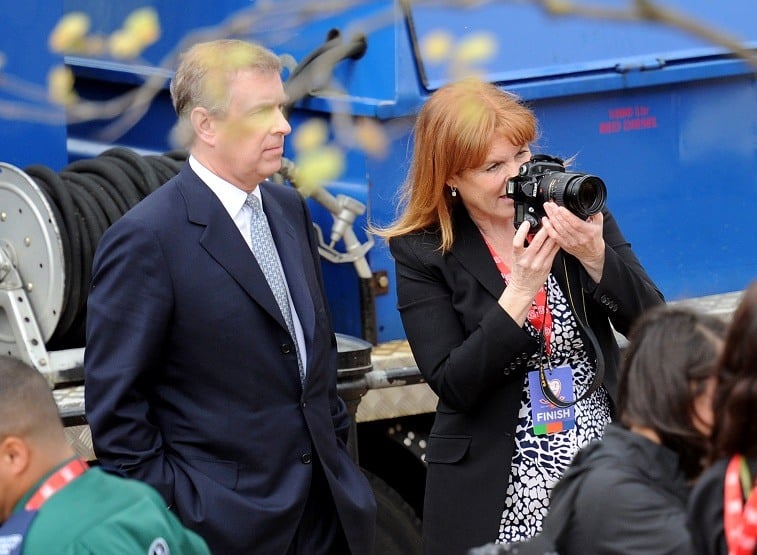 Though Prince Andrew and Fergie have been divorced for over 20 years, they still live together at the Royal Lodge and are very much a couple. However, when there were talks of the couple officially walking down the aisle again in 2000, the queen and the Duke of Edinburgh explicitly forbade it.
That hasn't stopped the pair from living their best lives from parenting their daughters to being absolute best friends.
Next: Her entire world
28. Her greatest gifts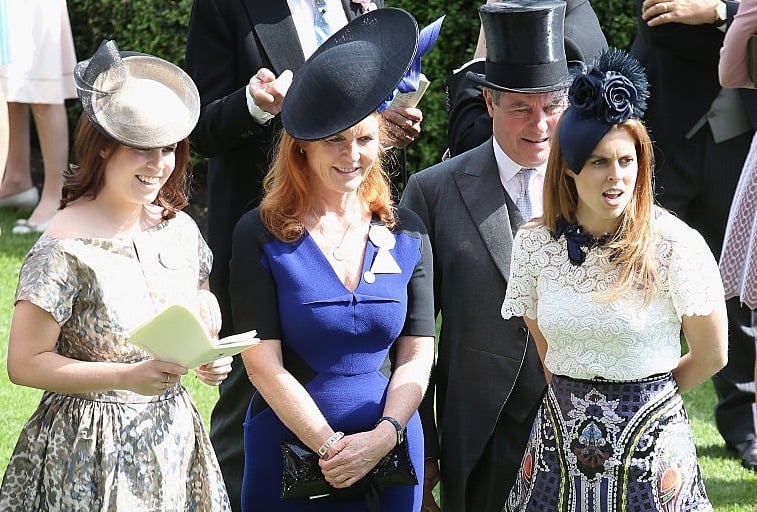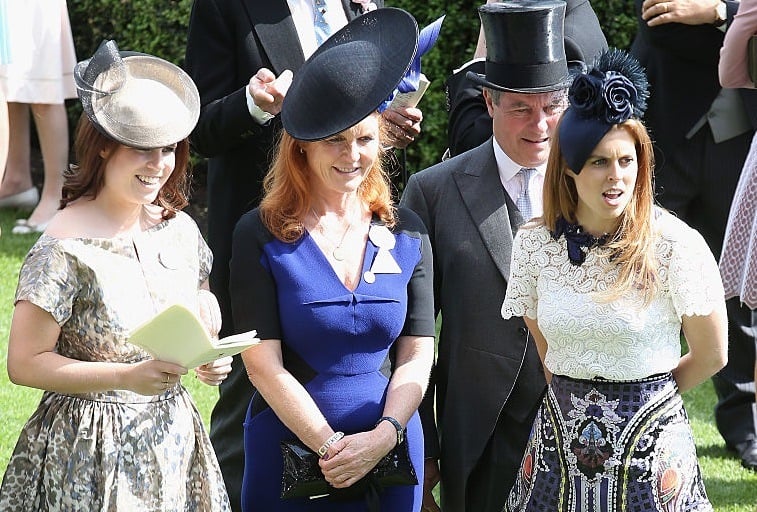 The duchess is exceptionally close to her daughters whom she calls he best friends in the world. On her 18th birthday, Princess Beatrice said about her mother "She leads by example and her behaviour is one that I'd really like to follow." In 2016, Princess Eugenie told Harper's Bazaar that she can't make tough decisions without her mother's guidance.
The duchess is also fearlessly protective of her daughters. In an interview with People, she said, "Let's focus more on this than tittle-tattle gossip, and incorrect gossip that is taken out of all proportion. I have no qualms about it. Stop bullying. And stop bullying the York family."
Next: Back in the spotlight 
29. Some embarrassing outbursts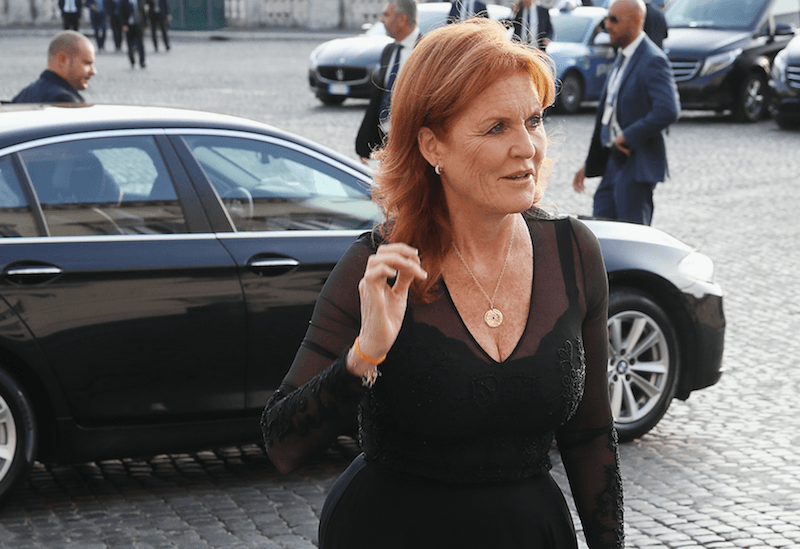 The Yorks are once again in the news because of Princess Eugenie's impending wedding to her long-time love, Jack Brooksbank. Though everyone is excited for the big day, the Fergie has gone a bit overboard.  As soon as the princess announced her engagement, her mom went on a social media bender, tweeting out a string of cringe-worthy tweets that included photos of her daughter and future son-in-law.
One tweet said, "They float with laughter and love .. although a boat helps! #engagement #eugieandjack @TheDukeOfYork @yorkiebea"
A planned BBC interview with the couple was quickly canned when the royals got wind that the Duchess of York was going off the rails and Prince Andrew, had to step in to effectively muzzle his ex-wife.
Next: Keeping her head held high 
30. A resilient lady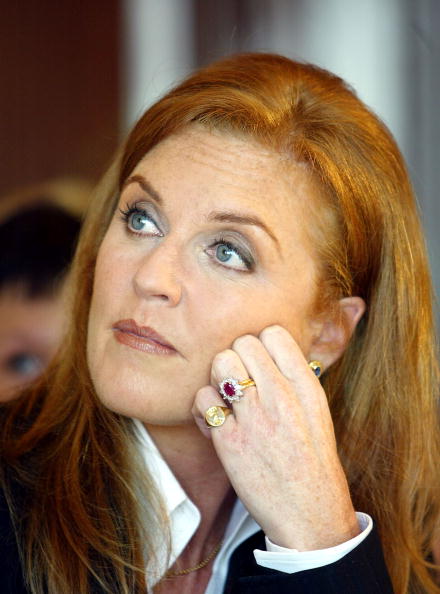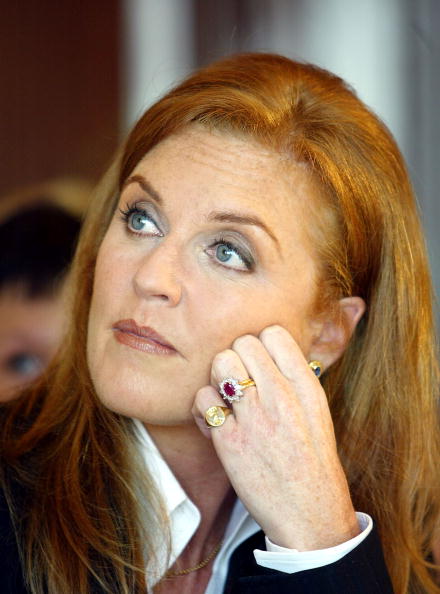 Despite the numerous hiccups, and embarrassing scandals Duchess Sarah Ferguson has been able to roll with the punches, and we think that's nothing short of remarkable.
In 2017, Princess Beatrice told Hello! that her mother is her best friend and "probably one of the most misunderstood women in the world." She explained,
We've been through some incredibly stressful times together as a family, and every single minute she created joy. I am so lucky that I get to learn from her every single day. I'm inspired by her ability to give, even when she's going through something hard. Her grandmother always said, "When you feel bad about yourself, go out there and do something for somebody else." That's an incredible motto that my family has always lived by. My mother is just remarkable.