A 'Sense of Humor' Helped Steph Curry Deal With the Pressure of Having a Famous Dad
Steph Curry may have it all now, but there was a time before his NBA career when he had a lot of pressure due to his father, Dell Curry. Steph has taken it in stride, now handling criticism and pressure with a laugh.
But how did he get there, and why did having an NBA player for a father make it so difficult for him before his career took off?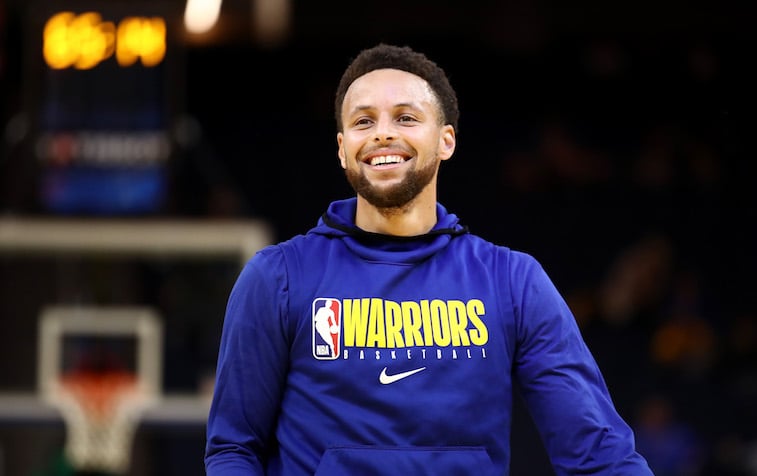 Dell Curry's career overview
Before Steph was making it rain on a nightly basis in NBA arenas, his father had a pretty nasty jump shot of his own.
Before entering the league, he had a prolific college career playing for the Virginia Tech Hokies, going down as probably the best player in school history. The Utah Jazz drafted him with the fifteenth overall pick in the first round of the 1986 NBA Draft. Before his career was done, Dell played 10 seasons in the NBA. Here were Dell's career numbers:
11.7 points per game
2.4 rebounds per game
1.8 assists per game
Shot 40.2% from the three-point line
Shot 84.3% from the free-throw line
16.0 Player Efficiency Rating (PER)
41.5 Win Shares
He wasn't a superstar by any stretch, but he carved out a respectable career for himself as a great shooter and all-around solid contributor off the bench. He received the greatest honor of his career when he won the 1993-94 season Sixth Man of the Year Award.
Steph Curry's rise to NBA stardom
Currently, Steph is one of the NBA's biggest names, but in high school, he barely got recruited. Because of Steph's small frame in high school, major college coaches passed on him.
Even Dell's alma mater, Virginia Tech, would only offer him a non-scholarship role as a walk-on. He ended up playing at the mid-major school Davidson, where he led them on a deep NCAA Tournament run before heading to the NBA. 
Before he reached the heights he has now, Steph faced an uphill battle due to his famous father. It's something he faces now alongside his brother, Seth, also an NBA pro.
The pressure Dell Curry put on his son Steph to succeed
When asked about Lonzo Ball and the similar situation he found himself in, Curry had to laugh. He knew, all too well, the pressure of having a famous father and having to live up to those expectations.
When he played in high school, opposing fans knew Steph's father was an NBA player. Though Dell wasn't a star, just making it to the league was enough to put something of a target on Steph's back for opposing fans.
"Early in my sophomore and junior years in high school, there was a little extra pressure because of who my dad was…and I felt like everybody was kind of critiquing my every move on the court, and I was already not getting recruited or anything. I was always playing to be recognized by coaches. So, I had pressure on myself anyway. Whenever you miss a shot, the crowd goes crazy, and only for your misses and nobody else's."
He added that nearly every school he played against heckled him relentlessly, at both the prep and college levels:
"The high school cheering sections going at me, and hounding me the whole game. Even in college, the same type of deal. It rubs you the wrong way a little bit. I had to go through those experiences."
The pressure Steph faced in his younger days clearly only hardened him for the tough crowds in the NBA. According to him, he deals with criticism with a "sense of humor." Judging by his multiple NBA titles, it's fair to say he's handled it well.