A 'Stern-Looking' Queen Elizabeth Spotted Days Before Her Return to Royal Duties
Queen Elizabeth is expected to return to London this week after spending over a month at her Sandringham estate. Her Majesty will make the journey back to Buckingham Palace on February 6 and was recently spotted driving outside Sandringham House. The appearance came days after Queen Elizabeth backed out of a royal engagement due to health concerns.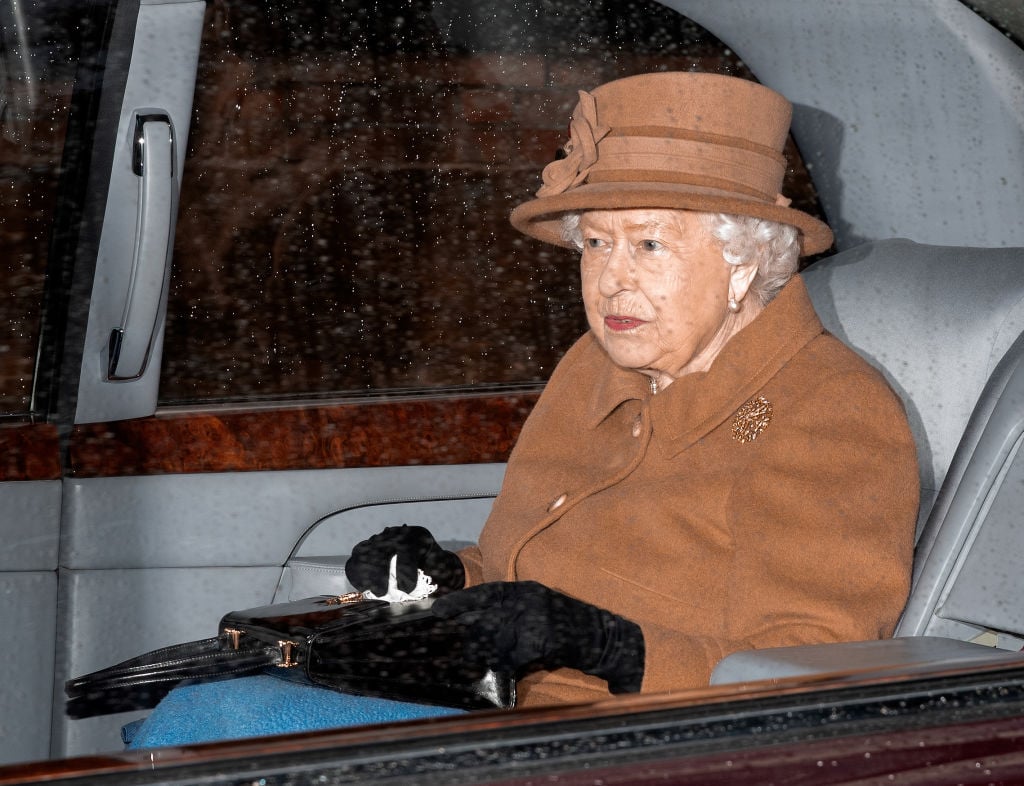 Queen Elizabeth enjoys a break from her royal duties
As she does every year, Queen Elizabeth spent the holidays at Sandringham House. While Her Majesty probably enjoyed the break from her busy schedule, she dealt with a lot of drama throughout her stay.
Going into the holiday season, the royals were doing their best to keep Prince Andrew out of the spotlight. Andrew was forced to step down from his royal duties in light of his ties to the disgraced financier turned pedophile Jeffrey Epstein.
But the biggest bombshell of the new year came when Prince Harry and Meghan Markle announced that they are leaving the royal family as well. The Duke and Duchess of Sussex are no longer senior members of the royal family and will be living in Canada for part of the year moving forward.
Following the shocking announcement, Queen Elizabeth held several meetings with Harry, Prince Charles, and Prince William, in an attempt to sort things out. After the meetings, she issued a statement confirming Harry and Meghan's departure and announcing that they will be losing their HRH titles.
Inside Her Majesty's busy schedule
In previous years, Queen Elizabeth has returned to her royal duties prior to February. According to Express, her first royal engagement of 2020 was scheduled to take place at the end of January.
Queen Elizabeth, however, backed out of the event because of health issues. Sources close to the situation later revealed that Queen Elizabeth had contracted a minor cold, which is why she didn't feel up to the event.
On February 3, Queen Elizabeth stepped out for her first official engagement of 2020. She met with officers and staff members as the Honorary Air Commodore of RAF Marham.
Queen Elizabeth is also scheduled for an appearance at the Wolferton Pumping Station on February 5. Over the weekend, she stepped out for a church service with her daughter, Princess Anne. Queen Elizabeth is expected to travel back to London later this week.
Queen Elizabeth spotted looking "stern"
While Queen Elizabeth is getting back into the swing of things, she was recently spotted outside of Sandringham House looking as stern as ever.
Cameras caught Her Majesty behind the wheel of her beloved Range Rover. Although she appeared to be in good health, royal watchers couldn't help but notice the stern look on her face.
Considering all of the drama the royals have faced in recent weeks, it is not surprising that Queen Elizabeth did not smile for the cameras.
Queen Elizabeth has not issued any comments related to her return to London. She is expected to appear at an event at the London Borough of Camden on February 19, so it won't be long before fans catch another glimpse of her.
Prince Harry and Meghan Markle get a sign of support
During Queen Elizabeth's morning church service with Anne, she donned a brooch that may have been a subtle sign of support for Harry and Meghan. Her Majesty was spotted rocking a snowflake brooch for the service that went perfect with her blue coat and leather purse.
Royal watchers are convinced that the snowflake was a clear sign of support for the Sussexes, who are currently living in Canada with their young son, Archie Harrison. It is unclear when they will be back in the UK.
Queen Elizabeth has not said anything about her decision to wear the brooch, but she did release a statement supporting Harry and Meghan's decision to live a quieter life.
In her statement, Queen Elizabeth acknowledged that the couple has faced a lot of challenges over the past two years and assured fans that she hopes they will find peace in their decision to step down as senior members of the royal family.
"I recognize the challenges they have experienced as a result of intense scrutiny over the last two years and support their wish for a more independent life," Queen Elizabeth stated. "It is my whole family's hope that today's agreement allows them to start building a happy and peaceful new life."