A Vampire, a Werewolf, and an Alien: 'Roswell, New Mexico' star Nathan Dean Parsons has played them all
Here's a look back at 'Roswell, New Mexico' star Nathan Dean's other superhuman characters and where to check out his previous work.
On Roswell, New Mexico, extraterrestrials live amongst the unknowing citizens of a small town. The show revolves around three aliens with supernatural abilities and a knack for landing in sticky situations. Nathan Dean Parsons portrays Max, an alien with a brooding stare, a pesky hero complex, and an undying love for his high school sweetheart.
Roswell, New Mexico isn't Parsons' first gig playing a supernatural creature. Before he took on the role of a celestial being, he played both a vampire and a werewolf on other series. Here's a look back at Parsons' superhuman characters and where to check out his previous work.
[Spoiler warning: This article contains spoilers for True Blood, The Originals, and Roswell, New Mexico.]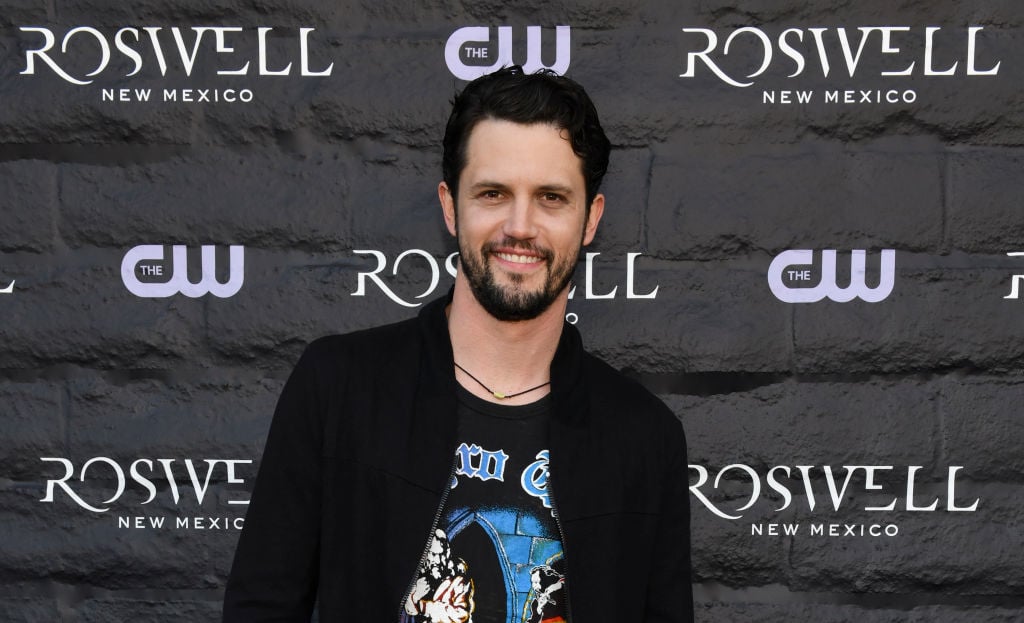 Nathan Dean Parsons as James, the vampire
True Blood is HBO's salacious drama that tells the story of Sookie Stackhouse, a telepathic Louisianan waitress with a weakness for vamps. The show, based on the Southern Vampire Mysteries novel series by Charlaine Harris, hooked viewers with juicy storylines and saucy content.
True Blood takes place in an alternate reality in which vampires make their existence known to humans. Parsons portrayed a vamp named James, who was romantically tied to a baby (newbie) vamp named Jessica and a human named Lafayette.
Although he made some errors in judgment that landed him in a messy love triangle, James showed remorse for his mistakes and compassion for those around him. By the end of the series, he appeared to have carved out a slice of happiness.
Aside from the undead heartthrobs populating the southern town of Bon Temps, Louisiana, other supernatural creatures mixed it up with the humans in True Blood. Witches, faeries, and even werewolves were on the prowl in the parish. And wolves, in particular, are creatures with which Parsons became intimately familiar in a different TV universe.
Nathan Dean Parsons as Jackson, the werewolf
The Originals is The CW's The Vampire Diaries spinoff series centered around the ancient original vampire family, the Mikaelsons, and their circle of allies, enemies, and lackeys. Parsons portrayed Jackson, a werewolf from the Bayou with noble lineage and a bond with Hayley, a vampire-werewolf hybrid.
While Hayley expressed both loyalty, respect, and affection for Jackson, her commitment to him stemmed from her duty to her werewolf pack. Klaus Mikaelson fathered her child, and Elijah Mikaelson captured her heart. As a result, Hayley and Jackson's relationship was doomed from the start. However, the honorable werewolf did find peace in the afterlife.
Nathan Dean Parsons as Max, the alien
Roswell, New Mexico is The CW's reboot of the teen romance series that premiered in 1999. But this time, the show takes on hot-button social issues on the backdrop of a sci-fi series. Parsons portrays Max, a modest sheriff's deputy by day, and a powerful alien by blood.
In the Season 1 finale of Roswell, New Mexico, Max exhausted his powers to raise his ladylove's sister from the dead. As a result, he lost his life. Now, in Season 2, his friends and loved ones are working tirelessly to revive Max's body, which is being preserved in an extraterrestrial pod. It remains to be seen if they will be successful. But if they do succeed, playing God could come with a hefty price tag.
Roswell, New Mexico airs on Mondays at 9 p.m. on The CW. Fans who want to check out Parsons' previous work can find True Blood on HBO Now and The Originals on Netflix.
Read more: Before 'Roswell, New Mexico' Trevor St. John Was a Soap Star