'A Walk To Remember': Shane West and Mandy Moore Were 'Disgusted and Sweaty' When They Filmed Their First Kiss
A Walk To Remember was released on Jan. 25, 2002, and it starred Mandy Moore as Jamie Sullivan and Shane West as Landon Carter. The movie is based on Nicholas Sparks' novel of the same name.
While A Walk To Remember received negative reviews from critics, it is beloved by fans for its heartfelt story and the chemistry between Moore and West. In 2017, West was interviewed on Today, and he revealed which scenes in the film were the most difficult to shoot.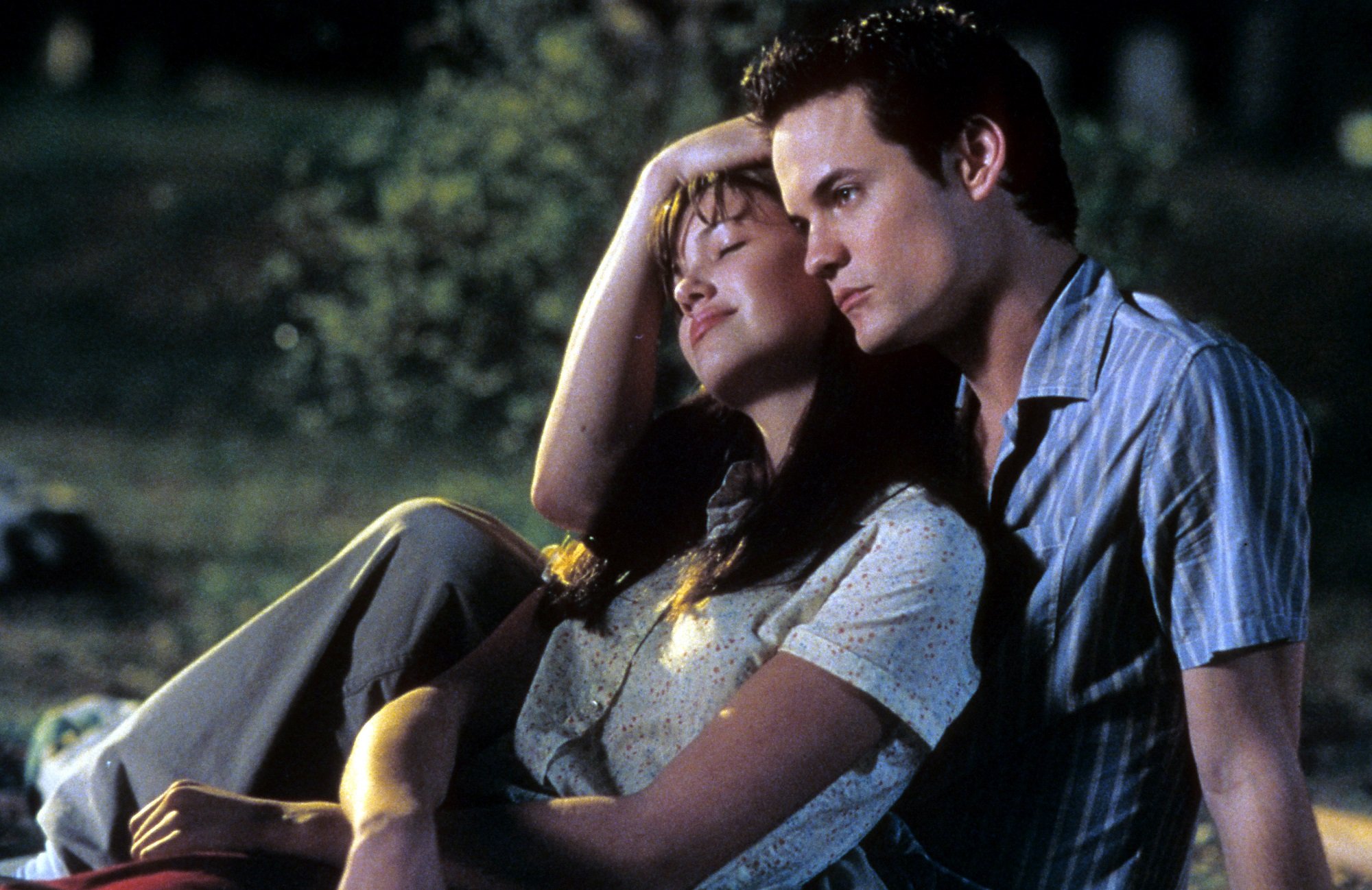 The opening scene of 'A Walk To Remember' was challenging to film
For a segment on the Today YouTube channel, West participated in a Q&A about the movie. When asked about the most difficult scene to film, he said the opening scene was rather strenuous.
At the start of the movie, Landon and his friends challenge a student named Clay Gephardt (Matt Lutz) with an initiation task so he can join their popular friend group. They trick Clay into diving into a lake, but Clay is severely injured. Landon then jumps into the lake to rescue Clay.
"I could say the daring Clay to jump into the water," West said. "Apparently there were eels in that, and they had to bring in scuba divers to swim around to push the eels away… it was freezing, it was day one, and we were half-naked in a man-made lake with giant eels."
RELATED: Mandy Moore 'Absolutely Fell in Love' With Shane West While Filming 'A Walk To Remember'
Jamie and Landon have their first kiss during a play
While the opening scene was the most challenging scene for West to film as Landon, he also told Today that he and Moore filmed challenging scenes together as well.
"The play scenes where we have our first kiss and everything was phenomenal technically, but it took like three days to film," West said. "Everyone was just disgusted and sweaty and it was sort of like 'Are we done yet? Are we not done with this play?'"
The play proved to be a milestone in the relationship between Jamie and Landon in A Walk To Remember. After Clay is injured due to the prank Landon and his friends pulled, Landon is forced to take part in multiple community service projects and extracurricular activities.
Landon and Jamie work on the school play together, and rehearsals are where the two really begin to bond. During the actual performance, Landon is mesmerized by Jamie's singing ability, and he impulsively kisses her when she finishes singing.
When Shane West knew 'A Walk To Remember' would be a success
While the novel A Walk To Remember was written by a popular author, it was unclear if the movie would end up being a success. West told Today that he realized the movie would do well with audiences at the movie's premiere.
"We went to the premiere and everyone started crying," he said. "People can go on a career for 80 years and never have something that can resonate. So to have something so quickly, at least at age 24 is kind of a, is a dream come true really."