Aaliyah's Brother Shares Behind-The-Scenes Video Of Her Tommy Hilfiger Campaign
Aside from her angelic voice, Aaliyah is most beloved for her iconic and timeless fashion, which was so impressive that Tommy Hilfiger chose her for a campaign.
From the moment Aaliyah burst onto the scene, her trendsetting style set her apart from other artists. While other teenage female R&B singers fell into the "girl next door" persona with dresses and heels, Aaliyah opted for a more laid back look. Her love of comfortable clothes – typically baggy jeans, a crop top, and boots – snagged the attention of one of the hottest fashion brands of the '90s when Tommy Hilfiger enlisted her help for an advertising campaign. The late singer's brother recently honored her memory with a flashback of Aaliyah's time with Hilfiger. 
Aaliyah was always into fashion
Aaliyah's tomboy chic style put her in a league of her own. Her personal fashion choices were intentional, as she explained in a 1994 interview with MTV, saying that her clothing matched her musical taste in jazz and classic R&B. "I'm mellow so my style matches that," she said. "I am a laid back person, which is what I portray on camera. It's not much of a difference so that's why it's so easy."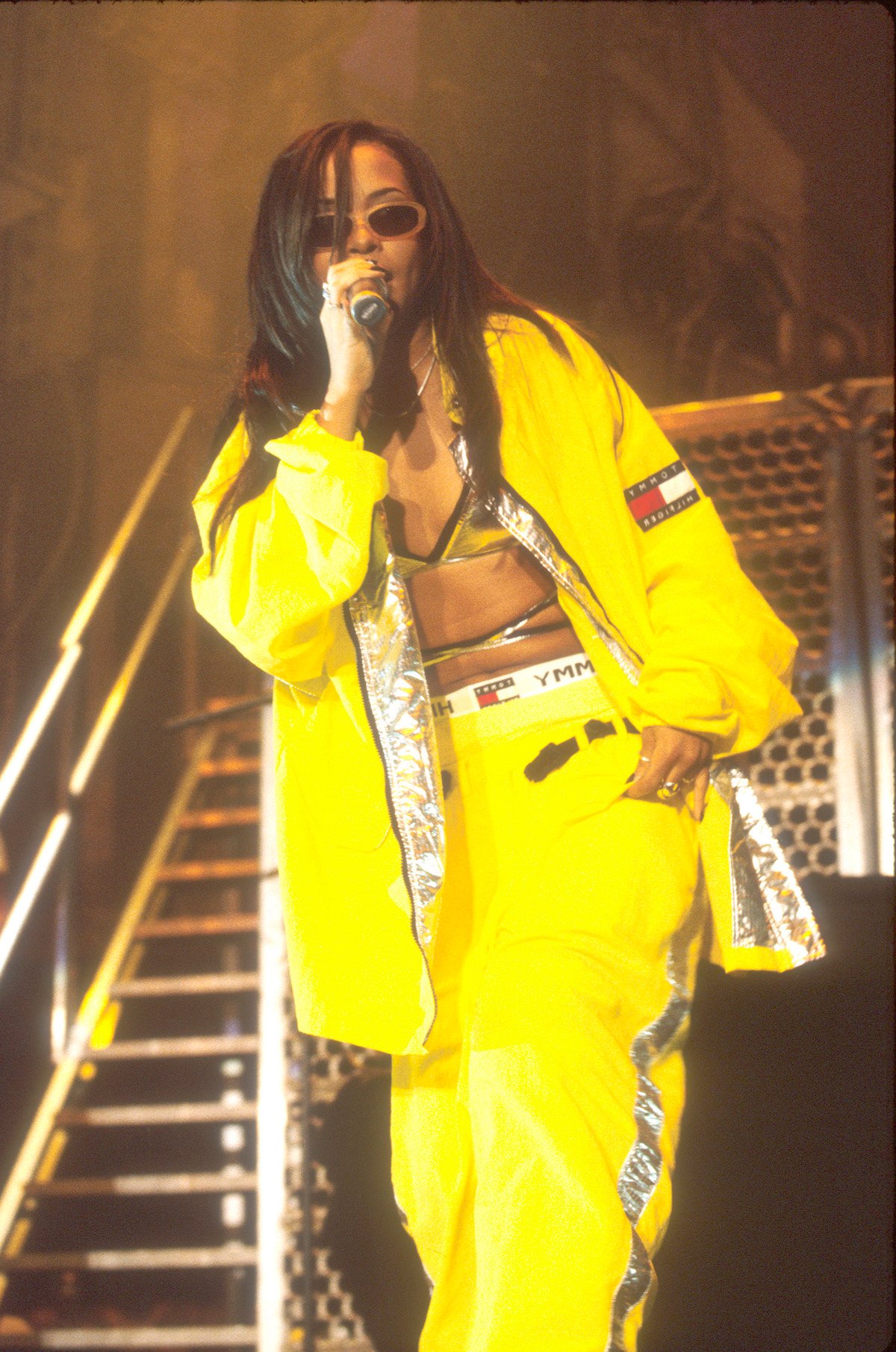 Related: The Unconventional Outfit Aaliyah Almost Wore To Her Senior Prom
In another interview with MTV early on in her career, she elaborated on having a unique look, saying, "I wanted something to set myself apart from everyone else in my music and style because everyone else is so similar." 
She was so true to herself that she even considered wearing jeans to her senior prom before changing her mind at the final hour for a two-piece pantsuit look. 
A look back at Aaliyah as a Tommy Hilfiger model
Aaliyah's suave fashion sense caught the eye of the Tommy Hilfiger brand. The clothing company was a rising force in the early '90s and was attracting the attention of the urban market, particularly the hip hop community.
The brand saw its popularity among young rappers and fans of hip hop to make their mark and felt Aaliyah was the perfect vessel to merge the two worlds, as Aaliayh was known for her beauty and swagger.
Andy Hilfiger handpicked Aaliyah to be the face of the brand in 1996. She completed several shoots, including a major jeans campaign, saying of Aaliyah, as reported by Thrifted: "She made that hip hop look sexy for women wearing men's clothes. It was sexy but classic."
The commercial was shot by Mark Ronson, with Aaliyah decked out from head to toe in Tommy Hilfiger. Also hired for the campaign was Aaliyah's best friend, Kidada Jones, who is the daughter of legendary music executive and producer, Quincy Jones. Jones also worked as a stylist.
Aaliyah's brother remembers her Tommy Hilfiger campaign 
Aaliyah's brother Rashad recently shared a video to his private Instagram account of an E! News interview with her on the set of her Hilfiger commercial. The video was also posted by an Aaliyah fan page.
"I've always brought Hilfiger ever since he first came out because I felt it was me," she said. "My image is the baggy pants, the tube tops, and I've always loved Tommy so it's great for me to model his clothes because I always feel comfortable in it."
Aaliyah and Rashad's mother, Dana Haughton, also appeared in the interview, beaming about how proud she was of her daughter.