Aaliyah's Ex Damon Dash Reveals New Details About Her Relationship with R. Kelly
In 1994, it was widely reported that R. Kelly had married Aaliyah, his then-protégé, in a secret ceremony. Despite these rumors, R. Kelly and Aaliyah played coy about their apparent relationship and never confirmed anything beyond a friendship.
But now, new details have started to emerge. Aaliyah's ex-boyfriend, Damon Dash, revealed new information about her relationship with the singer in Lifetime's new series, Surviving R. Kelly Part II: The Reckoning.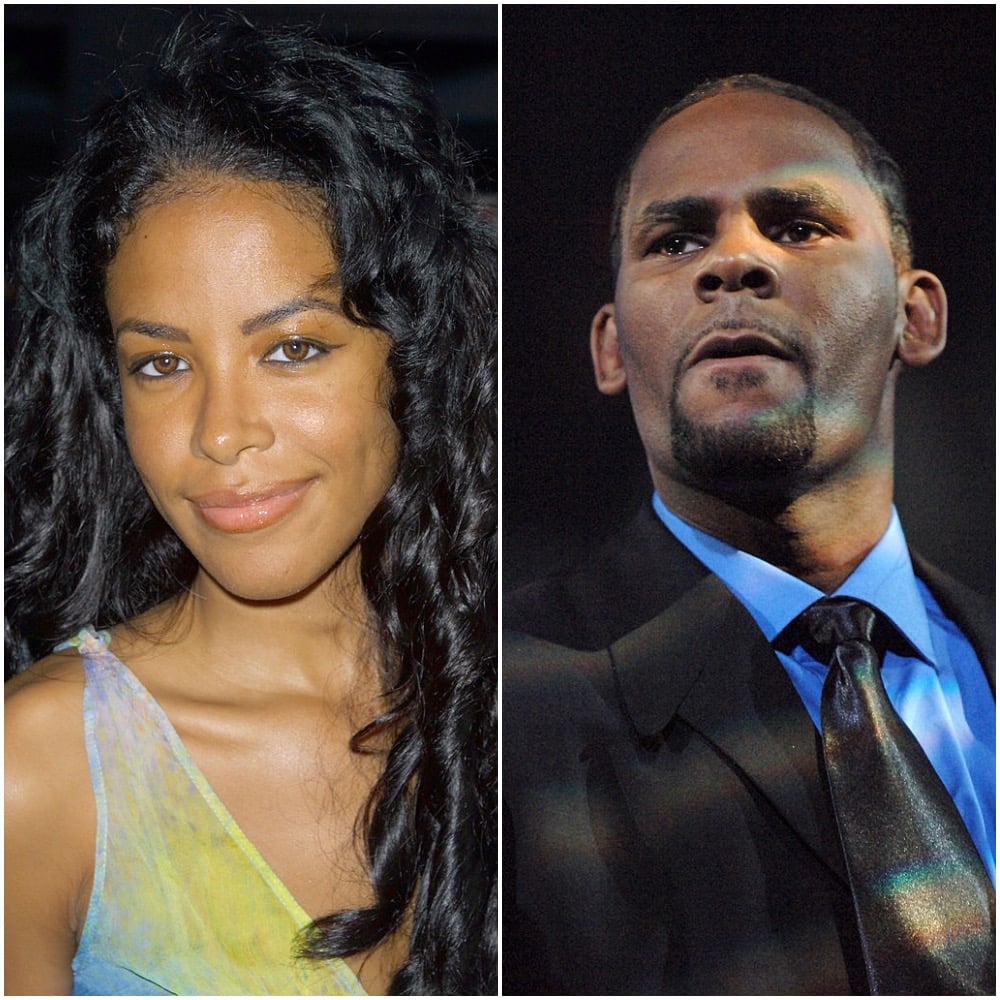 A quick recap of Aaliyah's relationship with R. Kelly
Aaliyah was introduced to R. Kelly at the age of 12 by his manager and her uncle, Barry Hankerson. R. Kelly became Aaliyah's mentor and helped create her debut album, Age Ain't Nothing But a Number (1994), which spawned hits such as "Back & Forth" and "At Your Best (You Are Love)." He also appeared in music videos for the album and on its cover, which reads, "Written and produced by R. Kelly, especially for Aaliyah."
Amid the release of the album, reports surfaced that their relationship had turned romantic. The pair addressed the rumors in a 1994 appearance on Video Soul Gold during which Aaliyah claimed they were just "best friends."
"In the whole wide world," R. Kelly added.
But later that year, Vibe magazine published a bombshell report saying that they were much more than that. In fact, it claimed that Aaliyah and R. Kelly had married on Aug. 31, 1994. At the time, R. Kelly was 27 and Aaliyah was 15, though her age was allegedly listed on the marriage certificate as 18.
Aaliyah and R. Kelly's relationship ended shortly after
After Aaliyah's parents found out about the alleged marriage, it was annulled in 1995, per The Chicago Tribune. Hankerson also separated Aaliyah from R. Kelly, effectively ending their professional relationship. In 1997, the marriage was expunged from her record.
When asked about their relationship in a later interview with the Chicago Sun-Times (via The Latin Times), Aaliyah said: "I don't really comment on that because I know that's not true. When people ask me, I tell them, 'Hey, don't believe all that mess.' We're close and people took it the wrong way."
A representative for Aaliyah also said at the time (via Metro): "When R. Kelly comes up, she doesn't even speak his name, and nobody's allowed to ask about it at all."
Eventually, Aaliyah moved on to Dash. They started dating in 2000 and were together until she perished in a plane crash in August 2001 at the age of 22.
R. Kelly has not said much about his relationship with the "Try Again" singer in the years that have followed. He did, however, tell GQ in 2016 that he and Aaliyah were "deep friends" and admitted that he was "in love with Aaliyah just like I was in love with anybody else."
"But in a different, friend type of way," he added.
But he refused to discuss their alleged marriage "out of respect" for the late singer and her parents.
Damon Dash opens up about Aaliyah's relationship with R. Kelly
In a clip from Lifetime's new program, Surviving R. Kelly Part II: The Reckoning — the follow-up to the explosive docuseries Surviving R. Kelly — Dash opened up about the relationship. He zeroed in on the Chocolate Factory singer, who is currently incarcerated and facing a barrage of charges for alleged crimes against underage girls.
"Aaliyah was like the sacrificial lamb for all that, bro, because she didn't deserve none of that," Dash explained (via TMZ).
Despite what happened, Dash claimed, Aaliyah did not harbor ill will toward R. Kelly. He said she just wanted the singer to "stay the f*ck away" from her. "That's all she wanted, she was just happy to be away," he continued.
"It made her so uncomfortable that I couldn't know about it, because it would have made me too uncomfortable not to try to rectify that situation," he continued. "But I just wouldn't have been able to tolerate knowing certain things and being in the same room as certain people. So I had to get therapy over that."
"I know the whole story," the Roc-A-Fella Records co-founder added. "I know it was the cover-up and all of that, but how does that cover it up? It just made the conversation less crazy, like, 'Oh, he married a child.'"
Dash said the conversation should have been focused on how "disgusting" it was for R. Kelly to marry a teenager.
"Anything under 18 is disgusting," he said. "You know what I mean? She was a child, bro."
"If people would have protected Aaliyah, so many other girls wouldn't have to get touched, you understand what I'm saying?" Dash continued.
R. Kelly has denied any wrongdoing throughout the years.
Surviving R. Kelly Part II: The Reckoning is a three-part series that began airing on Jan. 2. The final episode airs on Jan. 4.