Aaron Carter Buys up a Bunch of Girl Scouts Cookies and Fans Are Here for It
It's that time of year again: Girl Scout cookie time, and everyone seems to be getting in the spirit, even Aaron Carter. Carter recently posted a sweet image of himself buying up boxes of Girl Scout cookies and fans are here for it. Read on to learn how they're reacting.
Aaron Carter buys up a bunch of Girl Scout cookies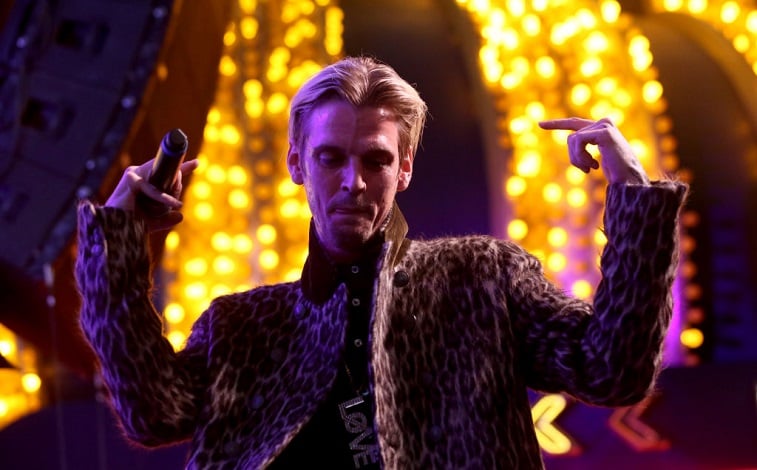 First off, Carter changed his name on Instagram to The Cookie Monster which is just hilarious. Carter posted an image of himself holding two large boxes full of Girl Scout cookies he purchased for a good cause. He's grinning in the post and it's honestly a sweet image.
Carter captioned the post with: "Got my girl scout cookies!! Samoas and thin mints in the freezer. 🥰 when I have a daughter I want her to be a girl scout for sure!!! Keep it up!!! @girlscouts #dadgoals ready for the next chapter in life. No matter how hard things get always give back and keep a smile on your face. It helps 🥰."
Fans react to Carter's post
Numerous fans applaud Carter for his purchase helping out the Girl Scout nation. Not to mention, the cookies are just so good.
"Dat Cookie life bro 🤘," an Instagram user wrote.
Many fans wanted Carter to know how sweet the whole thing is. "Ok this is adorable," another wrote.
Other fans wanted Carter to know which ones they prefer over the other cookie options. "Them lemonades are the best though 🤤💛💛," someone expressed.
"Very sweet of you," another wrote.
Another user hopes good things come Carter's way. "You have the kindest eyes and I truly do hope many good things come your way ❤️," they wrote.
A lot of people support Aaron Carter's Girl Scout cookie purchase
Other Instagram users encouraged Carter to support the Girl Scouts. "My daughter is a Girl Scout. She loves it!! I encourage you when u have a daughter to put her in Girl Scouts!! One of the best programs!" an Instagram user said.
Numerous fans are happy Carter is supporting such a good cause. "Love that you support Scouting!! It's such an important tool for youth, to learn responsibility and setting/achieving goals!" a user wrote.
"Very cool and generous of you," another expressed.
Other fans wished Carter well-wishes for the future. "So nice of you to buy so many cookies!! Way to go @aaroncarter 💗 you'll be a great dad one day!! I hope you get that little girl you talk about!!" someone chimed in.
A lot of people are proud of Carter's support of the Girl Scout cookie nation. "Good on you for supporting those girls ❤️❤️❤️," another Instagram user wrote.
A lot of Carter's followers commented to let him know what their cookie preferences are. Many support Carter buying up the Girl Scout cookies for an excellent cause. Some also think Carter will be an excellent father.