Aaron Carter Calls His Medusa Face Tattoo a 'Defense Mechanism'
Aaron Carter is back in the news after participating in a podcast interview that has a lot of people talking. He even mentions his face tattoos and calls the Medusa on his face a "defense mechanism." Read on to learn more about what Carter had to say on the subject.
Aaron Carter opens up about his face tattoos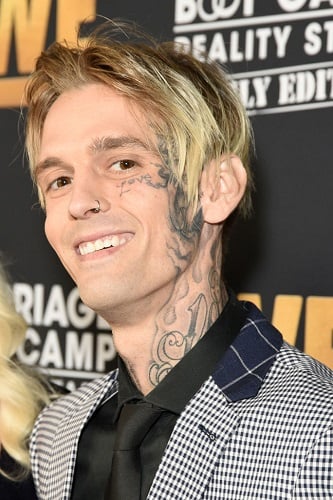 Carter recently spoke about a number of topics on a podcast called Hollywood Raw with Dax Holt and Adam Glyn. He talked about his career, his love life, and the struggles he's dealt with. Carter was also asked about his face tattoos, which include a Medusa and his ex-girlfriend's name, Melanie above his eyebrow.
"You know what? I've always talked about getting face tattoos, and honestly like, I always get tattoos knowing the intention that I can get them removed," Carter said. "They're not permanent like what everyone says but at the same time, my tattoos, they started off because I was such a little kid, like scrawny little kid growing up, that I started getting tattoos all over me to make me look like I'm tough."
Carter went on to mention the tattoos were a way to get people to not "mess" with him. "So people wouldn't like mess with me. And they stopped and I just started getting into like my body being a canvas," Carter continued.
Carter calls his Medusa face tattoo a 'defense mechanism'
Carter went on to discuss his Medusa face tattoo that was quite the topic of conversation in 2019. He calls it a "defense mechanism."
"I'm a Sagittarius but I'm also a double Cancer moon, which means that I'm very very extroverted but also I put up very big defense mechanisms such as the Medusa on my face," Carter revealed. "The Medusa on me means don't look at me the wrong way or this ***** is going to look you in the eye and turn you into stone."
One of the hosts said they are taking it as the Medusa is a defense mechanism, to which Carter replied, "100%."
Carter also discusses the tattoo of his ex-girlfriend's name
Carter was asked about another famous face tattoo he has that says "Melanie" above his eyebrow. "That says 'mistake,' that's not Melanie," Carter joked about the tattoo.
Carter was dating Melanie Martin for a few months, but apparently they've broken up again. The situation has been full of drama, including Martin getting arrested. The two had a very public relationship. They even had an OnlyFans page together at one point. Each of them appeared on the other's Instagram accounts frequently before trouble found its way to paradise once again.
Carter even announced on Instagram Live that they were having a baby together, according to E! News. People have been speculating about what's going to happen with the situation now that the pair have broken up.
Carter addressed the issue on the podcast where he was asked if he is nervous about being a father with the current situation the way it is. "I'm going to make a great father regardless of the situation," Carter said. Then he was asked if he's excited to be a dad and he said, "of course." But he followed it up with, "If that's the actual situation."
We'll keep you updated on the latest information about Aaron Carter.