Aaron Carter Gets His Girlfriend's Name Tattooed on His Face
Aaron Carter has once again gotten himself a face tattoo that some might find questionable. His newest addition is his girlfriend's first name, Melanie. Read on to learn more about the tattoo and how Carter chose to share it with fans.
Aaron Carter now has his girlfriend's name tattooed on his face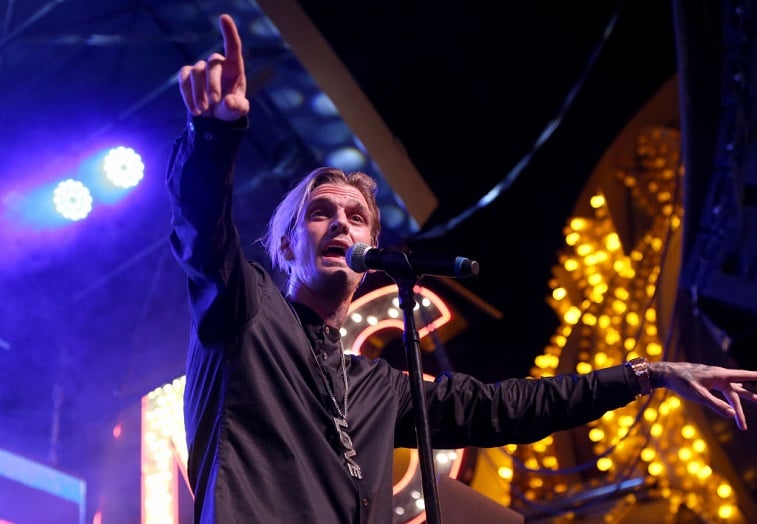 Carter's new face tattoo was upfront and personal when he went and got his hair cut and colored. The colorist posted a shot of Carter's hair on Instagram, but there's a great look at the new tat as well. It says "Melanie" over Carter's eye. Carter also reshared the image on his Instagram Story as well. Even his girlfriend, Melanie Martin, shared something about the tat on her Instagram Story too.
People react to Carter's new tat
People were quick to comment on the colorist's Instagram post of Carter's face. His tattoo seems to be the only thing a lot of people can see. He's also sporting other tattoos as well, not just the "Melanie" one.
One Instagram user wanted to know who gets someone's name on their face. "What idiot gets a tat of his girlfriend's name..on his face!? Oh yeah, Aaron Carter does. 😳😂😂😂😂😂," the Instagram user commented.
Another user hilariously joked that he better hope his next girlfriend has the same name. "He better hope his next girlfriend is named Melanie or else he is gonna have issues. The fastest way to guarantee a relationship coming to an end is getting a tattoo," someone wrote.
Another person compared Carter to Post Malone. "Everyone wanting to be Post Malone. Looks good," the user said.
Should he just get his whole body covered at this rate?
One Instagram user thinks Carter should fill his whole body up with tattoos at this point. "I say fill it up this dude's lost all self-control and all touch with reality so just let it go," they wrote.
Someone else suggested covering things up with a full face tat. "This is going to be really bad if this relationship doesn't pan out. I guess you could cover it up with a full face tattoo," the Instagram user suggested.
Some people chose to mock Carter's tattoo choices. "Now that's a smart move 😜. Jeez dude," someone said.
Another thinks Carter is now "branded" with someone's name. "You've now been branded! Congratulations 😬👏🏼," an Instagram user wrote.
One user thinks Carter broke the "rule" of tattoos. "He broke the cardinal rule of tattoos: Never tattoo a spouse/partner's name on your body," they explained.
Another Instagram user wanted to give Carter some wise advice about taking care of himself more. "He needs to take care of himself before he can be happy with anyone," the user wrote.
There were other people who said Carter looked good and they applauded his new cut and color. One thing is certain though: Aaron Carter's new face tattoo is getting a lot of attention. He hasn't yet posted a close-up shot of it in an Instagram image upload, but we can only hope we'll see it again soon.