Aaron Carter Reveals He and His Fiancé Melanie Martin Are Trying To Get Pregnant – 'We're Trying To Conceive'
Aaron Carter recently shared a sweet Valentine's Day message to his fiancé, Melanie Martin. At the same time, he gave an update on their lives, revealing that the two are trying to "conceive." We have all the details you need to know about the Instagram post.
Aaron Carter and Melanie Martin have broken up before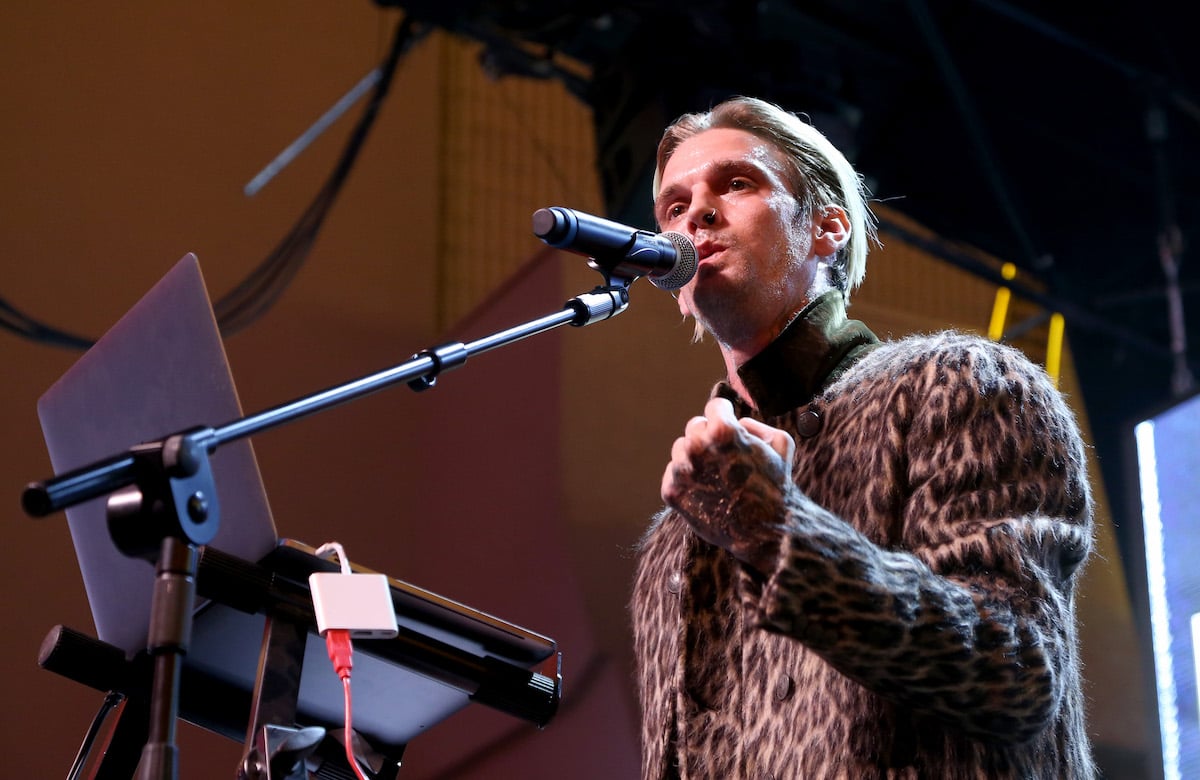 Carter and his fiancé, Martin, recently celebrated their anniversary in December of last year. They made things public in January 2020, but there has been some drama over the course of the relationship.
Carter and Martin have broken up more than once, and Martin was even arrested in March of 2020. According to TMZ, the authorities were called out to Carter's home in Los Angeles around 11 p.m. after things allegedly became physical. Martin was taken in on a felony domestic violence charge. Law enforcement confirmed to the publication that Carter had marks on him. The singer shared images that allegedly showed marks where he says Martin scratched him.
After that incident, the pair called it quits, but not for long. They were back together in April. Then, according to E! News, Carter announced through Instagram Live that they were expecting a child together, and he showed off a positive pregnancy test.
Carter revealed Martin had a miscarriage and that they were 'going to try again'
However, May rolled around, and Carter had a new woman on his arm named Viktoria Alexeeva, who appeared all over his social media for a while. Yet by June, Carter and Martin were once again a couple. Via a video live-streamed on YouTube, they confirmed they were together, and according to Entertainment Tonight, Carter revealed that Martin had a miscarriage.
"She suffered a miscarriage due to stress conditions," Carter revealed. "We're gonna give it some time, let her heal and then we're going to try again. We both want that. I gotta take care of her."
Wedding bells were soon in the air because during that same month, Carter revealed on Instagram that the two were engaged when he showed off Martin's hands with a shiny diamond ring on them.
Aaron Carter shared that he and Melanie Martin are trying to get pregnant
Carter recently posted a tribute to his fiancé on Valentine's Day via Instagram. The couple is standing in front of Carter's car with an arm around each other. Carter also took the time to reveal that both of their moms want grandchildren, and that they're trying to get pregnant. He says it's "taking a little longer" than they had "hoped," but it sounds like these two could be parents in the near future.
Carter captioned the post on Instagram: "Happy Valentine's Day Beautiful 😍 If we can get through everything we've been through thus far y'all can definitely expect some babies soon both of our mothers want grandchildren ASAP! We're trying to conceive it's just taking a little longer than we'd hoped. Thank you for all your kind words. I hope you all have a beautiful Valentine's Day 💕."
"P.s NEVER GIVE UP ON LOVE. We've all be scorned we've all been hurt and some of us have been the ones that hurt those closest to us. Just be patient it's clique but I'm telling you there's is light on the other side. I'm with the light."
Martin commented on the post saying: "❤️❤️❤️ Happy Valentine's day babyyyyyy I'm so lucky to have you. 😍😍."
Aaron Carter and Melanie Martin are trying to get pregnant according to Carter's latest Instagram post.