Aaron Carter Says He Has 'No Choice' but to Spend Money on 'Lawsuits'
Aaron Carter has been going through some major drama lately. He broke up with his girlfriend, Melanie Martin and she was arrested. He's now posting things on Twitter that have fans a little confused. Read on to learn about the latest post that Carter shared and why it involves "lawsuits."
Aaron Carter says he has 'no choice' in spending money on 'lawsuits'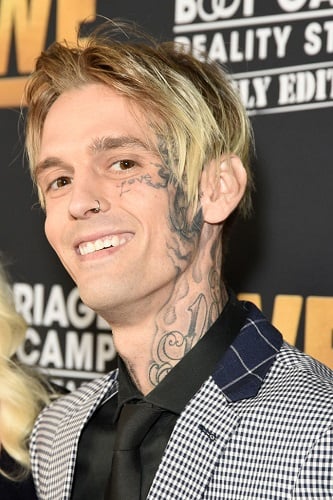 There's no doubt that the media is obsessed with all things Aaron Carter. In the latest new drama, Carter is getting personal on Twitter saying he has "no choice" without providing a whole lot of information and details about things.
"There are a lot of suck people out there attacking my places of work and people I do business with and I have no choice but to spend a lot of money to issue protective orders and lawsuits lots are coming and that's my word," Carter captioned the post.
It's unclear who Carter is referring to exactly, but there's been a lot going on in his life the last few months. He mentions a "smear campaign" in another post.
He was seriously dating and living with his girlfriend, Melanie Martin, until trouble finally came to paradise and it landed one of them in jail.
Melanie Martin was arrested and things are over between them
On Sunday, March 29, Martin was arrested at Carter's home in Los Angeles on a felony domestic violence charge. TMZ reports that things went down about 11 p.m. The L.A. County Sheriff's Department was called after a verbal altercation got physical between the two. Police told the outlet that Carter had marks on his body and Martin was allegedly determined to be the aggressor.
Carter even shared images with TMZ claiming to show proof that Martin scratched him. Martin was being held on a $50,000 bail until she was released on bond.
Aaron Carter isn't keeping silent about things
Carter isn't going to keep silent, as people have learned by now, that isn't exactly his style. He took to Twitter to be the first of the two to speak out about the incident. He shared the TMZ story with his followers and added a comment along with it.
"So sad, ;( I hope she gets the help she needs. No one deserves domestic abuse female OR MALE #DomesticAbuse #Cheater she literally chocked me out…. I'm devastated," Carter captioned the post.
Carter has changed up his Instagram profile since the split
Since the break up that can be described as very public, Carter has changed his Instagram profile. It used to sport images of him and Martin, and now she is nowhere to be found on his page. He also took her tag off of his bio. That's not the only thing that's changed since things ended. Carter also changed his OnlyFans account to reflect only his name.
Aaron Carter isn't just keeping quiet about things and fans have a lot of feelings. Who knows how this is all going to really play out in the end? It's still unclear who Carter was referring to when he mentioned lawsuits. We'll keep you up to date with the latest details.