Aaron Carter Teases His OnlyFans Account with a Risqué Photo and Fans Don't Hold Back
Aaron Carter is constantly doing things that people consider news, and this new photo he posted is no exception. While teasing his OnlyFans account to Twitter followers, Carter shared a rather risqué photo and fans have a lot of thoughts about it. Read on to learn more about the situation.
What is OnlyFans?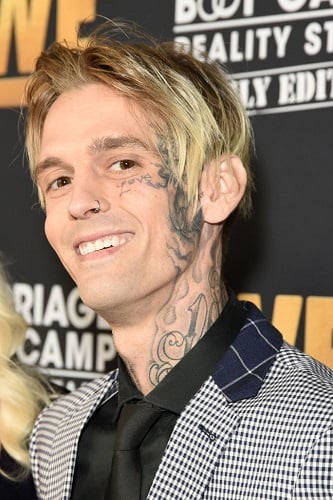 OnlyFans is a social media service where fans can subscribe to profiles for a fee. They pay to access exclusive content from individual members. As you can probably imagine, profiles can feature a variety of things. Check Google and do a quick search to learn more about what we mean.
Carter and his girlfriend are charging $26 a month for access to everything on their profile. If you aren't a subscriber, you can't see much on the page. Their OnlyFans account has a total of 48 posts which include 35 photos and 6 videos. There's already over 7,000 likes on the posts as well.
The account is back up after an incident
Carter and his girlfriend got into a huge argument for all the world to see on Instagram Live. Some fans took to Twitter to talk about the situation and post a recorded video of the argument. In the video, Carter is yelling at his girlfriend, Melanie Martin, and he accuses her of having a guy's number in her phone under a girl's name. He even tells her to get out of the house.
After the whole thing went down, the OnlyFans link stopped working, but it appears the two have made up and all is well again. They are back up and running and Carter is even taking the time to tease his other social media account on Twitter.
Aaron Carter teases his OnlyFans account with a risqué photo
Carter posted an image of himself laying in bed with just boxers on in a risqué position and fans have a lot of thoughts about the situation.
"Just added a bunch of new content on only fans make sure to subscribe http://Onlyfans.com/aaronandmelanie #stayhome #Subscribe," Carter captioned the post.
Fans couldn't help but respond and people don't seem to be very receptive to the new image Carter decided to share with his fans and they didn't hold back at all.
"You should at least place a rolled up sock in that bikini," a Twitter user suggested.
Someone else had some advice for Carter: "Get a job."
Another fan thinks Carter should just go into porn. "Don't tweet this stuff to us, the majority of us don't care. Just go into porn already. Honestly… you'd probably make more money," the user said.
"It's official. You are cooked," someone else commented.
People aren't too enthused with the new image. "No famous person will do what you do Aaron. You have zero class it's sad how you crave attention," another Twitter user wrote.
People don't seem to be too into the new photo Aaron Carter shared with his fans on Twitter teasing his OnlyFans account.