Aaron Carter's Ex-Girlfriend Melanie Martin Calls His New Girlfriend 'Unstable'
Aaron Carter has gone through a lot of changes in the last few months. He was dating Melanie Martin, and they even revealed that they were expecting a child together. This all comes after Martin was arrested on a felony domestic violence charge. Now the pair have broken up again and Aaron Carter has a new woman in his life. Melanie Martin recently spoke about the situation and is calling Carter's new girlfriend "unstable."
Aaron Carter and Melanie Martin had a rocky relationship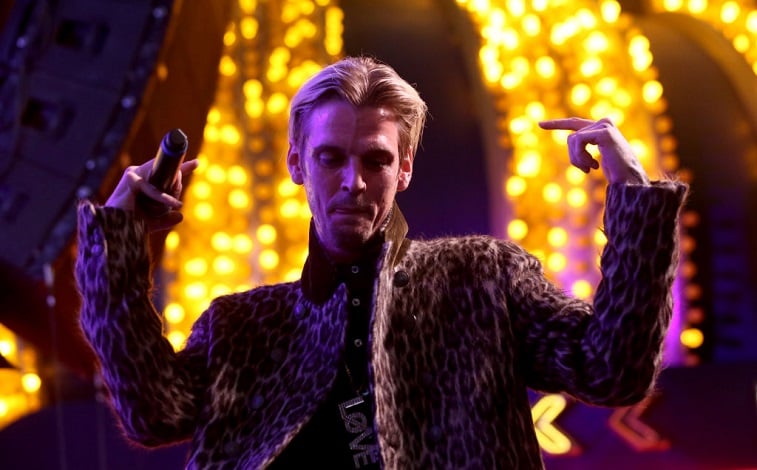 As fans of Carter already know, he had a very rocky relationship with Martin. In March, Martin was arrested at Carter's Los Angeles home on a felony domestic violence charge, according to TMZ. The L.A. County Sheriff's Department was called out around 11 p.m. when things became physical. Martin was taken in and held on a $50,000 bond before she bailed out. The couple managed to get back together after the altercation though.
Aaron Carter announced that Melanie Martin was pregnant in a very public way
In April, Carter announced on Instagram Live that the two were expecting a child together, according to E! News. Carter showed off a positive pregnancy test and commented on the situation. "Obviously I have a baby on the way," Aaron said. "I'm going to be a busy father for sure." It seemed like things were moving in the right direction for the couple, but it didn't last.
Carter has a new woman in his life now
Unfortunately, things didn't last long and Carter has moved on to a new woman named Viktoria Alexeeva. She's appeared in a number of Instagram Live moments as well as in a photo on Carter's Instagram.
Fans seem to be divided on Carter's new girlfriend. Some question how quickly he moved on to this new woman in his life. In a recent photo shared on Instagram of the two together, fans weighed in on the situation. Some asked about Martin, since she's reportedly pregnant. Other fans seem genuinely happy for Carter and this new relationship.
Melanie Martin calls Carter's new girlfriend 'unstable'
According to The Blast, Carter's new lady has accused Martin of calling her phone with a blocked number on Instagram. She hasn't exactly been silent on the whole situation either. Melanie Martin recently spoke with The Blast to tell her side of things. She calls Alexeeva "unstable and dangerous." Martin says that Alexeeva was the one contacting her and she had to block her eventually.
Aaron Carter recently spoke about Martin on a podcast
Carter hasn't exactly stayed silent about the breakup either. He spoke on the podcast called Hollywood Raw with Dax Holt and Adam Glyn. He admitted he is upset and he felt he was with someone who "wasn't organic."
"Am I upset? Of course. Do I feel taken advantage of? Absolutely," Carter said. "I felt like I was with somebody that didn't look me in my eyes. Didn't communicate. Wasn't real. Wasn't organic. Was doing things behind my back that she shouldn't have been doing. Making promises she couldn't keep."
It sounds like this whole situation is far from over. We'll keep you updated on all the latest involving Aaron Carter's love life.