Aaron Carter's Fans Say They 'Can't Wait' for His 'New Music'
Aaron Carter has his fair share of fans and many are loyal even through the drama. Carter and his ex-girlfriend recently broke up and it was pretty dramatic, but Carter appears to be moving on and making music. In his latest post, fans show their support in the comments.
Aaron Carter and Melanie Martin broke up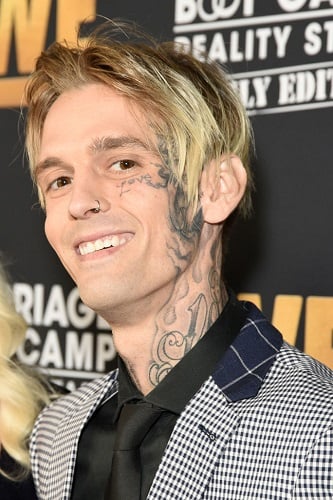 Carter and his ex-girlfriend Melanie Martin were living together when the drama unfolded on March 29. TMZ reports that the situation occurred about 11 p.m. when the L.A. County Sheriff's Department was called after a verbal altercation became physical. Police told the outlet that Carter had marks on his body. Carter shared images with TMZ allegedly showing the marks.
Martin was being held on a $50,000 bail before she posted it and was released. They are broken up and it's obvious to anyone checking either of their Instagram pages. They both shared an OnlyFans account together until the split. Now it's Carter's own personal page.
Carter posts a new photo while working on music
It looks like Carter has been hard at work since the split with Martin. He recently posted an image of himself with a computer in the background. He looks more than focused on the music and what's going on around him.
"Late night cookin'. New Music on the way 🌙👨‍🍳🎶 NAME the VST," Carter captioned the post. He also added: "🤫 #producer #artist."
Fans react to the new post on Instagram
Fans are overwhelmingly positive about Carter's post and what it could mean. Many fans are hoping it means a new album packed with lots of new tunes. People can't wait to hear it and they're understandably excited.
One fan thinks it's great to see this progress in the right direction. "Back on track. Never lose focus," the fan commented.
Fans 'can't wait' for 'new music'
Numerous fans "can't wait" for more music to come from their favorite artist. "I can't wait for the new music," a fan wrote.
Another fan says they'll wait for the awesome jams to come. "Your real fans love you dude. We can't wait but we will wait. Thanks dude," the fan commented.
People are clearly very excited about the "new music" that's coming according to Carter. "Yessss can't wait," another fan said.
"Yeah bud. The best music," a user wrote in the comments.
The tone was very positive in Carter's recent post. "Working on yet another masterpiece," another fan said.
One fan called Carter a "music genius" working at what he enjoys doing. "So ready for your new music 🎵🎶Aaron Carter music genius working hard at what he loves 🎵🎶 LMG," the fan said.
Another fan defended Carter and said how talented he is and has always been. "Say what you want about Aaron Carter but one thing you cannot say is that he is not talented. He is super talented has been ever since he was very young! I wish all this hate would subside and just let his talent shine through," a fan wrote.
Fans can't wait for Aaron Carter's "new music" to come out and they appear to be sending positive vibes his way.