Aaron Carter's OnlyFans Account With His Girlfriend Is Back Up
Aaron Carter has been making headlines in the last few months. Pretty much everything he does could be considered news to some. He recently got into a huge argument with his girlfriend which prompted their OnlyFans account to be removed, but it's back up and running. Read on to learn more about the situation.
What is OnlyFans?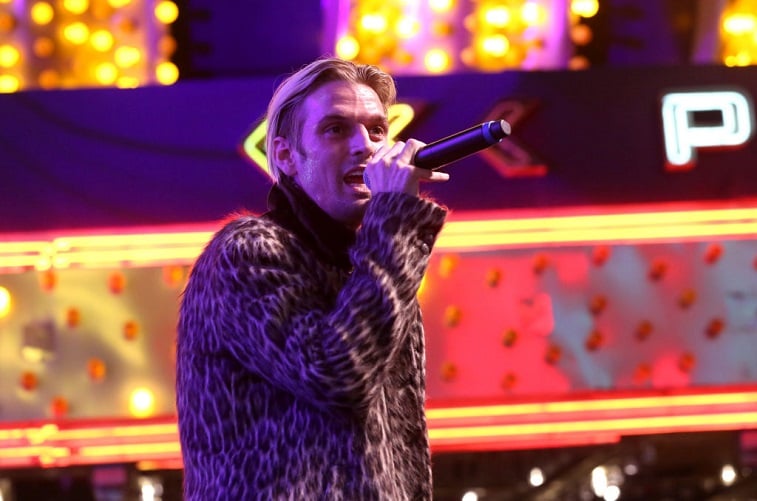 OnlyFans is a social media service that people can use to make money through subscribers. People pay to have access to certain profiles for a fee. Profiles can feature a number of things. A search for it on Google will tell you everything you need to know.
Carter and his girlfriend teased their OnlyFans account for weeks before finally dropping the link. They're charging $26 a month for exclusive access to everything on their profile. If you aren't a subscriber, you can't really see much of anything.
Their OnlyFans account has a total of 43 posts which include 30 photos and 6 videos. There's already over 6,400 likes on the posts.
Aaron Carter's OnlyFans account is back up after an incident
Carter and his girlfriend got into a pretty big argument on Instagram Live recently and fans are still talking about it. Some fans even took the time to record the whole thing and post it to Twitter. In the video, Carter is yelling at his girlfriend, Melanie Martin. He accuses her of having a guy's number in her phone under a girl's name. Things get worse from there and he even accuses her of sending nudes while they were together. Carter tells her to get out of his house in the video as well.
After that incident, both of their Instagram bios became blank and they no longer had each other tagged. Even the OnlyFans account link was no longer active, prompting people to wonder what was really going on.
However, things seem to be fine again because they are each appearing in the other's Instagram Stories and bios and the link to OnlyFans is active once again.
Aaron Carter posts an image of himself and Melanie Martin
Carter recently posted an image alongside his girlfriend and his dog, Nala. They appear to be laying in bed. "I love you 3000," Carter captioned the post.
Fans had a good time commenting on Carter's recent post with Martin and they didn't hold back with how they were feeling.
"I thought they broke up?" one Instagram user asked.
Another fan just thinks Carter loves something else about Martin. "Pft, you love her bank account," they said.
One user doesn't think it's Martin that Carter actually loves. "You love the dog she will be replaced in a couple of months hahahaha," the Instagram user commented.
Many fans commented wishing Carter well with his girlfriend despite all the turbulence lately. Although some people tried to have fun with the situation, many fans seem to be supportive of Carter and his girlfriend. Keep checking back to learn the latest about Aaron Carter.