How Did ABBA Form and How Did They Break Up?
Most of us know ABBA's music from the Mamma Mia! films, but the Swedish singing group has been around longer than that. After winning Eurovision in 1974, the group's success skyrocketed, and they made their biggest hits, including "Dancing Queen," a favorite of the queen's, and "Mamma Mia." Now, the group is getting back together to make more music. But why did they break up in the first place? Even more importantly, how did an icon band like ABBA form?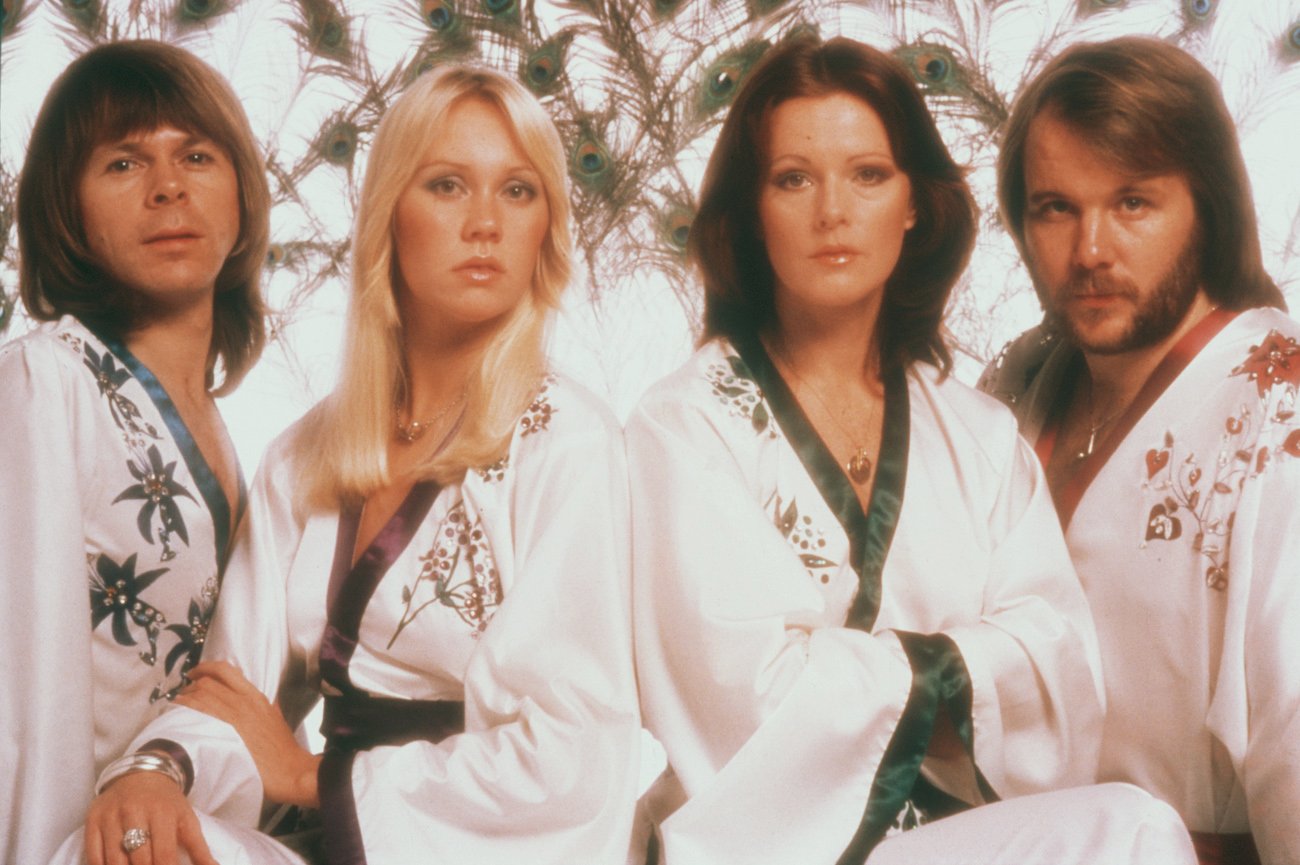 How did ABBA form?
ABBA consists of Agnetha Fältskog, Björn Ulvaeus, Benny Andersson, and Anni-Frid Lyngstad. According to their website, Ulvaeus met Andersson in 1966. They were both part of successful groups in Sweden at the time. Ulvaeus was a member of the Hootenanny Singers, a very popular folk music group, while Andersson played keyboards in Sweden's biggest pop group, The Hep Stars.
Clearly, they liked something about one another because they wrote their first song weeks later. At the end of the 1960s, they'd established a successful composing partnership. Both of their groups eventually fizzled out, and in 1969, they met Fältskog and Lyngstad, who not only became their fiancées but the other members of ABBA. Both women were recording artists at the time.
Fältskog and Ulvaeus were married in 1971 and Lyngstad and Andersson married in 1978. At first, the artists collaborated on each other's respective solo albums, but they started making more music together as time went on. They liked how their four voices sounded together, so they formed the cabaret act Festfolk, which means "engaged couples" and "party people."
This wasn't successful, so they started again, forming an act called Björn & Benny, Agnetha & Anni-Frid, releasing the song "People Need Love" in 1972. They earned a bit of success and entered the 1973 Melodifestivalen, the Swedish selection for the Eurovision Song Contest, singing "Ring, Ring." They didn't get in.
They entered Melodifestivalen again in 1974, this time as ABBA, an acronym of their names. They sang "Waterloo," got to Eurovision, and won, making them the first for Sweden. The rest is ABBA history.
How did the pop group break up?
Things started getting rocky for ABBA when the double couple image ended in 1981 when Andersson and Lyngstad divorced. However, they still worked together until 1982. Then they decided to take a break because both couples had divorced. The guys wrote the musical Chess and produced Mamma Mia! the musical, which premiered on London's West End in 1999. The women pursued solo careers. All of the members didn't rule out a reunion, though.
Even though they never got back together, they still made appearances. When the movie version of Mamma Mia! opened in 2008, the group attended the Stockholm premiere. Only Andersson and Lyngstad attended the group's induction into the Rock and Roll Hall of Fame in 2010.
ABBA is returning
After a 40-year hiatus, ABBA is releasing new music. Their new album, Voyage, is set to drop on Nov. 5, 2021. Two songs, "I Still Have Faith in You" and "Don't Shut Me Down," are out now. The group has also announced a concert experience in London to accompany the album starting in May 2022.
The Guardian writes, "Digital versions of themselves (not holograms, their team asserted) will appear nightly alongside a 10-piece live band at a new 3,000-capacity venue in the city's Olympic park, called the Abba Arena. Tickets go on general sale on Tuesday 7 September."
Lyngstad said, "Such joy it was to work with the group again – I am so happy with what we have made," while Ulvaeus said of Fältskog and Lyngstad," I was completely floored by the way they delivered those songs." Andersson said, "I think hearing Frida and Agnetha singing again is hard to beat. We're truly sailing in uncharted waters. With the help of our younger selves, we travel into the future."
We're entering into an ABBA-issance, so get out your dancing shoes and get ready to sing your heart out.