'Abbott Elementary': Everything the ABC Series Gets Right About Philadelphia
Philadelphia comes alive in 'Abbott Elementary.' The ABC comedy shows what it's really like for teachers there -- to a degree, anyway.
The TV show Abbott Elementary has taken over the internet, growing increasingly popular by the day. The show employs a mockumentary style that gives every The Office fan nostalgia and laughs. Set in a Philadelphia public school, Abbott Elementary includes references to the City of Brotherly Love. But are they all correct? Here's a look at how the comedy covers Philly.
'Abbott Elementary' isn't filmed in Philadelphia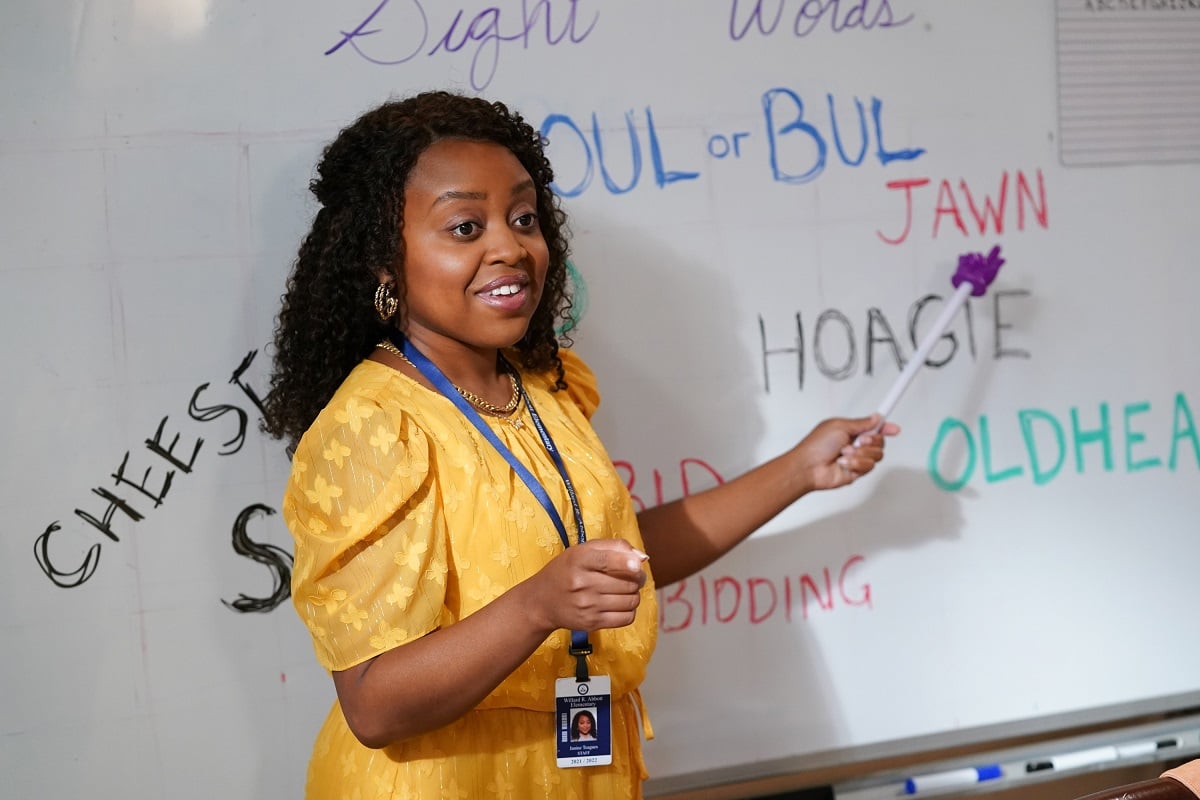 Abbott Elementary showcases a group of teachers working in Philadelphia. But the show isn't filmed in Pennsylvania. The ABC series shoots in Los Angeles, California. But it incorporates several aspects and references that make its setting feel more realistic. After all, the show is based on creator Quinta Brunson's experiences growing up in West Philly.
Willard Abbott Elementary is a fictional school, but since Brunson couldn't use her elementary school's name as her title, she combined two of her favorite people's names to make the show's title. 
The show's title borrows its name from Brunson's favorite actor, Will Smith (whose full name is Willard Smith), and her favorite teacher Joyce Abbott, reports the Philadelphia Inquirer. The show premiered its first season on December 7, 2021.
The show incorporates the city in varied ways
Although Abbott Elementary isn't filmed in Philadelphia, it adds authenticity with numerous references, from sports teams to local jargon to restaurants.
Brunson, who plays Janine Teagues, uses slang words "boul," (boy), "ard" (alright), and "jawn" (a placeholder word similar to "thing") as sight words. Janine said she wanted to add the slang into her lessons as she knew her students would relate to them.
Melissa Schemmenti, played by Lisa Ann Walter, helps the teachers get new rugs for their classrooms in the pilot. Her connection is someone who works in construction at Lincoln Stadium, so the rugs bear the emblem of the city's NFL team, the Philadelphia Eagles. 
There is also a reference to the iconic moment when Philadelphia 76ers player Allen Iverson stepped over Los Angeles Lakers athlete Tyronn Lue during the 2001 NBA Finals.
In the same episode, Chris Perfetti's Jacob teaches about the reproductive systems of chickens. A charmed Janine says, "Aw, look at that. They're seeing that chickens don't just come from Crown Fried Chicken." Crown Fried Chicken is a popular chain restaurant in the Philadelphia area.
There is also a reference to the Philadelphia restaurant, Danny Wok, which became the topic of discussion online when its illogical price structure found its way online. As a result, Twitter users began creating algorithms and spreadsheets to find the best Danny Wok chicken wings deals. In the episode, Janine bribes the other teachers with "the best chicken in all of Philly," and as it turns out, it's from Danny Wok.
'Abbott Elementary' got one thing right about teachers
Abbott Elementary's third episode, 'Wishlist,' resonated with many people for different reasons. It's also the highest-rated episode on IMDb. The episode saw the teachers and Principal Ava Coleman, played by Janelle James, take advantage of social media to promote their wish lists and fulfill them with help from social media users.
Supply wish lists are more common than you think. According to the Inquirer, 94% of US educators have to pay for supplies, and they are not reimbursed. So they take to creating wishlists to raise money to buy essential school supplies.