ABC Says Shonda Rhimes and Ellen Pompeo Will Decide When 'Grey's Anatomy' Will End
ABC won't end 'Grey's Anatomy', that power belongs to Shonda Rhimes and Ellen Pompeo.
Grey's Anatomy won't be ending any time soon. At least, not at the hands of ABC. 
During a panel discussion at the Television Critics Association on Aug. 5, Karey Burke, ABC's entertainment chief, made it clear Grey's Anatomy will never face what every show fears — cancellation — because as far as she (and the network) are concerned, the TV series will continue as long as Shonda Rhimes, the show's creator (she's also an executive producer and head writer on the show), and star Ellen Pompeo (Dr. Meredith Grey) want the show to literally go on.
"We love them," Burke said referring to Rhimes and Pompeo, according to Vanity Fair. "They are as deep a part of the fabric of ABC as anyone, and certainly it will be up to them whether or not they want to continue the show."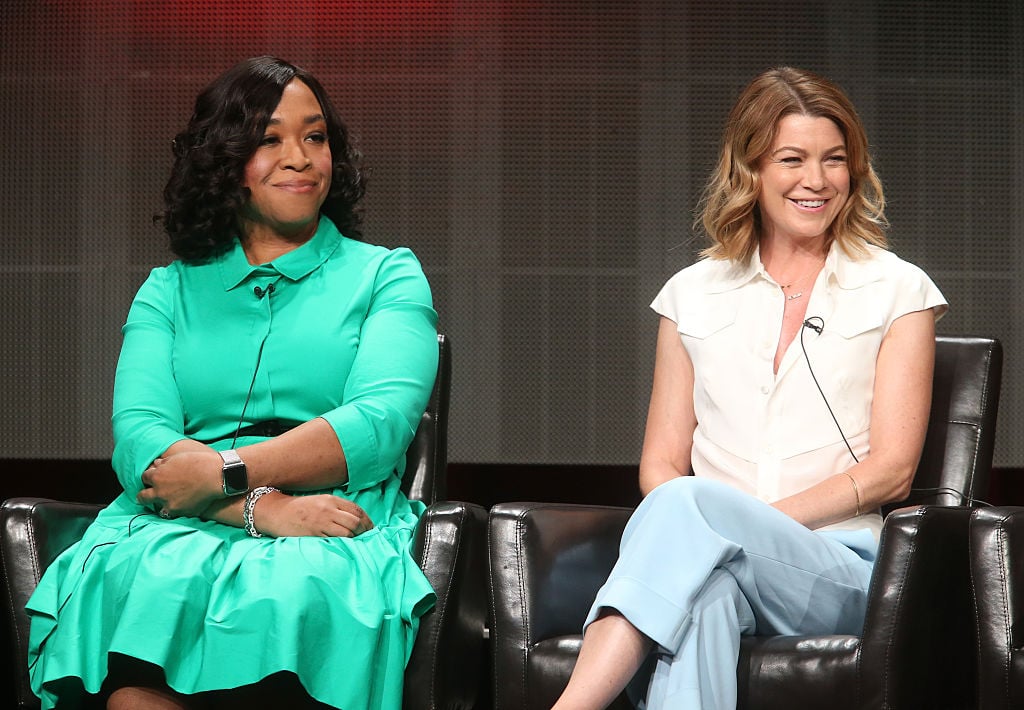 So, Rhimes and Pompeo will ultimately decide when the long-running drama ends. Like many of the series, Burke doesn't want the show to end. " I hope I'm watching with my grandchildren," Burke said. 
The hospital drama from Rhimes has been a network mainstay since it premiered on … get ready to feel old, March 27, 2005, with Season 17 of the series set to premiere this fall. While many cast members have come and gone — T.R. Knight, Katherine Heigl, Patrick Dempsey, and Isiah Washington to name a few — because their characters met tragic ends or because the actors themselves wanted off the show for various reasons (offscreen drama included), Meredith Grey, the show's namesake has remained. 
Since the show premiered, Rhimes has become a powerhouse in the entertainment industry. She heads up her own production company, Shondaland, which has been behind many major TV programs including Scandal, starring Kerry Washington, How to Get Away with Murder starring Viola Davis, Station 19, Private Practice, and others. 
Starting in 2014, she had an entire block of programming on Thursday nights dedicated to her TV shows with ABC's TGIT (a play on TGIF or Thank God It's Friday) which initially included Grey's Anatomy, Scandal, and How to Get Away with Murder, according to Adweek. Recently, Rhimes inked a deal with Netflix. 
Pompeo once wanted to leave the show
Pompeo didn't always plan on sticking with Grey's Anatomy as long as she has. Earlier this year, she famously referred to the show as having a "toxic" work environment at one point. 
In an interview with TVLine, the actress said at one point she wanted to leave the show because she had felt it had come to its natural end.
Pompeo described how she felt at the time: 
"I keep saying, 'I'm ready to move on and I want to stop the show before the ratings go down,' but the ratings never go down!" she told the publication. "They go down a little bit, but the fact that we are able to hold our [title as ABC's No. 1 series] is kind of [incredible]. It's very cool to have these kind of ratings and be on a hit network show in this [Peak TV] landscape," she added. 
She felt Grey's Anatomy had run its course, and she wanted to leave while the show was still in good standing. 
Rhimes on 'pact' she has with Pompeo about 'Grey's Anatomy'
Rhimes revealed in a 2017 interview she and Pompeo have an agreement with each other about the end of the series. She told E! News that she'll stop production when Pompeo feels like her time as Grey is over. 
"Ellen and I have a pact that I'm going to do the show as long as she's going to do the show. So, the show will exist as long as both of us want to do it. If she wants to stop, we're stopping," Rhimes said. 
Grey's Anatomy fans rejoice. The show will go on as long as Rhimes and Pompeo want to keep telling stories about doctors at a fictional hospital in Seattle, Washington.