These Actors Compared Joe Biden and Donald Trump's First Debate to Their Notable Film and TV Roles
Following the first 2020 presidential debate, several actors commented on the event by comparing it to their own TV and film roles.
On Tuesday, September 29, 2020, Donald Trump and Joe Biden took the stage for their first 2020 presidential debate. What ensued was hours of chaotic back-and-forth in which both candidates grew frustrated with one another and moderator Chris Wallace.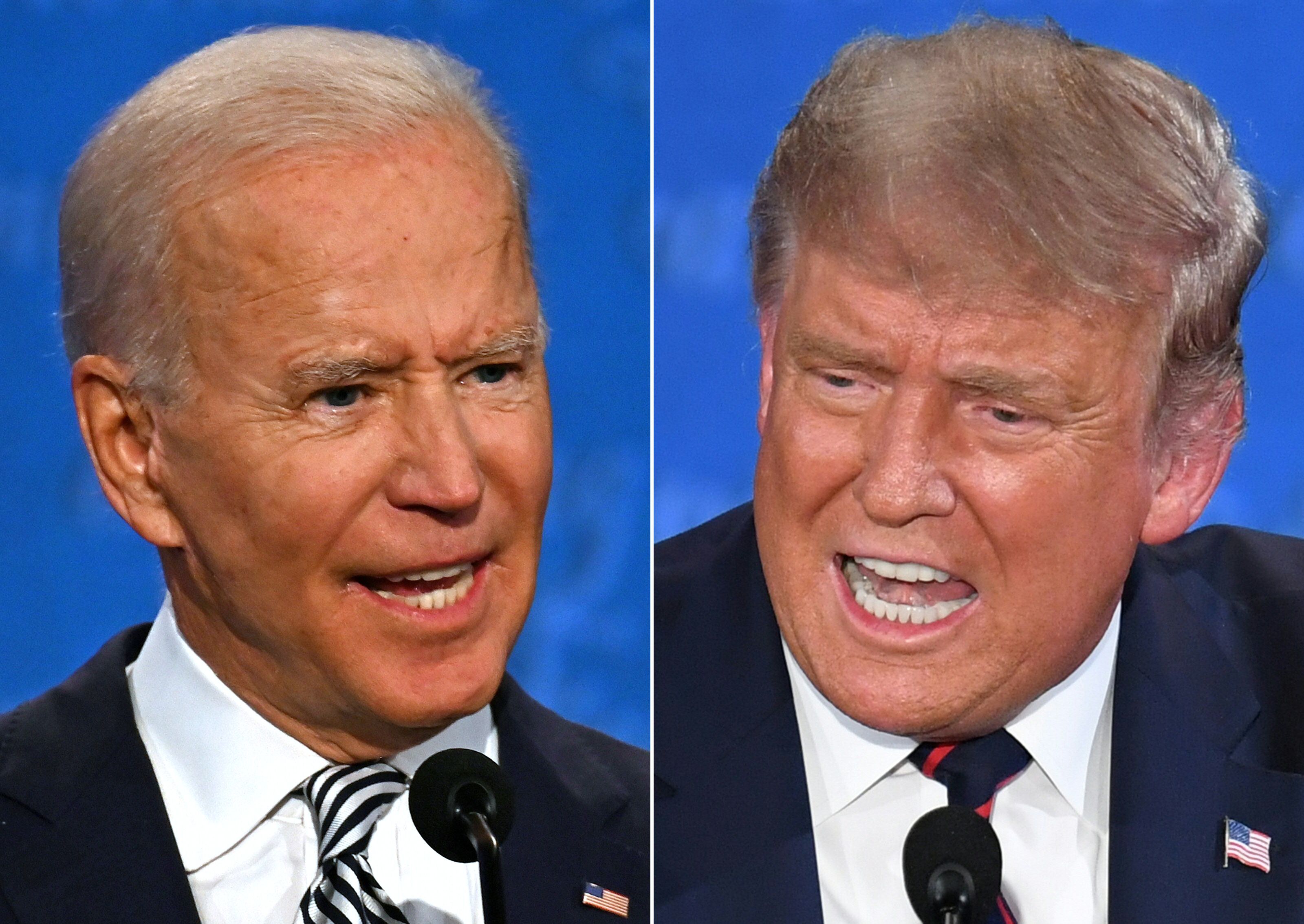 For those watching at home, it wasn't much better. Many chimed in on social media, celebrities included. Regardless of which side of the aisle a person falls on, most viewers agreed it was difficult to watch the debate. In fact, some actors compared it to roles for which they are famous.
Lea Thompson
Actor Lea Thompson began acting in films in the 1980s, starring in the Back to the Future franchise. She later branched out into TV, starring in the '90s sitcom Caroline in the City and the '00s Hallmark Channel Jane Doe movies. In recent years, Thompson starred in the Freeform drama series Switched at Birth.
At the beginning of her movie career, Thompson starred in the box office bomb Howard the Duck as Beverly, the titular character's love interest. She referenced this when tweeting about the debate, writing, "It was the worst thing I have ever experienced and I made out with a duck."
Mark Hamill
Actor Mark Hamill began his career on TV. He was on the soap opera General Hospital in the early '70s, in addition to several other appearances on notable shows. This was also around the time that he began his career as a voice actor, which he continues in earnest to this day.
But Hamill is far and away best known for his role as Luke Skywalker in the Star Wars films. Despite its notoriety, there's at least one misstep in the franchise's history: a 1978 TV special, which Hamill cited in 2020. "That debate was the worst thing I've ever seen & I was in The Star Wars Holiday Special," he tweeted.
Bob Saget
Not every actor who tweeted about the debates disparaged one of their past roles. Actor Bob Saget, who rose to prominence starring in the hit '80s and '90s sitcom Full House, took a different approach. "Last night's debate upset me more than when Stephanie drove a car into the kitchen," he tweeted.
Fans of the series recall that, in a season 3 episode, Saget's character's daughter climbed into the front seat of a convertible. She managed to accidentally turn it on, sending it through their home's kitchen wall. It was such a famous moment from the show that it was emulated in the spinoff series, Fuller House, in season 5.
Michael Shanks
Actor Michael Shanks began his career on TV in the '90s. He has appeared in many sci-fi projects, including the Canadian series Stargate SG-1 and the TV movies it spawned. Shanks has starred in shows such as Saving Hope in more recent years, and he had a recurring role in the second season of the Netflix series Altered Carbon.
But getting back to the TV movies, Shanks appeared in several of them in the '00s. He referred to one such project, a 2007 film titled Mega Snake, in his tweet. "That debate was the worst thing I've ever seen. And I was in this," Shanks wrote, sharing artwork from the movie.