Adam Sandler Fans Will Want to Keep Their Netflix Subscriptions a Little Longer
There seems to be a huge movement of Adam Sandler fans who thought he should have gained an Oscar nomination for his Howard Ratner role in Uncut Gems. While there's mixed public opinion on his performance, it obviously set him up for acting in future dramas.
Maybe Sandler wasn't joking when he said he'd make the worst movie ever made if he wasn't Oscar-nominated or didn't win. Well, now that Sandler extended his contract with Netflix recently, some people are wondering if that's about to come true.
Is it a smart career move to go back to making those popular Netflix movie comedies, or should Sandler focus on more serious big-screen efforts? After having to be pushed to even take the Ratner role to begin with, perhaps he's panicking a good dramatic role won't come around as often as he thinks.
More Adam Sandler films on Netflix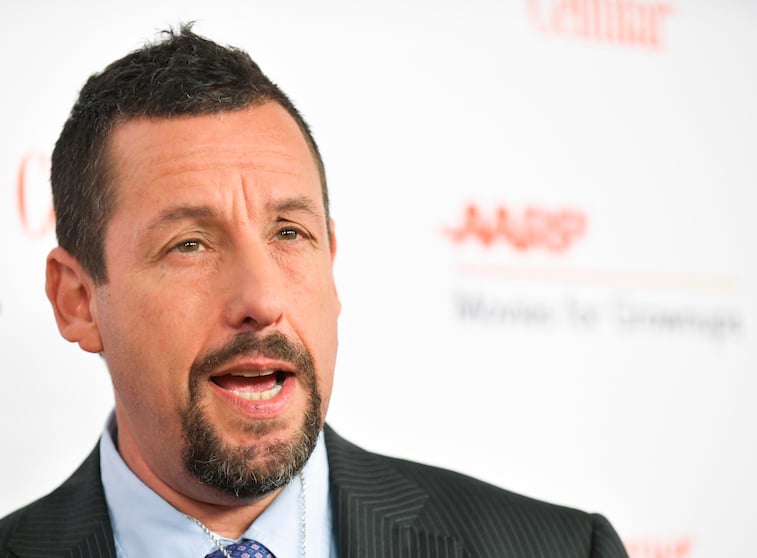 According to recent media reports, Sandler's Happy Madison Productions signed on with Netflix to produce four more movies. Out of all the past movies made, Murder Mystery seems to have really hit it off with the public. Part of that was due to the perfect chemistry Sandler has with Jennifer Aniston.
A portion of this deal will supposedly mean a sequel to that. Whether it can really capture the public's imagination again is another thing. One has to wonder if even Sandler's comedic formula is starting to grate on him.
Going in a dramatic direction was only a logical career direction as it has been for most movie comedians. Sandler's style of comedy, though, is not popular with everyone nowadays. His comedic style arguably worked better when younger, including many of the classic characters he created relegated to a certain time period.
Trying to top characters like Happy Gilmore or The Water Boy is probably an impossible task, outside of always managing to attract viewers. After all, his first Netflix effort (The Ridiculous 6) brought in record viewing numbers several years before the Murder Mystery bonanza.
Is Sandler stuck doing comedies, or will he try a drama for Netflix?
Based on the deal above, all of his upcoming movies for Netflix will be comedies. However, what if he surprises his fans with a drama, or at least a dramedy?
The Safdie Brothers had a tough time convincing Sandler to do their film, seeming to prove he wasn't overly confident in being able to handle drama at an Oscar level. He should be emboldened by now — unless the Oscar nomination snub feels like some kind of rejection.
It shouldn't since most critics gave his performance rave reviews. Maybe Sander will recoil and go back to doing what's safe. Unless something good comes along and he throws in a drama as a shocker.
Nobody should think it's not possible to do a prestige drama on Netflix since numerous ones have been made. Whether they'd spend bigger for a Sandler drama, however, is still debatable.
Can Jennifer Aniston win Sandler an Emmy?
Let's consider an alternative scenario to Sandler finally winning a major acting award. Thanks to his friendship with Aniston, they'll likely find another winning formula in Murder Mystery 2. At the same time, Aniston just won a SAG Award for her role as Alex Levy in Apple TV+'s The Morning Show.
What would happen if Aniston wrangled a deal for Sandler to appear on TMN in a surprise dramatic role?
Since the streaming universe seems to be a comfortable place for both of them, it wouldn't feel alien to see Sandler show up on TMN's second season next November.
If he plays a memorably villainous role on the latter show, he could technically be nominated for an Emmy, Golden Globe, or SAG. Winning one of those might give him even more acting confidence for dramas since most of those awards come straight from acting peers rather than an overall film academy.