Adam Sandler Revealed 'The Only Awkward Part' of Kissing Jennifer Aniston in 'Murder Mystery'
Longtime friends Adam Sandler and Jennifer Aniston play a married couple in Netflix's new film, Murder Mystery, and naturally, their characters kiss. So, how did the kissing scenes go for the seasoned actors? It was, in a word, "awkward," but not for the reasons one would expect. Keep reading to get the details.
What is 'Murder Mystery' about?
Murder Mystery follows Audrey (Aniston) and Nick Spitz (Sandler) as they go to Europe only to learn they've been framed for the murder of a billionaire.
Adam Sandler explains 'the only awkward part' of kissing Jennifer Aniston
The two actors spoke with the Associated Press about their kissing scenes. Sandler, 52, explained the awkward part of kissing Aniston, 50.
His wife in real life, Jackie Sandler, appeared in Murder Mystery as the "Great Looking Flight Attendant" in the film's credits and contributed to all of the awkwardness, according to Sandler and Aniston.
"When we kissed, the only awkward part is hearing my wife on the side go, 'Harder! Harder! Kiss her harder! Deeper!'" Sandler recounted. "They [Jackie and his daughters] watched the kissing. They love it. They love Aniston, and they want her to have good things and they say, 'Give her something nice.'"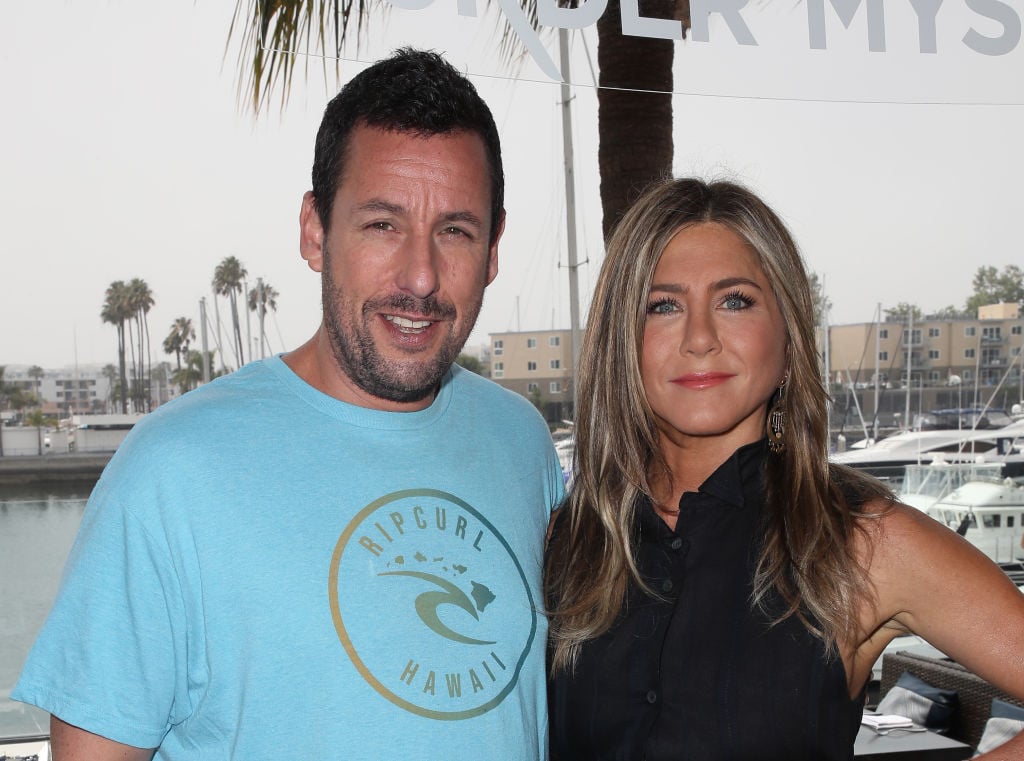 Sandler and his wife share two children together, daughters Sadie (born in 2006) and Sunny (born in 2008), according to Good Housekeeping.
Echoing Sandler's sentiment, Aniston added, "That was awkward."
This isn't the first time Sandler's wife has been enthusiastic about her husband's kissing scenes with an actress. She's done the same thing in the past when Sandler and Drew Barrymore had to kiss in scenes for their numerous movies together.
While on The Ellen DeGeneres Show, Sandler explained to Ellen DeGeneres that his wife is totally OK with him kissing Barrymore.
"It's like the best thing that my wife loves Drew so much that she like encourages me. There's no jealousy at all. She's just like, 'Get in there!' … We're [Adam and Drew] doing a nice romantic scene and I think I'm doing pretty great being as romantic as I can be and then like – Okay, moving on, let's go, that was great, Drew. Good job. And I'm walking away and I just see my wife like (shaking her head)…'What's the matter?' [And she says] 'Just please, for the sake of women, get in there and just look a little more alive.'"

Adam Sandler explained how his wife is fine with him kissing Drew Barrymore.
When does 'Murder Mystery' premiere on Netflix?
Netflix released the PG-13 comedy on June 14, 2019.
Jennifer Aniston texted Adam Sandler before kissing scenes
In the weeks leading up to their kissing scenes, Sandler received text messages from Aniston, the actor explained in the same interview.
"She loves it," Sandler said. "She sends me texts, 'Nine days til kissing — here it comes.'"
"Get ready," Aniston added laughing.

What Jennifer Aniston had Adam Sandler do before their kissing scenes

Aniston had one request for Sandler before their kissing scenes, according to their interview.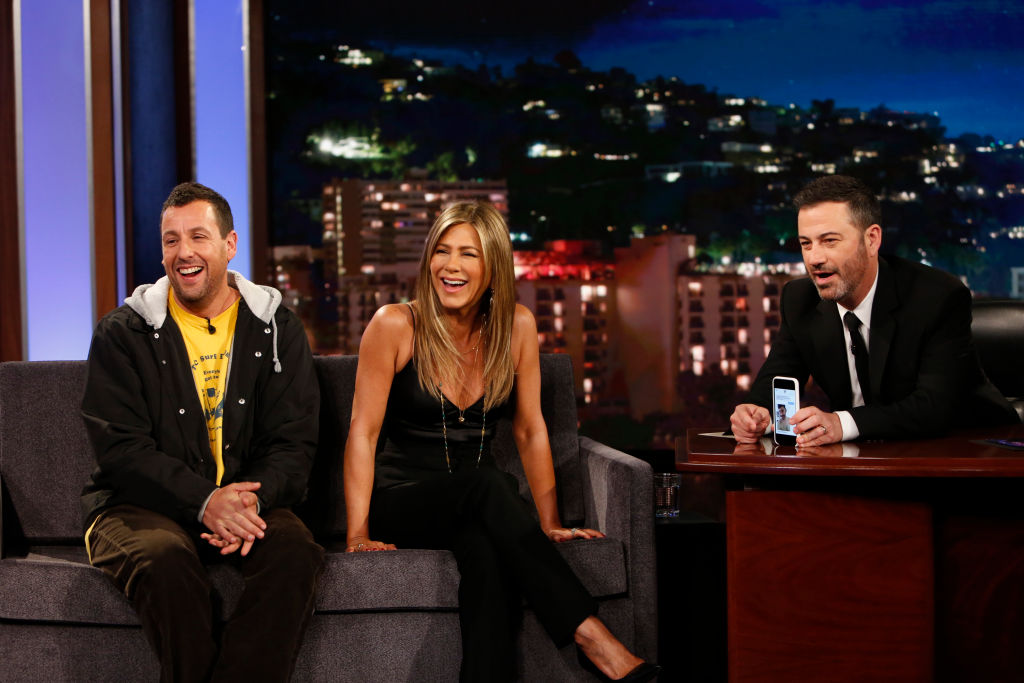 "I did have him learn to oil the beard up a little bit," Aniston said.

"Yeah, she wanted me to have a nice, soft beard," Sandler added.