Adam Sandler Says His NBA Co-Star in Netflix's 'Hustle' Has 1 Surprising Acting Skill
Adam Sandler has high praise for his NBA co-star in 'Hustle,' who has a talent that many actors don't have
Athletes are not normally known for their acting abilities, but every now and then a professional athlete can deliver a great performance in a movie or TV show. In the new Netflix movie Hustle, NBA player Juancho Hernangómez, who plays for the Utah Jazz, is making his acting debut alongside Adam Sandler. Sandler says that Hernangómez possesses one acting skill that many professional actors don't have. 
Adam Sandler stars as a basketball scout in the Netflix movie 'Hustle'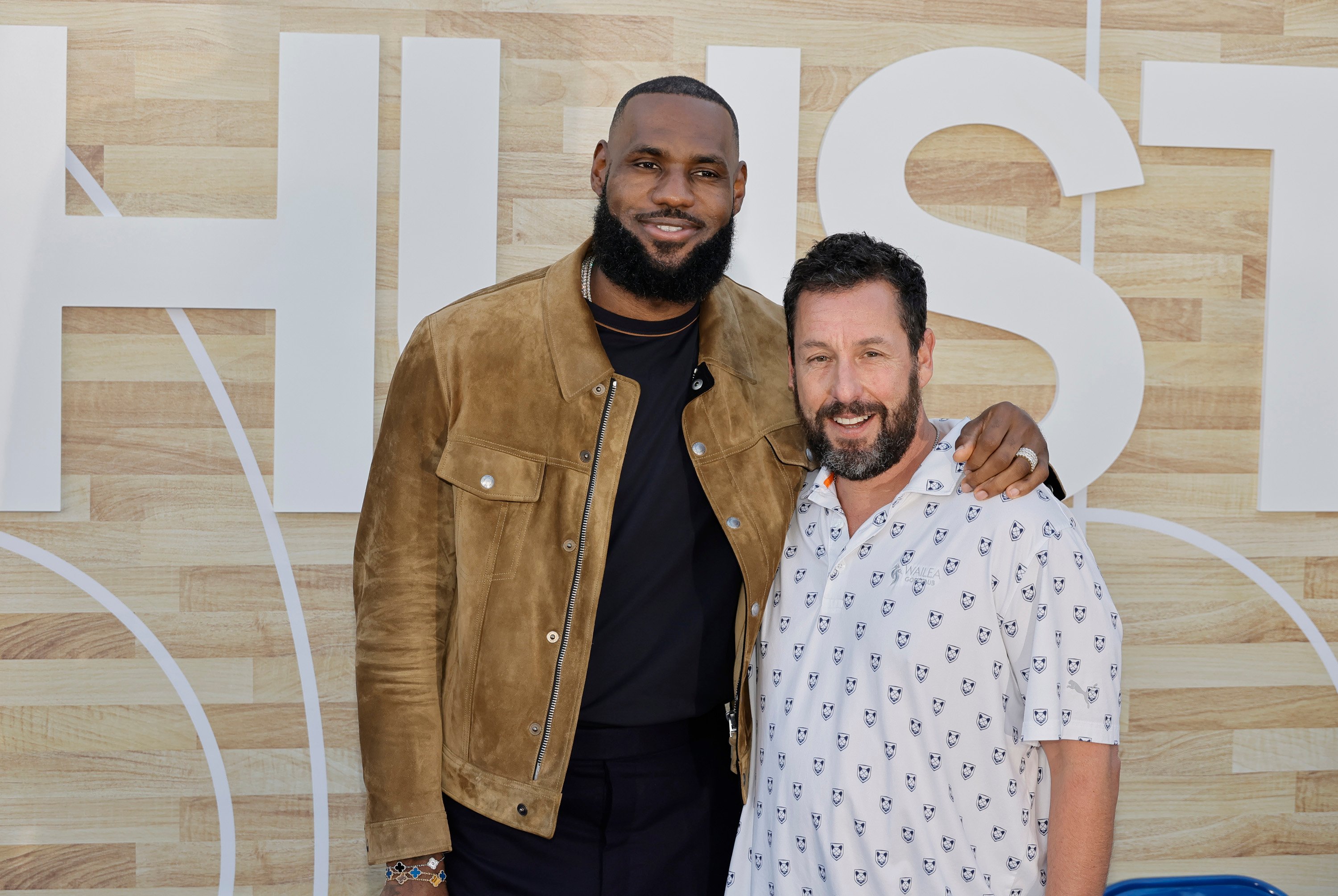 Hustle is an upcoming sports drama movie coming to Netflix. The film stars Sandler as an NBA scout for the Philadelphia 76ers who recruits a foreign player with a shady past but has phenomenal talent. The chance to play in the NBA can change his life, but he's going to have to learn how to move forward in order to succeed. 
Hustle is directed by Jeremiah Zagar with a screenplay penned by Taylor Materne and Will Fetters. In addition to Sandler and Hernangómez, the cast also includes Queen Latifah, Ben Foster, Robert Duvall, Kenny Smith, Heidi Garnder, and Anthony Edwards. Other NBA players who will make an appearance are Trae Young, Khris Middleton, Aaron Gordon, Seth Curry, Kyle Lowry, Tobias Harris, and Jordan Clarkson. 
Adam Sandler says Hernangómez has 1 unique acting skill that he uses in 'Hustle'
In an appearance on Jimmy Kimmel Live, Sandler discussed Hustle and working with an NBA player. The Happy Gilmore actor praised Hernangómez's performance in the movie and said that he has the ability to cry on cue, which is an acting ability that many struggle to pick up. Sandler discusses watching the player in a scene where he is crying with his mom. 
"I come by just to see how everybody is that morning and I get there around 11 'o' clock and the director Jeremiah is just like 'Juancho's killing it, man,'" Sandler said. "I was like 'well, let me see this.' And I watch him and he just like he's doing the scene and all of a sudden, closeup, boom, all these tears and I'm like 'He's faking that , man. Who did that? Who ran in and put the makeup on him?' Then, another take, 'Juancho, if you can wait a little longer before you start crying.' 'Ok, yeah, you got it.' Waits another sentence. Boom. Just amazing."
Sander then says that he struggles to cry in a movie because he never cries in real life. So, he tells Kimmel that in order to cry in a movie, he asks his wife to send him a sad Instagram video of a car crash. 
Sandler has worked with NBA stars before
Working with an NBA player in Hustle is nothing new for Adam Sandler. In Uncut Gems, the plot centered around his character's gambling addiction and it often involves him betting on a basketball game. Kevin Garnett has a large role in the film and he gives a great performance. 
Shaquille O'Neal has also appeared in several Sandler movies including Grown Ups 2 and Hubie Halloween. Hernangómez isn't as big of a star as Garnett or Shaq, but maybe his performance in Hustle can bring him more attention. 
Hustle premieres on Netflix on June 8 and in select theaters on June 3.