Adam Sandler Shaq Shower Story: Shaquille O'Neal Says He Just Wanted to Make Everyone Laugh
The Adam Sandler Shaq shower story gets even funnier with Shaquille O'Neal's new mic drop comment.
Adam Sandler shared a hilarious story about his quest to see Shaquille O'Neal naked after some of the cast and crew played basketball on the Grown Ups 2 set. Sandler recounted the story on Conan O'Brien's TBS talk show in 2013, sharing O'Neal's hilarious punch line when he got busted. Showbiz Cheat Sheet recently caught up with O'Neal and had to ask – how did you respond, knowing your pal was trying to sneak a peek of you naked in the shower? O'Neal had both a sweet and a spicy remark.
What was the Adam Sandler Shaq shower story?
Sandler recalled that he, O'Neal, and a few crew members played a game of basketball on the Grown Ups 2 movie set. He began the story by saying that O'Neal was the funniest person on set, despite being in the company of some of the biggest names in comedy.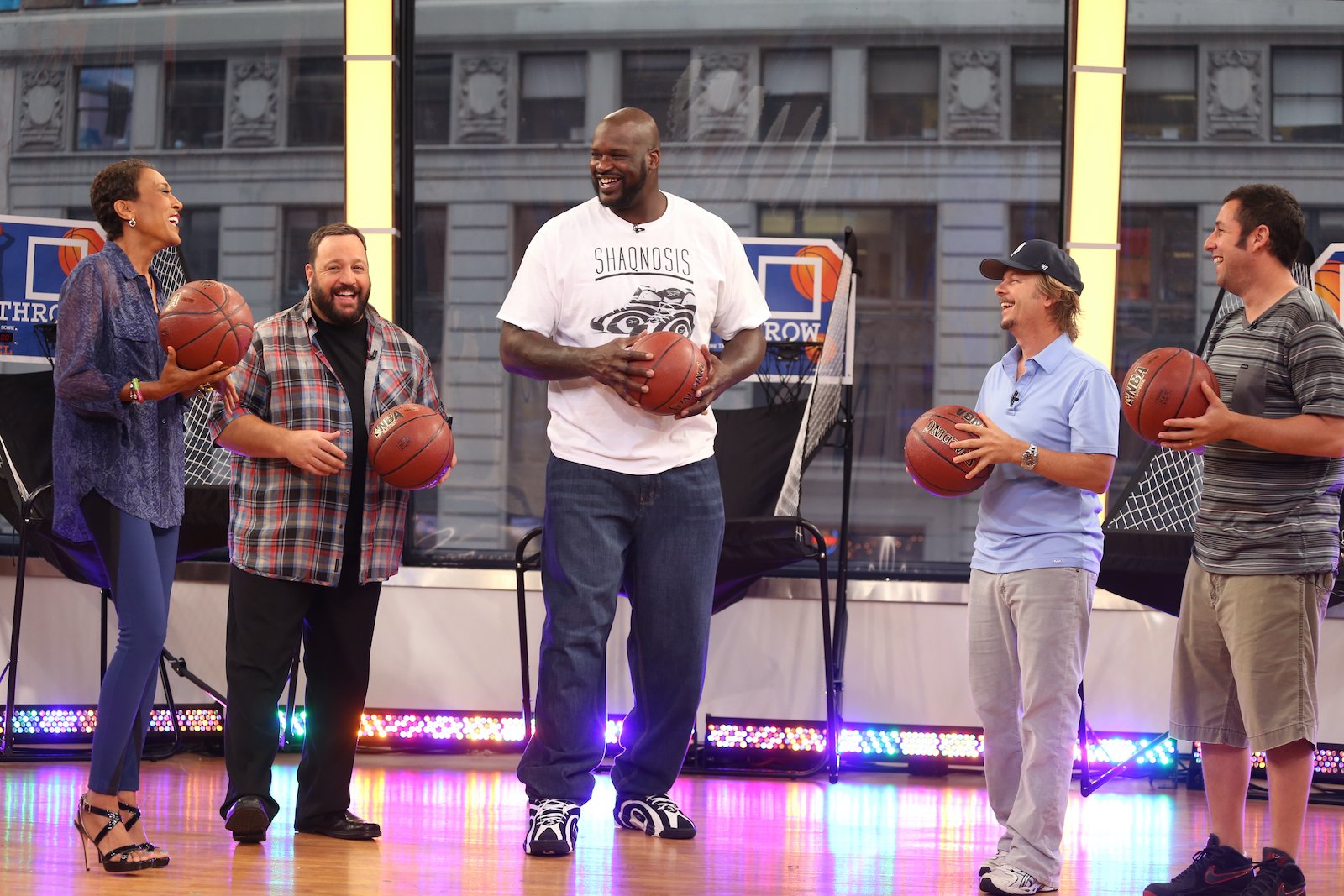 But he remembered going back to the set and O'Neal decided to hit the shower. "Shaq has to take a shower. So everyone's like alright we'll see you later Shaq," Sandler said. For some reason, Sandler suddenly wondered about the size of O'Neal's penis and thought he could sneak a peek when O'Neal was in the shower. Unfortunately for Sandler, O'Neal's bodyguard met him before he could get very far.
"So I said … sorry … I was just trying to … see Shaq's penis," Sandler laughed. "I apologize and I'm outa here." Then he begged the bodyguard, "Please don't tell Shaq!" Later, Sandler admitted to O'Neal he tried to sneak a peek. Sandler apologized about the "security guard." But O'Neal's mic drop reply: "I don't have a security guard, that was my d*ck!"
How did Shaquille O'Neal respond to Adam Sandler's attempt to see him naked?
O'Neal chuckled, recalling the story. "Adam is the funniest guy ever," he said to Showbiz Cheat Sheet. "And he's the nicest guy. That's why I said a couple of weeks ago I don't want to be listed as a celebrity anymore. That's because of people like him. He's nice to everybody. No entourage, or bodyguards. Doesn't speak down on people. Knows everybody on the set."
He added, "One day on Grown Ups 2, it was the greatest comedic minds ever. Kevin James, Davie Spade, Chris Rock, it's like wow. I know I'm not as good as them right? So I had to somehow slide in. So I did something I never did before. I knew the script, I studied my lines. I actually just wanted to make them laugh. And it was a compliment him saying that I was funny." O'Neal hilariously added, "And then in the movie, I didn't wanna make him look bad."
"I saw a quote the other day, you treat the janitor the same way you treat the CEO," O'Neal continued. "Adam is just like that. And another good friend of mine, Dan Reynolds from Imagine Dragons, he's like that. There are too many categories of celebrities and some people can't handle what they're doing. And they do a lot of outrageous things. I don't want to be part of it."
Shaquille O'Neal keeps paying it forward, this time with Black Entrepreneurs Day
What O'Neal is more interested in doing is helping others, like through his partnership with The General Insurance and Black Entrepreneurs Day. "We're going to engage our HBCU [Historically Black College or University] partners and we're going to get six Black business students or student entrepreneurs the opportunity to have a one on one session," he said. "And we're also funding a 25,000 grant to a rising entrepreneur through the NAACP Powershift Entrepreneur Grant, with is created with the NAACP." The winner receives professional one-on-one mentoring sessions with O'Neal and Elicia Azali.
"It's all about giving back and helping point Black people in the right direction," he added.
The Black Entrepreneurs event takes place on Thursday, Oct. 14 at 7 p.m. ET and will stream live from the Apollo Theater.