Adele Was So Inspired by Beyoncé it Helped Her Anxiety
Adele is an internationally-renowned singer who is known for having hit singles like "Rolling in the Deep," "Someone Like You," and "Hello." Thanks to her success, Adele has been able to tour all over the world and perform live for many fans.
However, despite the fact that Adele seems like a very confident performer on stage, the truth is that the star also struggles with anxiety attacks. In fact, she has shared that the thought of singing in front of people could bring about all kinds of anxious thoughts for her. Fortunately, she learned how to deal with this from Beyoncé.
Adele's gets very bad stage fright and anxiety attacks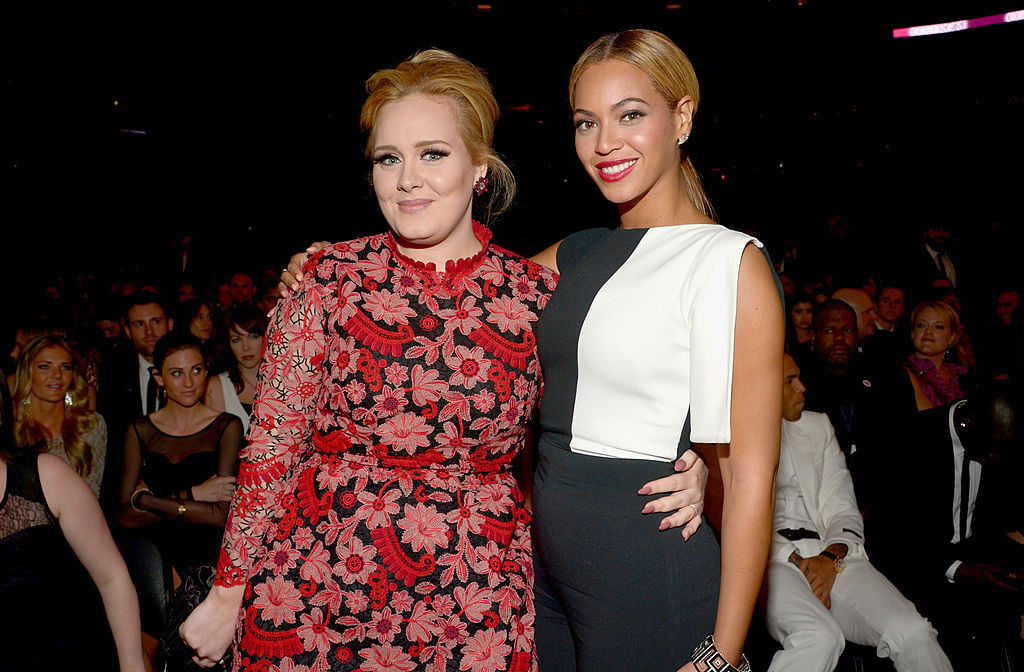 It's normal for performers to feel nervous before they take the stage, and Adele is no different. However, for most people, these nerves often subside after they go on stage. Yet, Adele revealed that she still gets anxious even while she is performing.
"I have anxiety attacks, constant panicking on stage, my heart feels like it's going to explode because I never feel like I'm going to deliver, ever," she once said.
Her stage fright has left Adele with some stories about a few events that have transpired while she was touring. She told Rolling Stone: "One show in Amsterdam, I was so nervous I escaped out the fire exit. I've thrown up a couple of times. Once in Brussels, I projectile-vomited on someone."
Adele channels her inner Beyoncé to combat anxiety
Over time, though, Adele has learned some tips and tricks to help manage her stage fright. For example, she shared with Rolling Stone that she tries to tell herself that it will be fine because "nothing's ever gone horrifically wrong." Furthermore, she also talks a lot and cracks jokes to keep the mood light.
One of the biggest things Adele does is channel her alter ego, Sasha Carter – a combination of Beyoncé's alter ego, Sasha Fierce, and singer June Carter. She came up with this after meeting Queen Bey herself, who complimented Adele on her voice. After their interaction, Adele found herself crying on a balcony, but she quickly asked herself, "'What would Sasha Fierce do?' That's when Sasha Carter was born."
This has allowed her to tackle a huge world tour in 2016 and 2017 with multiple sold-out shows. She called it the "greatest accomplishment in my career."
Adele might not actually tour again
Although Adele has found ways to make her anxiety less severe, being on stage is still a huge deal for her. This has led Adele to admit that touring is not really for her, and neither is playing at festivals.
At one of the final shows on her last tour, Adele told the audience: "Touring isn't something I'm good at. Applause makes me feel a bit vulnerable. I don't know if I will ever tour again. The only reason I've toured is you. I'm not sure if touring is my bag."
What has Adele been up to now?
Adele has not released any new music since 2016, so it will be a while before fans can see her perform anywhere again.
In any case, she has been working on a new album since 2018. The record will reportedly be titled 30. When she turned 31 years old last year, the singer said: "30 tried me so hard but I'm owning it and trying my hardest to lean into it all."
Earlier this year, Adele performed at a friend's wedding party and announced that her next album will be released in September 2020.
In the meantime, Adele is also a mother to an 8-year-old boy, whom she had with her ex-husband, Simon Konecki.