Adele's 'Proudest Possession' Is a Framed Piece of Celine Dion's Used Chewing Gum
Adele is one of the most talked-about artists right now. But since she's come back into fans' lives with her newest album, 30, we've found out there's a lot more to love about the singer than just her music. She has many quirks about her that we never even knew. For instance, she loves Celine Dion, possibly a little too much.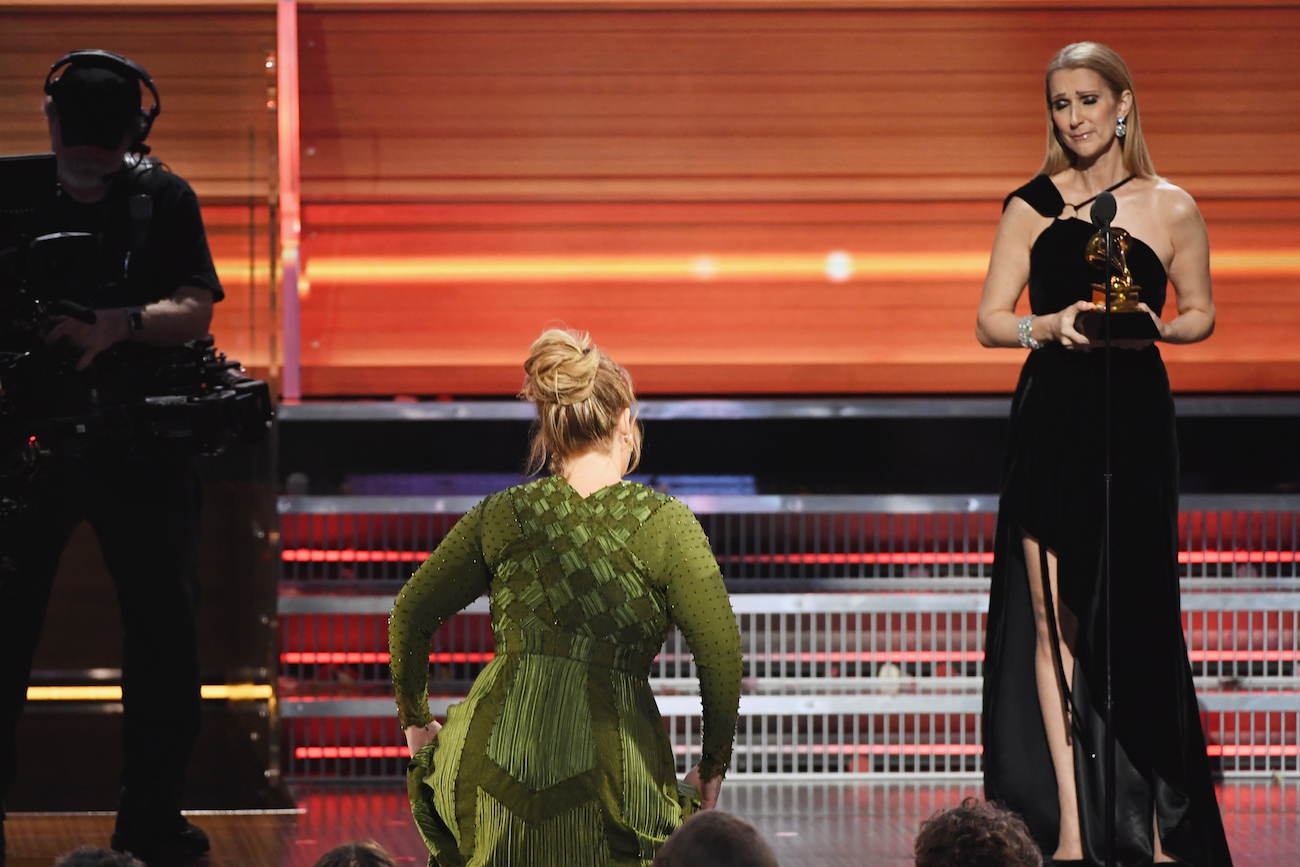 Adele's most 'prized possession'
Adele revealed her most "prized possession" during an interview for the latest edition of Vogue's "73 Questions" series. It's a framed piece of singer Celine Dion's used chewing gum. Yeah, we didn't think we could love Adele any more than we already did.
"It's pretty amazing," Adele said as she showed the interviewer a black and white picture frame with Dion's chewed gum and a handwritten note that says, "Celine Dion's gum."
"James Corden, who's a friend of mine but also does 'Carpool Karaoke,' which I did, he did it with [Dion] and knew how much of a fan of hers I was," Adele explained when the interviewer asked what the picture frame was about. "And so he made her spit her gum into a piece of paper and framed it for me. And it's my proudest possession!"
RELATED: How Did Adele Meet Her Boyfriend, Rich Paul?
James Corden has confirmed the story
Adele has been a huge Celine Dion fan for years. But her love of Dion probably escalated when Dion presented her with the Song of the Year award at the Grammy Awards in 2017. So it's really no surprise that Adele would cherish her memento.
After hearing about the Vogue interview, Corden confirmed the story was true. He did take Dion's gum, all in the name of Adele's obsession with the singer. Corden explained that he and Adele went away to Mexico together, and he told her that Dion was coming to do "Carpool Karaoke." The singer told Corden that she'd met Dion once and was completely star-struck.
When Corden was shooting "Carpool Karaoke" with Dion, she had gum in her mouth and didn't know where to spit it out. Corden ripped off a piece of paper, handed it to Dion. But as she went to fold it into the paper, Corden said he had it and took it from her. Dion had no idea that he planned to keep it and give it to Adele. Corden gave it to Adele for her birthday that year because she's a "difficult person to buy for," Corden joked.
RELATED: Adele Never Planned to Name All Her Albums After Her Age
Corden thinks he'll see the chewed gum up for auction at Sotheby's for $138,000 somewhere down the line after being in Dion's mouth and then in Adele's possession. Then he'll think, "Ah, I should have kept it." Corden will just have to be careful of what he gives his friends then.
Adele revealed which Gallagher brother she likes and why she loves the Spice Girls
When asked about her fellow British musicians, Adele revealed which Gallagher brother she likes best and who she likes better: the Spice Girls or The Beatles.
The singer answered that compared with Blur, she liked Oasis better and specifically enjoys Liam Gallagher instead of Noel. "Without a doubt," she said. It was hard to choose between the Spice Girls and The Beatles, but she went with the Spice Girls.
Speaking about what she thinks is so impressive about the Spice Girls, Adele answered, "They really don't care. They really, really, really don't care about anything. And I can think of just their brashness and stuff like that."
Adele also recalled the advice John Mayer gave her following her throat surgery in 2011. "He was very encouraging to stay silent and be patient and [said] that my injury was a very common singer injury so I shouldn't worry about it," she said. "He was great. He's such a sweetheart. I like him so much."
Many things were revealed during Adele's interview with Vogue, but all the juicy details just reaffirmed our love for the singer.