Adorable 7-Year-Old Drew Barrymore Told Johnny Carson: 'I've Been Waiting All My Life to Meet You'
With the classic film E.T. the Extra-Terrestrial and a few other roles already under her belt, 7-year-old Drew Barrymore stopped by to visit The Tonight Show Starring Johnny Carson for an adorable visit in 1982. It was her first time there and she let Johnny Carson she'd waited a long time for the moment.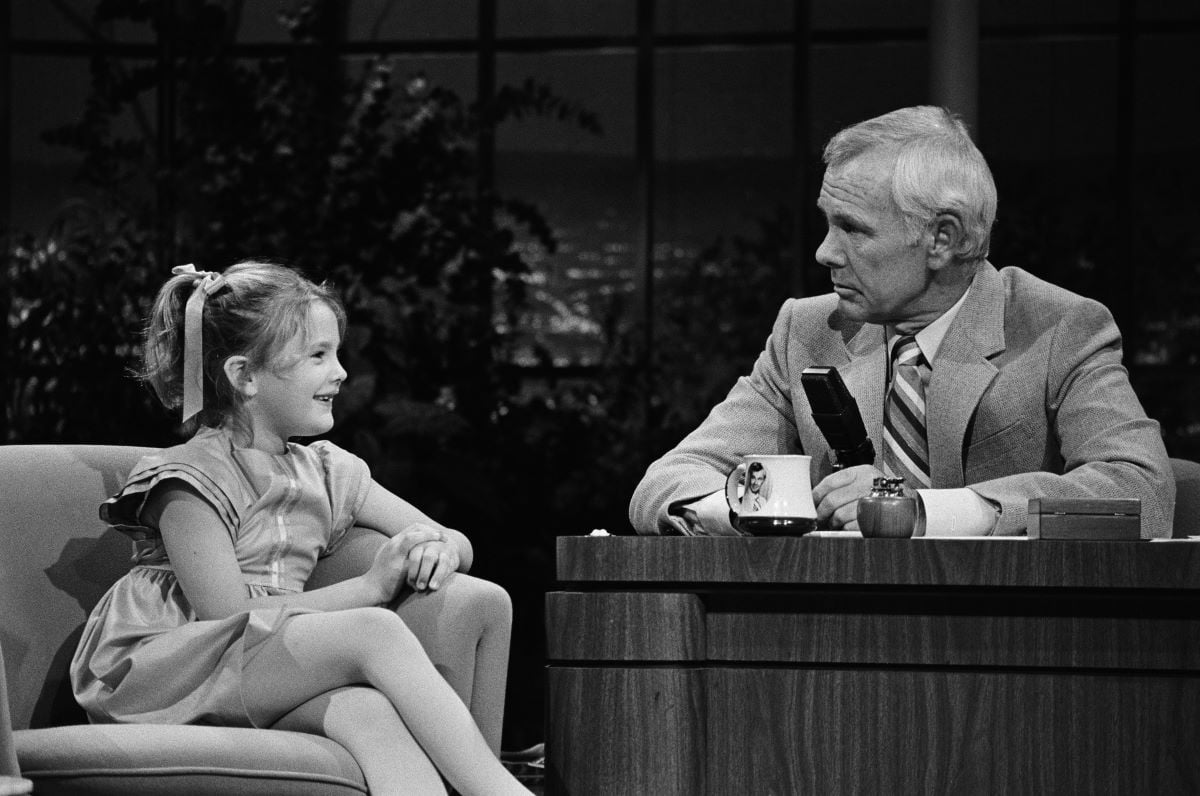 Drew Barrymore slipped on stage during her first appearance on 'The Tonight Show'
To start, Barrymore slipped on her way to her seat for her first interview with The Tonight Show, which is available on YouTube. Carson and his co-host, Ed McMahon, politely helped her to her feet and escorted her the rest of the way. But it looked like she might have been a tad embarrassed in the moment.
Carson tried to cheer her up by telling her it was a funny entrance, and adults had spilled out over his stage, too. "It's probably my shoes because they're real slippery," Barrymore explained to him. And then she quickly bounced back. Soon, she was gushing over her host. "I've been waiting all my life to meet you and I'm finally on the show," she told a flattered Carson. "It's a miracle."
And he seemed happy to meet her, as well. "Well, that's why I stayed on the show an extra seven years – just so you would show up here," he told her. "I wanted to meet you, too, because I've been reading all about you. You're a lovely young actress."
Barrymore very maturely thanked him and then told him she liked to stay up "a couple hours" to watch the show. "Just because of you," she nodded. Side note: how many other '80s and 90s kids remember getting to stay up for Carson?  
Drew Barrymore at 7: 'I was getting aerobicized…because I didn't want to get confused'
The conversation soon turned to what kind of activities Barrymore was doing, and Carson asked about aerobics. Barrymore was very familiar. "I was getting aerobicized last night because I didn't want to get confused," she told him.
"Didn't want to get confused?" Carson asked, seemingly unsure how aerobicizing prevents confusion. But don't expect too much explanation from a 7-year-old invited for a late-night interview.
"Well, I was dancing, you know, while my mom was always on the telephone," Barrymore said before adding, "She's always on the telephone." When Carson asked if she liked to talk on the phone, she said she would have liked to but could never get on because her mom was always on it.
Even if some of it didn't make complete sense, she gets a pass for being 7. And Barrymore kept the audience in the palm of her hand.
Drew Barrymore already knew how to charm the audience
One thing is obvious in the exchange between Barrymore and Carson, and that's how captivating she already was. Not only did she quickly recover from her fall, she was then able to carry on an entertaining interview with a big legend like Carson.  
So, it's no wonder Barrymore now hosts her own daytime talk show, The Drew Barrymore Show. She invites celebrity guests, but also focuses on human-interest stories and lifestyle segments. It's not exactly the same as what Carson was doing. But Barrymore's experience on his show could have helped prepare her to someday be the one in the hosting seat.
RELATED: Late Night Legend Johnny Carson Shocked Lucille Ball When He Asked About Virginity