Adrienne Gang From 'Below Deck' Addresses the 'Below Deck Med' Drug Comparison to Her Season
Adrienne Gang from 'Below Deck' compares her season where a crew member had anti-anxiety drugs to the current season of 'Below Deck Med.'
Below Deck Mediterranean viewers don't know the conclusion to Captain Sandy Yawn and Hannah Ferrier's discussion about the uncovered valium, but some fans are already making a comparison to a similar scenario from Below Deck season 1.
Bosun Malia White, who was Ferrier's cabin mate found Ferrier's prescription valium and a CBD pen in her bunk. She snapped a photo of the drugs and sent it to Yawn. Rumors have dogged the season that Ferrier was fired, so some fans are concluding that Ferrier gets fired because of the drugs.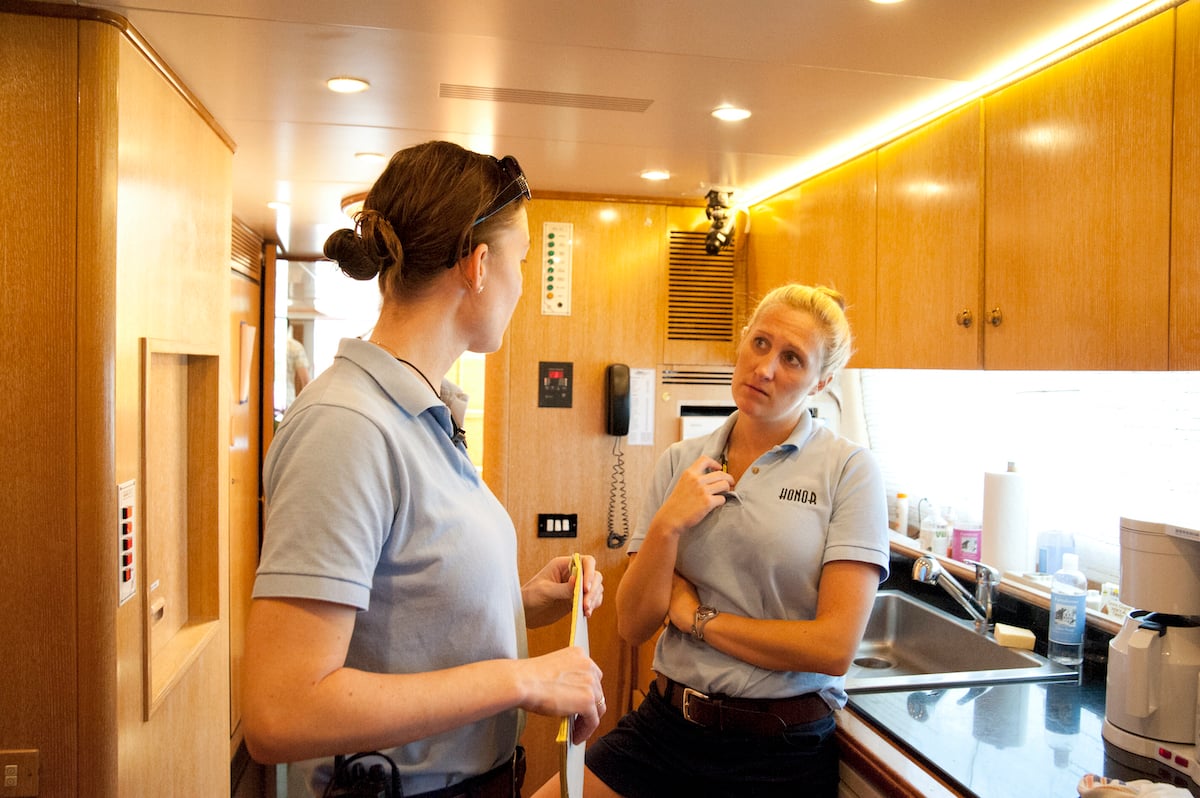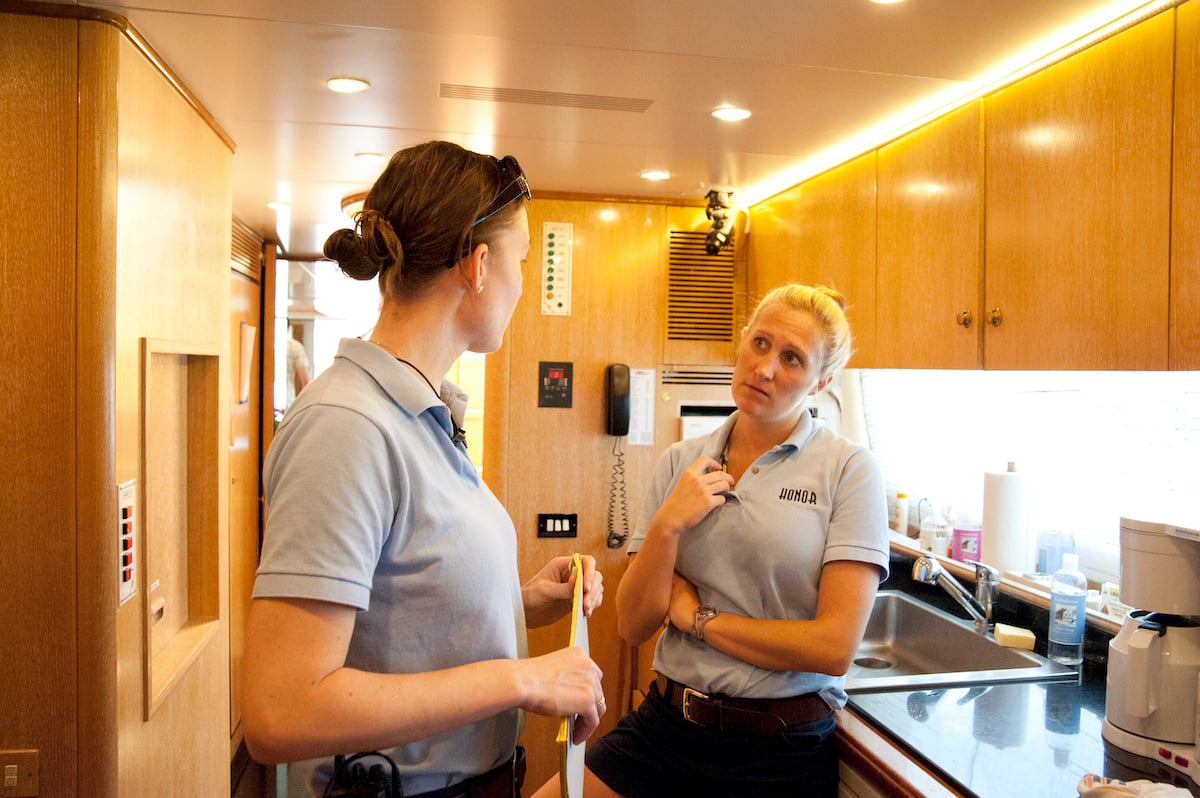 But long-term Below Deck fans recalled when stew Kat Held also had anti-anxiety medication during season 1. She acted erratically and eventually owned up to having them. She was not fired.
Chief stew Adrienne Gang recently tweeted a comparison. "2 everyone comparing Malia/Hannah to the Adrienne/Kat issue from S1 1)Malia was blatantly using "finding" drugs as a childish opportunity to get her way 2)Hannah was NOT interacting with guests erratically 3)Kat admitted to taking heavy meds AND DRINKING ON CHARTER," she wrote.
Adrienne Gang disagrees with Malia White's statement
White issued a statement about the drug discovery on Instagram before the episode ran. She has since erased the comments, but the remarks addressed maritime law and actions that should be taken if drugs are found.
"Last week malia put out a statement saying it is standard on yachts for the captain to essentially dole out the employees medications to insure no abuse was going on and make sure no one is drowsy in the case of an emergency," a fan inquired in the thread. "In your experience is that the standard?"
"Nope," Gang responded. "I've never had a captain dole out my meds or anyone else's. I have had my captains put my meds in the boat safe for safekeeping (because of shady crew). I've NEVER had them ration any. The whole point of having Valium on hand is that you can get it when anxiety hits."
Kat Held said she had a panic attack but later admitted to drinking on the boat
Held was accused of drinking while on charter. "At the end of last episode, I did not know that my entire crew thought I had been drinking," she told Bravo in 2013. "My main concern was how to mentally overcome the issue I was having with the charter guests, which was that they were making sexually inappropriate comments to me, which made me feel extremely uncomfortable." 
Gang confronted her in the crew mess with another crew member present. That's when Held started to panic. "At this point, I actually started to panic," she said. "The thought of losing my job was overwhelming, and I was worried that Adrienne was going to give me more than a reprimanding and actually confront Lee with her concerns."
"Because of Adrienne's threat, I had to tell the Captain something. I was so worried that I was going to lose my job that I just wanted to be upfront with the Captain, and telling him about my anxiety was the only option," she admitted. "I was in such a panic over the whole thing, I couldn't even think clearly. It all happened so fast. I just wanted it to be over with it as fast as possible, therefore stalling to come up with something else to say never even crossed my mind."  
Held shared she was taking anti-anxiety medication too. "It's was ANXIETY MEDICATION !!" she tweeted.
However, during the reunion, Held admitted she was drinking but didn't want to lose her job. "It was obvious I had been drinking," she admitted. "But I knew, there wasn't a question in my mind, that they wouldn't fire me. So I had to come up with something else and obviously medication is a great way to smooth something over."